If you're in Hong Kong with the family and looking for more than what the theme parks have to offer, then you definitely must include a visit to the Hong Kong Science Museum with kids in your holiday itinerary!
Opened since 1991, the Hong Kong Science Museum – located on the Kowloon side – occupies a permanent exhibition area of 6500 square metres, and is home to more than 500 exhibits, of which almost 70 percent are interactive.
Spread out over four floors, visitors – young and old – are invited to learn about and experience a wide variety of STEM-related topics, including life sciences, transportation, electricity, magnetism, biodiversity, and even food science.
I'd taken my daughter to the Hong Kong Science Museum not knowing what to expect, so we weren't able to spend as long as she would have liked there!
---
-- Story continues below --
Fortunately, we managed to experience a little of all the permanent exhibitions, so here are some highlights you can look forward to when you visit.
Electricity and Magnetism Gallery (1/F) at the Hong Kong Science Museum
The Electricity and Magnetism Gallery in the Hong Kong Science Museum is right by the entrance/exit and features many well-designed interactive exhibits that introduce bite-size facts about different facets of electricity and magnetism.
Buzzing with activity, visitors can learn about the principles behind various subjects in a simple and light-hearted way by getting hands-on at the Electricity and Magnetism Gallery.
My daughter – and many of the other young visitors – enjoyed playing with the Magic Plasma Ball housed within a dark mirrored column.
They were super fascinated by the tendrils of light created every time their little fingers touched the plasma ball.
Transportation / Food Science / Telecommunications Gallery (2/F)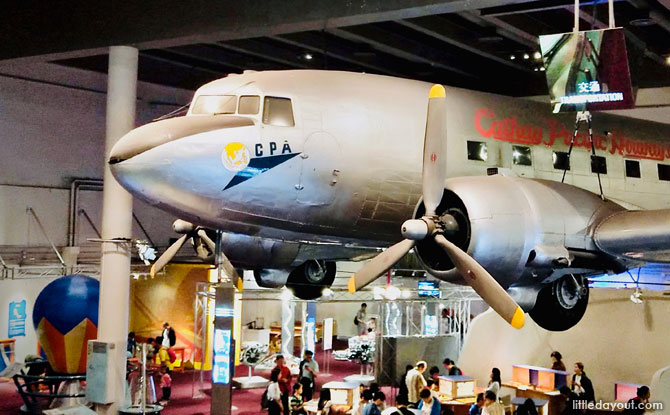 As you make your way to the second floor, be sure to look up at Betsy, the DC-3 airplane which is also Hong Kong's first local airliner.
Suspended from the ceiling of the Hong Kong Science Museum, Betsy is sure to take your breath away, and will have your little airplane fanatics jumping in excitement.
Another key exhibit to look out for is the Energy Machine. At 22 metres high, the Energy Machine is the tallest and biggest exhibit in the Hong Kong Science Museum, and also the largest machine of its kind in the world.
The Energy Machine demonstrates energy conversion through the movement of balls down the towers. When set in motion, a continuous stream of balls will roll along tracks within and between the two towers like a roller coaster, producing musical sounds and visual effects.
I missed the full demonstration unfortunately, but showtimes are 11 am, 1 pm, 3 pm and 5 pm, so get there in time to secure a good vantage point on the second floor of the Museum!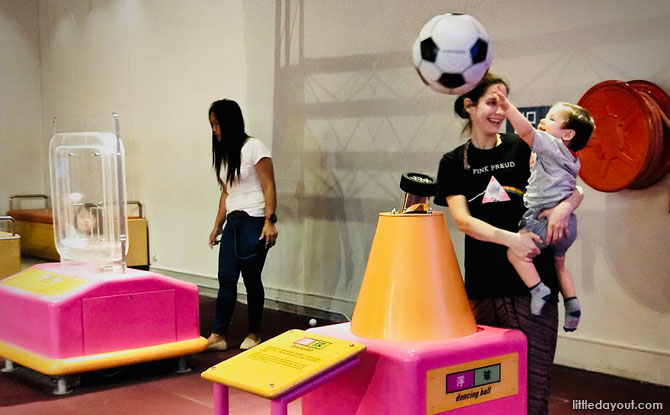 There are other really interesting exhibits the little ones would love playing with on the second floor, such as Dancing Ball that levitates a ball using a stream of air, and Slow Bubbles, columns of coloured water in which larger bubbles are created to catch up with smaller ones due to the greater force of an up-thrust.
Children's Gallery (3/F)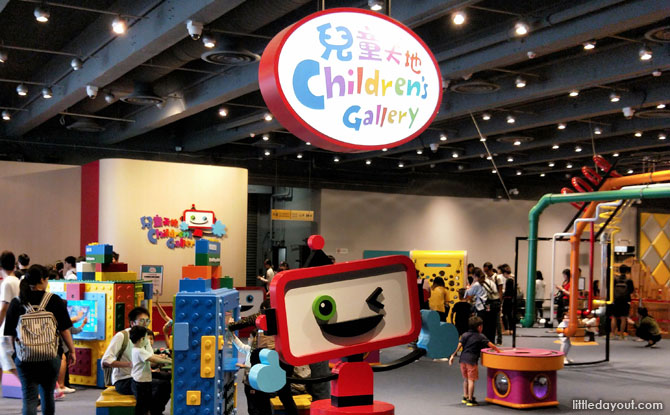 The Children's Gallery on the top floor of the Hong Kong Science Museum is specially designed for young children ages 2 to 12, and features exhibits that had been developed through intensive research, and in collaboration with artists too.
It was all systems go the minute we arrived at the Children's Gallery! The energy on this floor was just palpable, and even the big kid in me was raring to explore, so just imagine my little kid!
There's a massive telephony system made out of pipes thick, long, squiggly and colourful that you can speak into; a colourful forest of Hidden Animals you uncover by looking at the different geometric shapes from specific angles; and Cloud Ring stations which produce little puffs of clouds when you push down on the panels.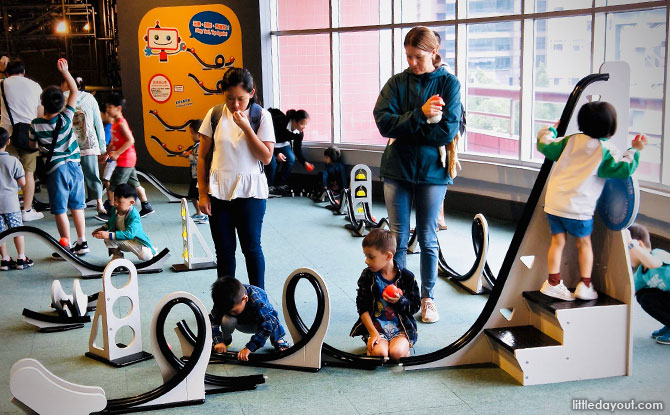 Star attractions at the Children's Gallery include Build Your Own Coaster where you work with others to connect different parts of a track together, then testing it out by sending balls rolling down from different heights.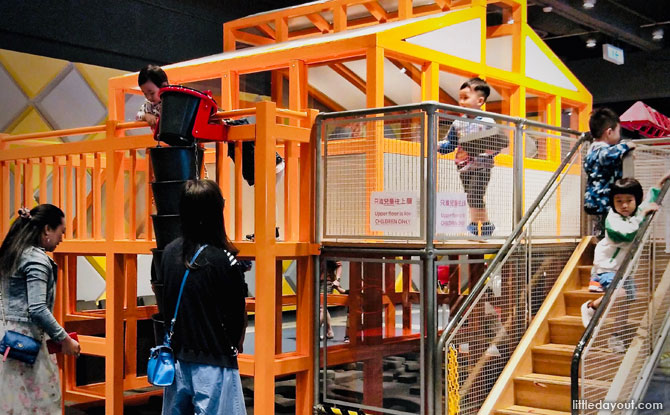 There's also the Big Kids' Work Site, which is a pretend-play work site featuring an unfinished house where bricks are to be built into the walls, a crane, a conveyor belt, foam bricks, and even wheelbarrows.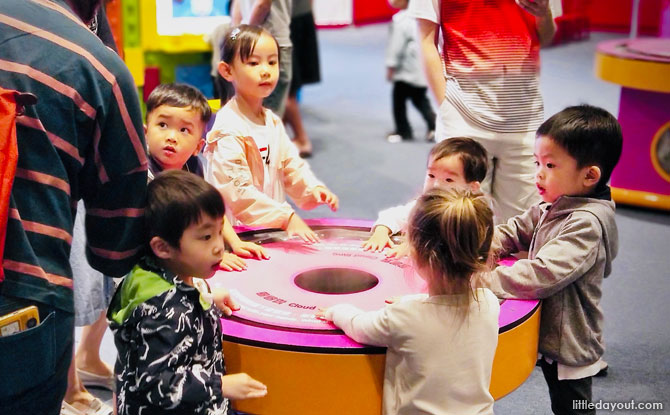 Although the Children's Gallery was packed, the exhibits are well-managed and there is always staff on-hand to crowd-control.
In addition to the exhibits, there are also mini-workshops held daily but in Cantonese.
Before Your Visit the Hong Kong Science Museum with Kids
Visiting the Hong Kong Science Museum with kids is quite straightforward as it is easily accessible via MTR, but be prepared for a little walk of about 15 minutes.
Take the MTR to Tsim Sha Tsui Station, and head out through exit B. Follow the signs and walk along Cameron Road, until you get to an overhead bridge that will lead you straight to the Hong Kong Science Museum.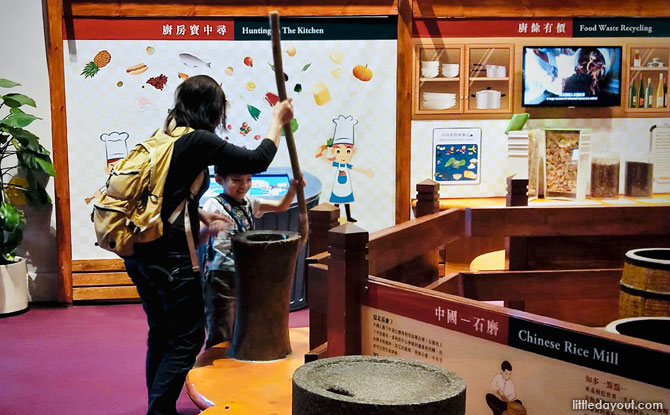 Standard admission into the Museum is at HKD 20, with free admission for all every Wednesday! The Museum is closed on Thursdays, except Public Holidays.
We highly recommend visiting the Hong Kong Science Museum with your kids the next time you're in Hong Kong. The exhibits are well-maintained and super engaging – your kids might even want to return before your holiday is through!
For more on the Hong Kong Science Museum, go here.