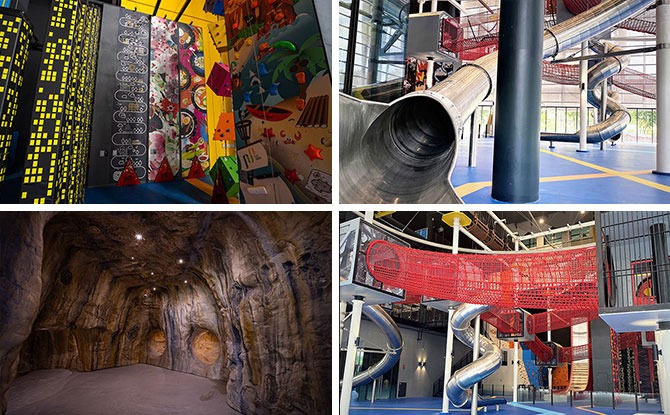 Where would the longest slide in Singapore fit? At the 2,800 sqm Adventure HQ located in the new HomeTeam NS Khatib. The Adventure HQ features 10 different adventure elements, catering to all levels of adrenaline thrills.
Adventure HQ is Singapore's largest multi-installation indoor hub. It includes the find the longest indoor slide in Singapore, a 233-m long indoor glider and even an indoor artificial cave in the same space!
Here are the ten attractions that you can expect to find in Adventure HQ at HomeTeam NS Katib.
---
Singapore's longest indoor slide at 14 metres long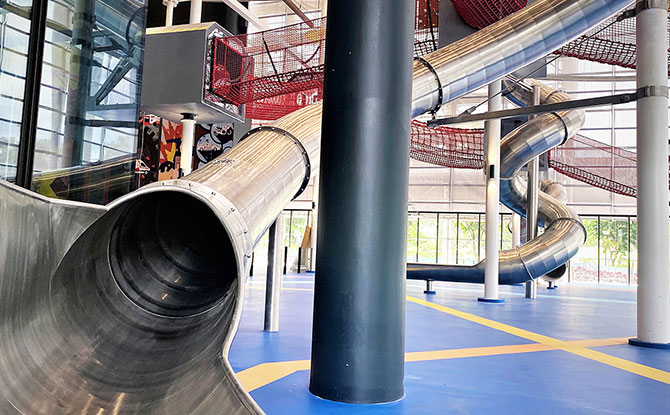 Adventure HQ boasts three slides, one of which hosts Singapore's longest indoor slide. If you love the feeling of travelling down a slide but never feel like there is enough runway, this is one slide you have to try. This attraction is located in the "fireman slides" area spans at 14m and is a total of 4.5 storeys high.
---
Three huge climbing areas at HomeTeam NS Khatib Adventure HQ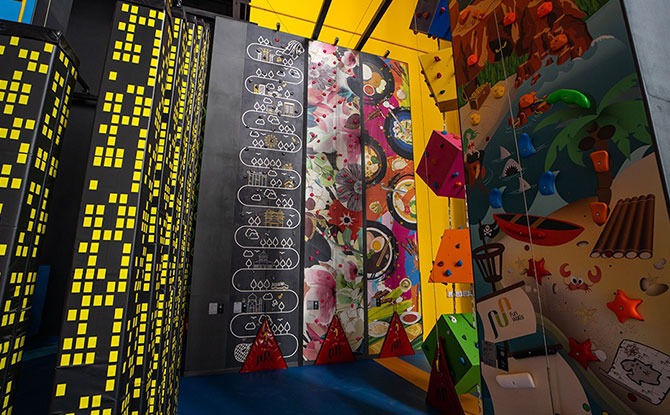 Be it bouldering, rock climbing or even scaling interactive play elements, Adventure HQ has it all. Adventure HQ's Rock Climbing caters to climbers of all levels and their space has eight climbing lanes. Choose your adventure between Classic Top Rope or Automated Belaying climbing. They also have a bouldering section and an Urban Climb area with 24 interactive climbing elements!
---
Ninja Course at Adventure HQ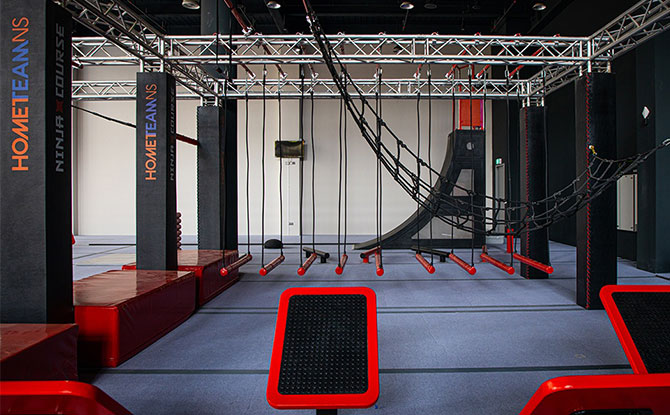 Test your strength, agility and endurance in this Ninja Warrior course! With elements to jump across, balance on and scale, this course makes a great space for anyone looking to training or compete in a safe environment.
---
Singapore's first indoor Roll Glider at 233m long
This giant roll glider is a hang-glider and coaster ride all in one! Make use of gravity and body movement to drive your adventure as you take a thrilling ride around Adventure HQ from up above. You're sure to enjoy the full aerial view of this mega play area!
---
Singapore's first 165m-long indoor artificial caving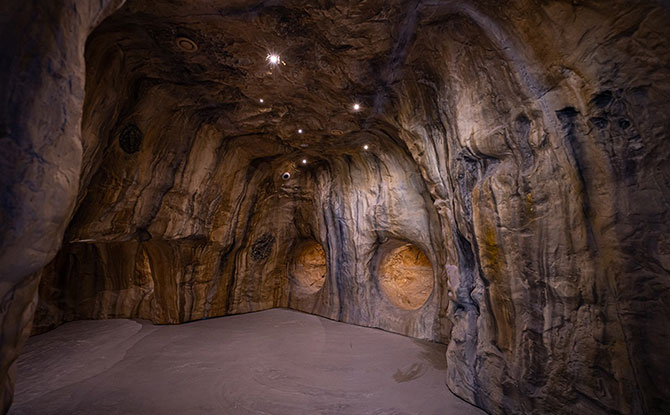 Not just another adventure maze, the Fossil Labyrinth is an exhibit suitable for all ages and gives explorers a realistic experience of entering a dark cave. This 165-metre long artificial caving is filled with stalactites, stalagmites, sumps, fossils and other elements one would find in an actual cave making it a sensory adventure to remember.
---
Singapore's biggest two-tiered, 16-obstacle indoor challenge rope course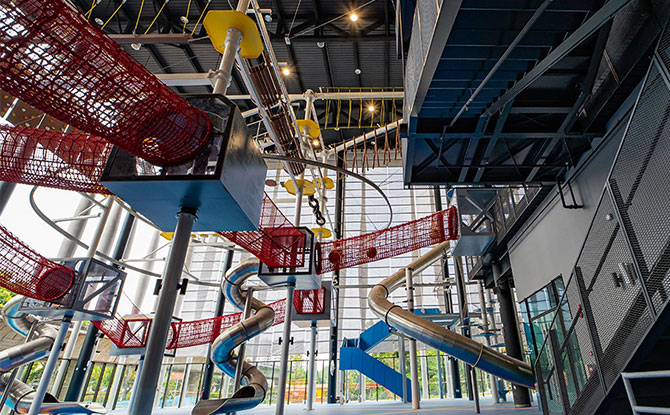 Will you be one of the adventurers that complete all 16 obstacles in Singapore's biggest two-tiered indoor challenge ropes course? Overcome the Sky Venture – a 15-metre multi-sensorial rope course. Other than getting the rush of adrenaline, this is a great space to test and train one's balancing skills, hand-eye coordination and of course self-confidence.
---
Adventure Trail at Adventure HQ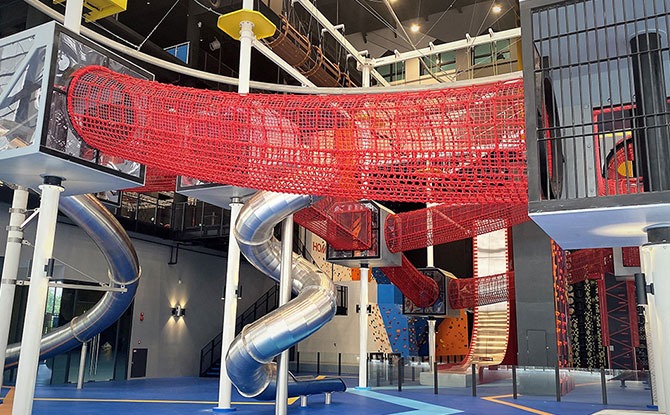 Ever thought of experiencing the thrill of heights without the need of a harness safely? In the Adventure Trail at Adventure HQ, navigate through challenging tunnels of nets and obstacles. You'll be tested on your balance, flexibility and courage and there is sure to be lots of fun along the way.
---
Singapore's first-of-its-kind 15-metre Cloud Climb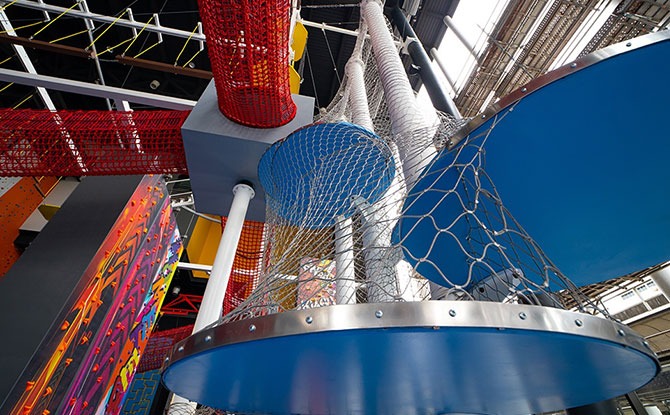 Adventure HQ's Cloud Climbs is a sculpture-like adventure play attractions where one can have access to the Adventure Trail or the longest indoor slide in Singapore. Explore the panoramic view of Adventure HQ from the top of the Cloud Climb and navigate your adventure to higher heights!
---
Currently, Adventure HQ is only open to members of HomeTeam NS and is will be open to members of the public soon. To get the lasted updates and more information, you can visit Adventure HQ's website.