Vietnam is popular travel destination and highly accessible as well. Ho Chi Minh City, in particular, is only a speedy two-hour flight from Singapore. This makes visiting Ho Chi Minh City with kids an ideal weekend getaway idea for families. The city offers gastronomical delights, is bustling with activity and has a whole range of activities for history buffs and culture geeks in the family.
Visiting Ho Chi Minh City with Kids
---
1. Eat Pho-tastically
Pho, Banh Mi, Banh Xeo, Ban Chan, Spring rolls fried or non-fried and more. Are you salivating already? Ho Chi Minh is dubbed Vietnam's food capital and it is not surprising given the range and quality of food. We had a food list setup on Google Maps (a must-do for pre-trip planning the trip to Ho Chi Minh City with kids) and we are proud to have covered at least five spots with two young ones in tow. Since Viet cuisines are mostly not too strong in flavour, and generally not spicy, the food caters to a good variety of palates including the fussiest of children. It was never difficult to please the kids.
Here's what we tried and loved:
Pho from Pho Le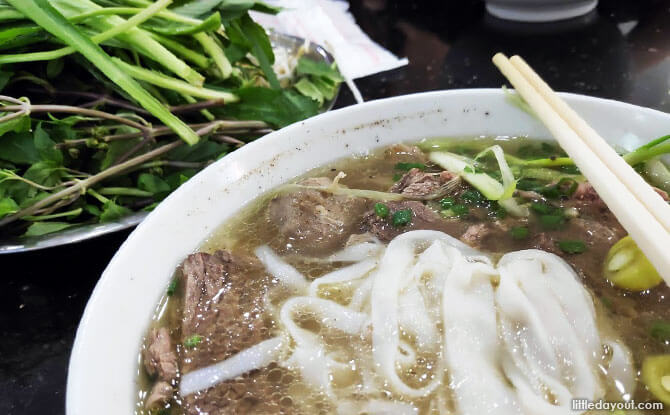 A piping hot bowl of pho is of great comfort to the hungry traveller. The flavourful broth will get the kids slurping in no time. We liked how this popular stall was no-frills and the constant stream of customers were testament to how pho-tastic the pho was.
---
-- Story continues below --
Where: 303-305 Võ Văn Tần, Phường 5, Quận 3
Banh Mi from My Banh Mi Café and Banh Mi Huynh Hoa
For sandwich lovers, Banh Mi is a game-changer. Crusty, warm, soft and decked with layers of fresh and pickled vegetables paired with savoury soft slices of meat, topped with coriander and sauces – it is the ultimate Asian sandwich.
My Banh Mi Café is a stone's throw away from the sightseeing monuments of Saigon Central Post Office and Notre Dame Cathedral of Saigon. Drop by once you've had your fill of the 19th century monuments and beautiful architectural elements. Select from various meats or go for the vegan option.
Where: 57 Nguyễn Du, Bến Nghé, Quận 1
You can't miss Banh Mi Huynh Hoa and its long queue out front. It is the only Banh Mi stall along the stretch near Chinatown with a snaking queue. There is only one option of meats and the portion is HUGE – large enough for an afternoon snack for a family of four. Every order is freshly made on-the-spot and there isn't a place to sit and eat. Instead, we saw plenty of folks just standing around enjoying their Banh Mi.
Where: 26 Lê Thị Riêng, P, Quận 1
Banh Xeo and Spring Rolls from Banh Khot Co Ba Vung Tau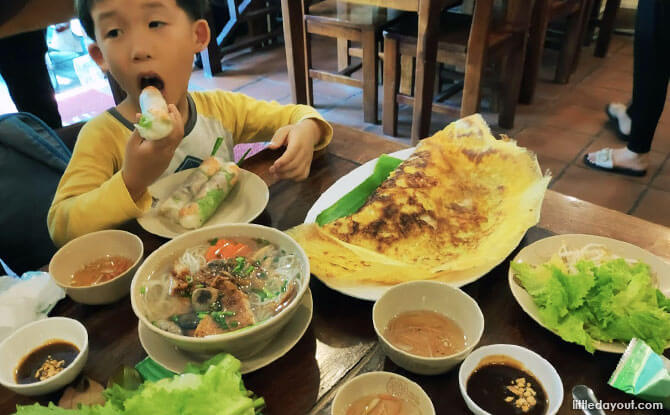 We chose this spot because of its close proximity to the War Remnants Museum which we wanted to visit. It did not disappoint. It was our first meal in Saigon and we lapped it up, possibly too eagerly and hungrily after an early morning flight. Seeing locals at the restaurant also reassured us that this place serves great Banh Xeo – a thin crispy pancake with shrimp and pork served with fresh lettuce and other vegetables. The Banh Khot seemed like a hugely popular dish as well. We let our younger ones decide on the dishes and they insisted on having the summer roll, usually called a non-fried spring roll in Saigon.
Where: 40B Trần Cao Vân, Phường 6, Quận 3
Meal Tip with Toddlers: Some food spots may not have highchairs, so bring your own high chair harness to strap your child safely onto any chair with a backing.
---
Visit a Museum
To learn more about Vietnam's history, culture and, of course, the unforgettable ravages of the Vietnam War, head to a museum. As we were keen to learn more about the war before heading to the Cu Chi Tunnels, we decided to visit the War Remnants Museum in the city centre. The types of war weapons and military vehicles on display were so impressive that they got everyone gawking. The Chinooks, warplanes, tanks and missiles on display captured the little ones' imaginations.
As for the galleries, be warned as photos exhibited are highly graphic and detailed.
Certain galleries such as the war crimes gallery might not be suitable for young children and parental guidance is a must.
However, it is also important to educate the young on the effects of war, particularly chemical warfare. We had a good conversation with our children about the ugliness of war and how there are few winners in the battles of might.
The Independent Palace is another interesting place to visit. Given the large green grounds as well as the vehicles on display, it is a good spot to get the children's energy expended. The Independent Palace is where you can learn more about the history of Vietnam, its leaders and political events.
---
Café-hopping
The Vietnamese LOVE their coffee. At every street corner, we found a "ca-phe" with locals enjoying their coffee while watching the bustle of the city. Almost every food outlet serves a classic cup of Vietnamese coffee, which is brewed using a phin (a metal filter) and drips right into your cup. Also check out the various flavours unique to the country such as egg coffee (egg yolk, condensed milk and coffee) and coconut milk coffee.
You can easily identify popular haunts by spotting the crowds. One example is Cong Café which has 14 different locations in Ho Chi Minh City. Apart from a caffeine fix for parents, cafes can be down time for the children as well. Just hand them a colouring book, story book or a wordsearch book.
The Café Apartment building in Ho Chi Minh is an intriguing example of how well-loved cafes are. This old apartment building houses cafes, restaurants and co-working spaces and takes the definition of café-hopping onto another dimension. Almost 30 different stores have taken over the conventional Saigon apartments in eclectic styles – from Japanese to industrial chic.
Where: 42 Nguyen Hue Street, District 1
---
Explore the Streets on Foot
Choosing to walk instead of taking a cab may yield more unexpected surprises and discoveries too. While wandering about, we came across a street of book and art stores like "Artbook" at Le Loi that also sell souvenirs such as Viet coffee, chocolates, hand-painted memorabilia. However, be cautious if you are intending to head into shops selling fragile items with curious kids – keep a close eye on those little fingers and feet.
One tip is to give each child some local currency to spend on a souvenir, this teaches them more about how money is used in another country as well as its value.
We also found the Saigon Walking Street, a pedestrian-only path flanked by two busy roads. It had a water fountain which many children seemed to enjoy and couldn't resist splashing in. However, do be mindful of people in costumes giving lollipops or balloons to unsuspecting children. Once the child takes it, the vendors demand payment for the "gifts".
---
Watch a Show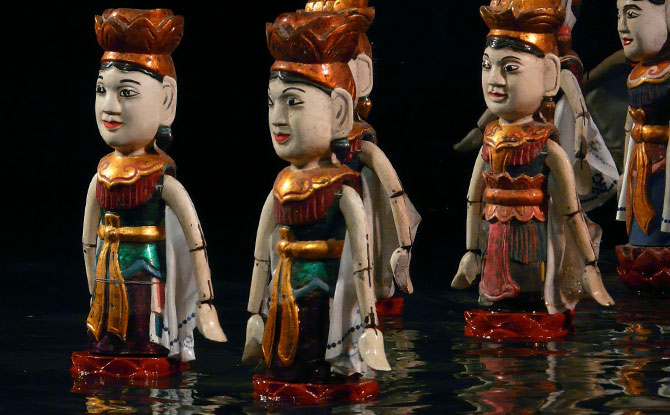 The Vietnamese are known for their cultural performances like the water puppet show. Water puppetry has its roots dating back to the 11th century. The show is performed in waist-deep water and tells of legends, folktales and local stories. While everything is performed in Vietnamese, it is not difficult to follow along as the puppeteers are able to masterfully manipulate the puppets to tell a story. The performance is accompanied by live music.
Currently showing at the Saigon Opera House is "Teh Dar" – a riveting performance about minority tribes, the use of bamboo in performance art and tribal instruments. Families will be wowed by the acrobatic performances which are accompanied by the sounds of drumming, gongs and horn.
Ho Chi Minh City with Children – Much to See, Taste and Feel
Saigon has much to offer for any kind of traveller – including families. Going around in a Grab car is convenient with most of the sights close enough that they can reached by a short ride. Prepare to feast, learn and be enriched with much dong for the dollar!