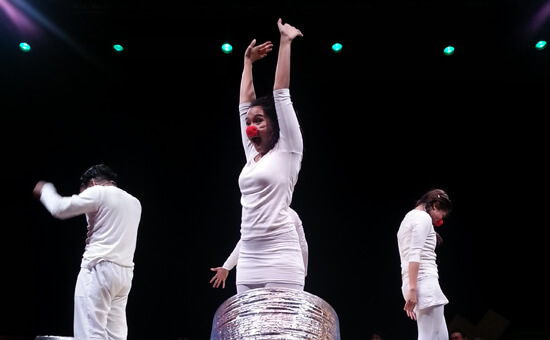 Say a big 'Hello' to Adam as he jumps, spins, rolls, leaps and bounces into your world!
The Esplanade Presents PLAYtime! production Hello Adam is the third instalment in 2013 of the series targeted at children from the ages of 2 to 4. We were particularly looking forward to watching this as we had enjoyed the previous PLAYtime! production Hello Ling, with its extremely fun-loving characters and age-appropriate learning points about science and light.
Move It, Move It
We were not disappointed. Director Daniel Jenkins, with his broad experience in theatre as well as speech and drama for young children, achieved his goal of audience participation from the wiggling, giggling crowd of preschoolers, who were grooving to the beat of the catchy live music from start to finish. If nothing else, it was entertainment in itself to witness the spontaneity and fun which the production brought forth in its young audience.
There were, however, once again things to be learned, as vocabularies were broadened with a whole host of action words – leaping, hopping, spinning and floating, to name a few. Abstract science concepts like friction, force, gravity, and human physiology were introduced using a variety of props and music. The children were also exposed to various dramatic techniques such as pantomime.
The Joys of Simple Fun
The props comprised of things which all children love, and the production brought to life a simple assortment of toys presented by Adam at the start – balls, ribbons, and blocks. This reminded the audience of the fun and creativity that play can bring, even devoid of technological gadgets and games.
The simple stage set-up soon revealed surreal foam-block castles towering over characters playing hide-and-seek, and space-age giant slinky toys doing stretches on the stage. A floating canopy left the young audience and enthralled. The finale was the icing on the cake – imagine the unbridled delight as a myriad of colourful balls were rolled down the ramps on each side, leaving the little ones to scramble after them with squeals of delight. Movement is indeed fun!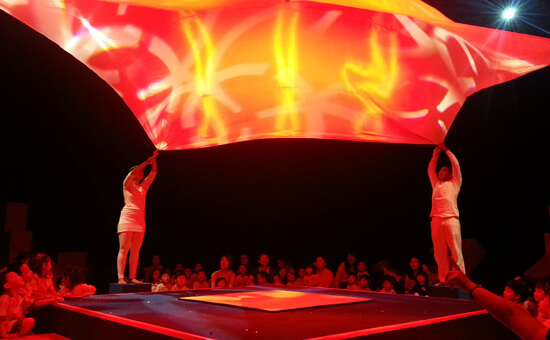 Dates/Time:
3, 4 & 9 Nov 2013
Sun, Mon & Sat
11.00 am, 2.00 pm & 4.00 pm
5 – 8 Nov 2013
Tue – Fri
9.30 am & 11.00 am
Venue: Esplanade Recital Studio
Duration: 40 mins, no intermission. Audience will be seated on the floor.
Tickets:
$15 each
Package of 4: $50
*School Special (per ticket) $10
*For every 10 tickets purchased, schools are entitled to 1 complimentary ticket for an accompanying teacher.
Tickets from Esplanade Box Office and SISTIC's authorised agents. SISTIC hotline: 6348 5555. Group bookings of 20 or more: 6828 8389. A SISTIC booking fee applies to each ticket purchased. Tickets are required for all patrons (including infants –in-arms).