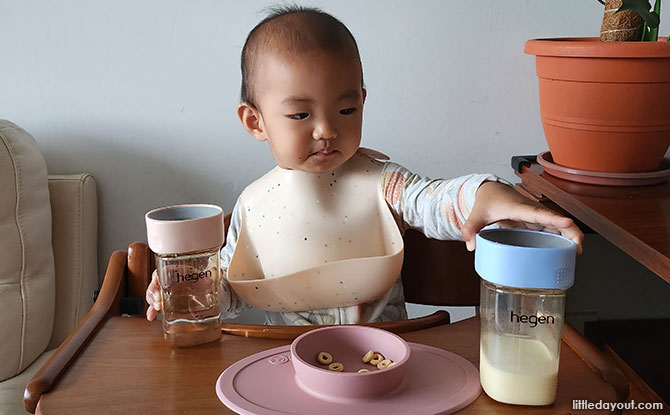 The Hegen PCTO 240ml All-Rounder-Cup PPSU is truly a superior sippy cup, empowering our little ones as they make the transition from feeding bottle to drinking from an open cup. We got the chance to review this newest, thoughtfully designed addition to the Hegen family.
---
Hegen PCTO 240ml All-Rounder-Cup PPSU Review: Inspiring Confident Children
Our young ones learn by mimicking what we say and do, seeing us drink from cups and mugs make them do the same with the play tea sets and cookery toys as well.
The Hegen PCTO 240ml All-Rounder-Cup PPSU gives them that freedom to mimic us at the dining table, drinking from something similar to an open cup without the fears of choking and getting soaked. The Hegen patented Sqround bottle design with a groove in the middle make it perfect for their little hands to grip.
---
Testing it with Different Beverages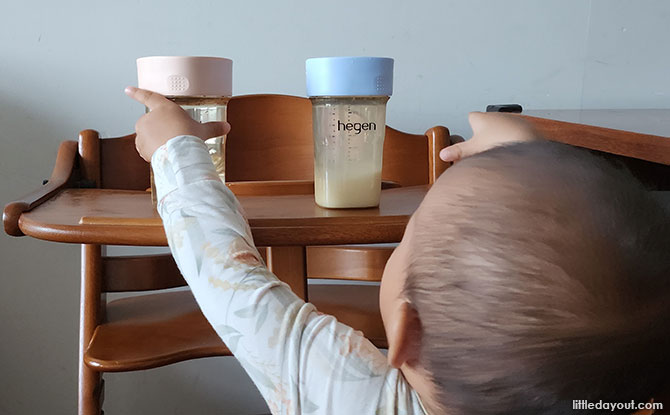 ---
-- Story continues below --
Whether its breastmilk, formula milk or fresh milk, the Hegen easy-to-sip lid allows little ones to intake all the fluids they need.
We gave it a try with water, juice as well as milk and our fifteen-month-old drank with no trouble at all.
The cleverly placed air spout makes sipping a breeze and the flow is never disrupted. The silicone disc atop effectively regulates flow the beverages allowing our littles one to sip without gagging, while reducing the intake of air.
---
Designed with Parents in Mind
As parents of young children, there are many concerns to deal with in a day. Endless laundry mounds to tackles, toilets to wash and diapers to change. Hegen makes it easy with its hassle-free cleaning and assembly.
Three simple steps is all it takes – twist to open, rinse and air dry. No more struggling with brushes, inserting straw cleaners, the fear of unreachable mouldy bits.
The Hegen Sqround shape also provides parents with the ease of packing as well as optimising precious packing space in diaper bags. Best of all, this sippy cup comes with a lid to keep your child's drinking vessel dust-free in transit. No more wiping down or worry about contact with unclean surfaces.
---
Hegen Sippy Cup: Worth the While
The Hegen press-to-close and twist-to-open innovation makes this sippy cup compatible with the myriad of other Hegen lids. Simply twist the collar to open, pop it down and press to close.
With some care and thorough washing, this versatile Hegen bottles will last you from infancy to toddlerhood and beyond.
If you enjoyed this story, you may also enjoy reading about the Hegen PCTO Floral Collection.