In this new phase of our lives, as parents to three young active children, we are grateful to have the Hegen PCTO Floral Collection come alongside. It has already become as essential part of our home and you will quickly see why.
---
Hegen PCTO Floral Collection: Handy Drinking Bottle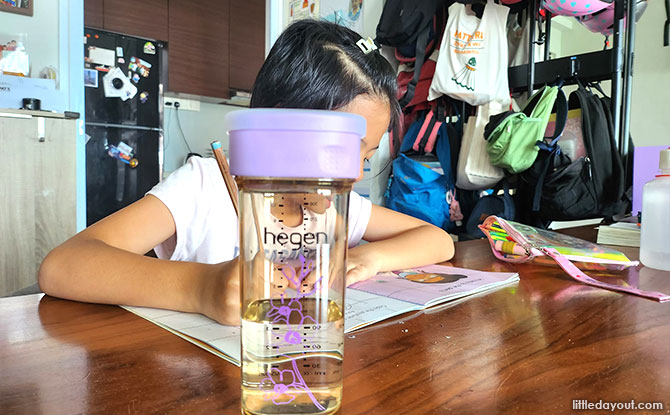 Our primary schooler quickly decided the Hegen PCTO 330ml Drinking Bottle was hers. But not without some competition on my part.
Slim and sleek, it fits in the narrowest corner of my bag! She loves how its squarish shape makes it easy to slip into the side pocket of her school bag without having to look.
The square base also provides much needed stability for busy primary schoolers rushing between P.E., recess and classes. It stands easy even if put it down at an angle and never rolls away.
And if the above reasons are not enough, we love the size of the spout valve.
Just big enough for their little mouths, but small enough to prevent spills on extra thirsty days. The thoughtful people at Hegen also added the water tight seal, so no child can give their teacher the excuse that a leak spoilt their homework.
Plus its unique press-to-close, twist-to-open cover ensures a speedy and hygienic top up at the water coolers.
No chance of the bottle mouth coming into contact with potential germs spots, and more runaway bottle caps either.
Now, you see why the competition is fierce for this one! Perhaps we should get ourselves another.
---
Multifaceted All-rounder Cup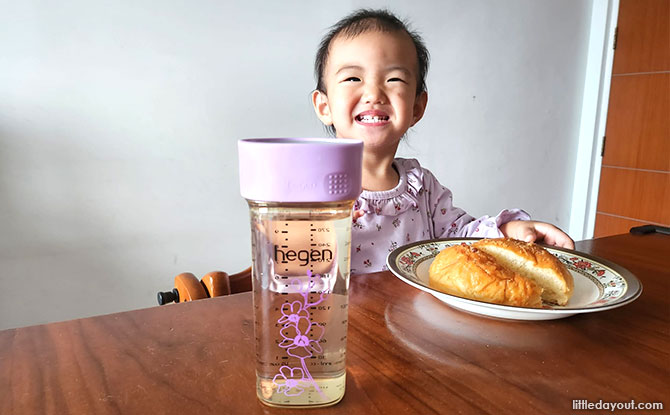 The kindy-going child loves the all-rounder cup, sporting Hegen's brand new purple colour in addition to their pretty pastels, blue and pink.
Definitely more than a pretty face, the all-rounder cup is all the rave and so much more. This is perfect for the toddler at home who is ready to feed themselves but not quite prepared for an open cup.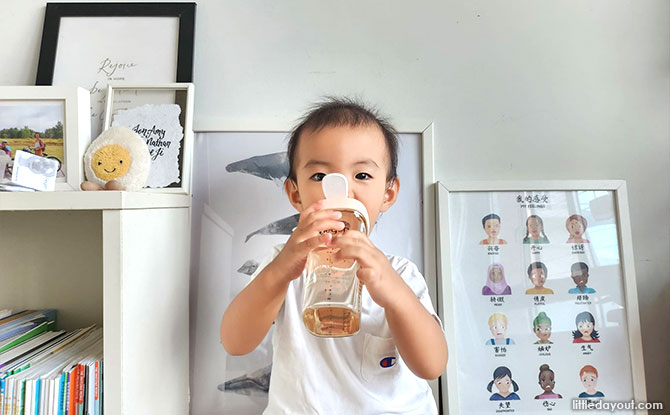 The 360-degree sippy function allows your toddler to practice drinking confidently with no spills for you to wipe up!
We love it in particular for its easy to rinse twist-to-open parts. Ensuring we can get to grime off every bit that touches their mouths, knowing there's a lid for the times its at rest gives us parents a peace of mind.
With the number of kids they encounter in kindergarten, we are grateful for Hegen's unique design where hygiene is a top priority.
---
Dependable Feeding Bottle
Needless to say, the Hegen feeding bottle is a mainstay in our homes from day one.
From breastmilk at infancy to the large quantities of formula our littlest one drinks these days, Hegen has seen us through every step of the way. The beautiful blue in the floral collection will surely be a keepsake in the years to come.
Now that we have the 330ml size, no more scrambling to top up with more when she drinks up 240ml at one go. Not only that, it ensures she hydrates enough each day, with each top up bringing her closer to our daily target.
In this extremely hot spell, we are grateful for these 330ml bottles that go nearly everywhere with us.
Practical, thoughtful and always beautiful, we hope you would love the newest Hegen PCTO Floral Collection as much as our family does.