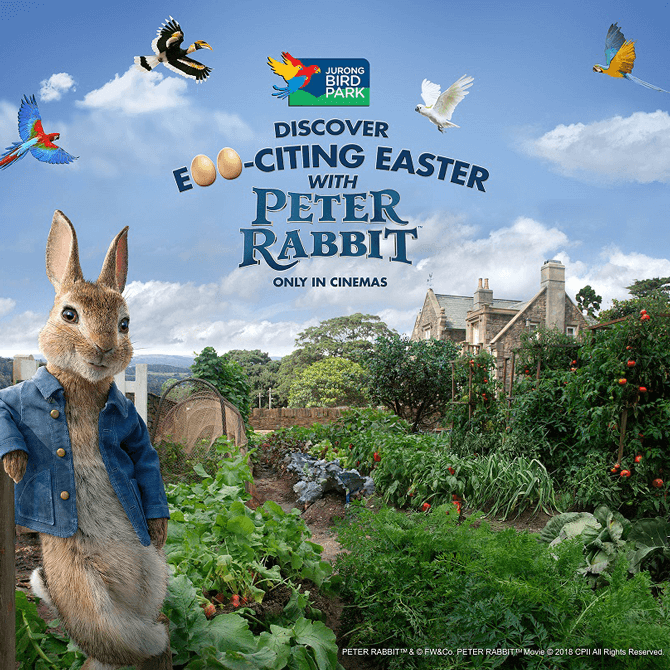 This Easter 2018, have an egg-citing time with Peter Rabbit at Jurong Bird Park. From 24 March to 15 April 2018, pay a visit to Peter Rabbit's vegetable garden at Jurong Bird Park and enjoy fun activities for the family on selected dates.
Peter Rabbit At Jurong Bird Park
Look out for 2D and 3D displays of Peter Rabbit and his companions at Jurong Bird Park's Birdz of Play area from 24 March to 15 April 2018. Pose with these cute displays at Birdz of Play, Jurong Bird Park's water playground.
Want to meet Peter Rabbit himself? Mascot meet-and-greets will be held on 24, 25, 30, 31 March and 1 April 2018 at 10.30 am and 12.30 pm at Birdz of Play.
Egg Egg-tivities
Also on 24, 25, 30, 31 March and 1 April will be an Easter egg hunt activity at Birdz of Play. Between 10 am and 4 pm, kids can go hunting for eggs and stand to win prizes such as Peter Rabbit premiums and an annual Friends of Bird Park Family Membership for two adults and one child.
For Easter 2018 at Jurong Bird Park, students from Pathlight School's Art Faculty have hand-painted 10 super-sized Easter eggs for Jurong Bird Park. These one-metre eggs will be on display at Birdz of Play and Penguin Coast.
Penguin Coast will also be the site of more egg-citing activities on 24, 25, 30, 31 March and 1 April. The Eggs-periment Egg-tivity at 11.45 pm and 2.30 pm will showcase some egg-gaging popping eggs and bouncy eggs. Hope over to an Egg-trodinary Eggs Booth to learn interesting facts about eggs and help decorate Jurong Bird Park's Giant Easter Egg.
Craft and Treats
On the same days, children can enjoy Make-A-Bunny craft at Birdz of Play where they will fashion craft bunnies out of paper cups, paper and biodegradable spoons. Kids can also get their faces painted for the occasion.
Specially-themed edible treats such as baby bunny cookies and scotch eggs will also be available Jurong Bird Park's food and beverage outlets.
For more information on Jurong Bird Park's Egg-citing Easter with Peter Rabbit, visit www.birdpark.com.sg