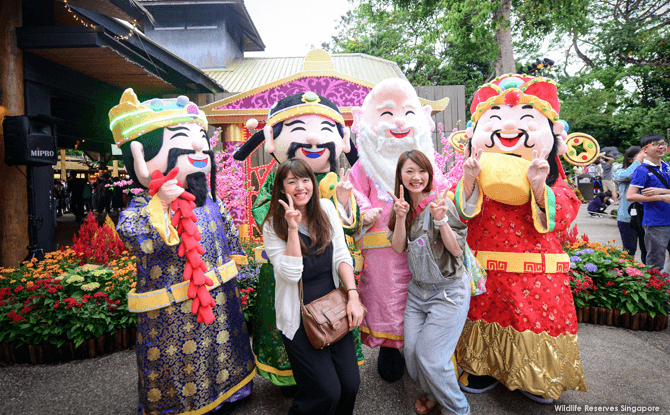 Welcome in the Year of the Dog with paw-perous Lunar New Year 2018 activities around Singapore's wildlife parks – Singapore Zoo, Night Safari, Jurong Bird Park and River Safari.
From 15 February to 2 March 2018, the four parks will gear up to celebrate the Lunar New Year 2018 with activities that range from special festive enrichments for the animals such as the African Painted Dog to lion dance performances to festive feasts.
Singapore Zoo and River Safari Lunar New Year 2018 Activities
At Singapore Zoo, visitors can catch the acrobatics of lion dancers on 16 to 18 February twice a day at 10.30 am and 2 pm at Safari Square. Chinese New Year Mascots will also be out to greet the crowds at 10 am, 12 pm and 1.30 pm on those same days.
Pay a visit to Rainforest Kidzworld where a New Year, New Animal Friends Show will be held at 11 am and 4 pm from 16 February onwards.
---
-- Story continues below --
Visitors can also go on a Dog Radical Challenge around Singapore Zoo to learn how "the dog" takes centrestage in many Chinese characters. Complete the challenge for a chance to win a prize.
At the Woof Booth outside the main retail store at Singapore Zoo will also provide the opportunity pick up cool facts about dogs. The Woof Booth will be available from 16 to 18 and 24 and 25 February.
Next door at River Safari, special activities for visitors to look out for include the unveiling of auspicious well-wishes by animals such as Silver Arowanas and Manatees and festive animal enrichments.
Night Safari Lunar New Year 2018 Activities
On the evenings of 15, 16 and 17 February 2018, an Electrifying Dragon Dance with LED dragons will light up Night Safari's Entrance Plaza at 7.30 pm and 8.30 pm.
The God of Fortune mascot will also be making an appearance at 6.45 pm and 7.45 pm on those days to mingle with visitors.
Inside Night Safari, there will also be a Zoo-diac Trail for visitors to read predictions for the year ahead.
Jurong Bird Park Lunar New Year 2018 Activities
The festivities land at Jurong Bird Park from 16 February 2018 onwards.
A festive edition of the High Flyers Show will be held at the Pools Amphitheatre on 16 to 18, 24, 25 February at 11 am and 3 pm.
A special pointer dog will also make its appearance at the Kings of the Skies show on the above dates.
Be sure to catch the Majestic Lion Dance at Penguin Coast at 9.30 am and 1 pm from 16 to 18 February 2018 too.
Festive Food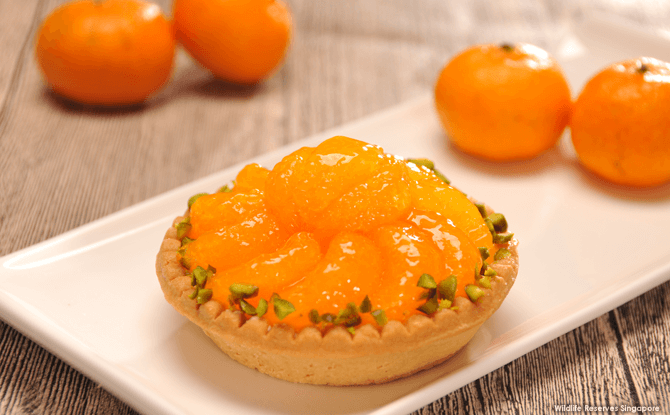 During this festive season, special treats will be available at the Wildlife Reserves Singapore parks. These include Mandarin Orange Cheese Tarts and Almond and Peach Cakes.
Get more information on activities taking place at Singapore Zoo, River Safari, Night Safari and Jurong Bird Park here.