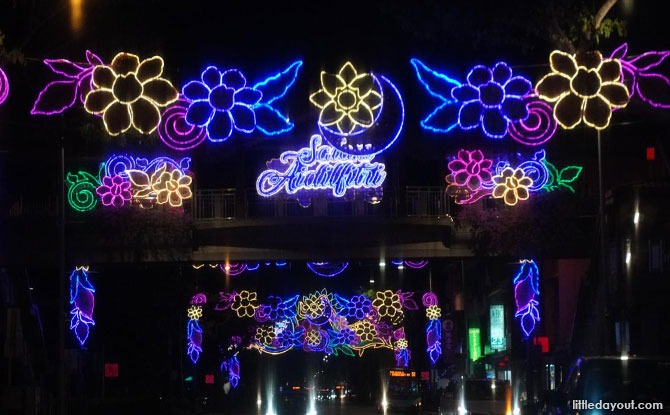 From now till 23 May 2021, the streets and buildings along Geylang Serai will be decorated and lighted up for Ramadan. The light-up starts ahead of the holy month of Ramadan and will last till 12 May.
---
Celebrating Our Kampung Spirit
This year's Geylang Serai Hari Raya Light Up features forty installations. These can be found along Sims Avenue, Changi Road and Geylang Road. In total, the light-up will extend over a total distance of 1.4 km.
Organised by the Citizens' Consultative Committees (CCC) of Kembangan-Chai Chee, Geylang Serai and Marine Parade, the Geylang Serai Hari Raya Light Up 2021 is based on the theme of "Celebrating Our Kampung Spirit".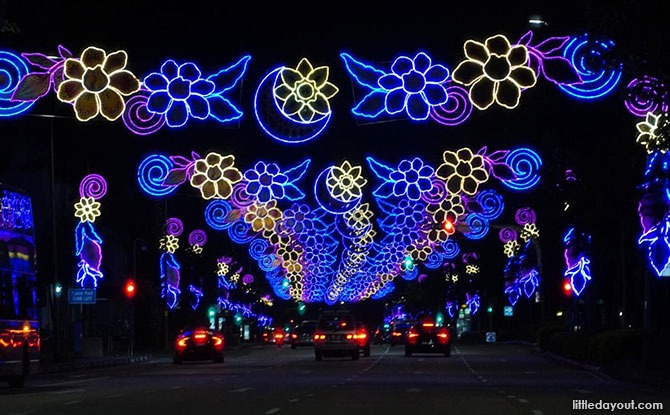 This year's light up is something which everyone can look forward to. Last year, the installations at Geylang Serai were only partially put up due to the COVID-19 situation and not turned in order to discourage people from congregating in numbers.
---
Highlights of the Geylang Serai Hari Raya Light Up 2021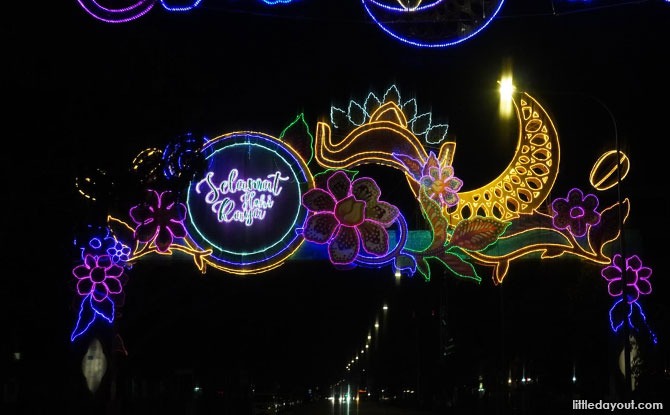 There are several highlights at this year's light-up. This includes two main arches in Changi Road and Sims Avenue.
The Changi Road arch features a crescent moon and a traditional handheld drum known as  a kompang with flowers and fruit which symbolises hope and abundance.
The archway along Sims Avenue features a mosque with golden domes and full blooms, symbolising a new beginning and renewed bonds of friendship and kinship.
---
When to View the Geylang Serai Light Up 2021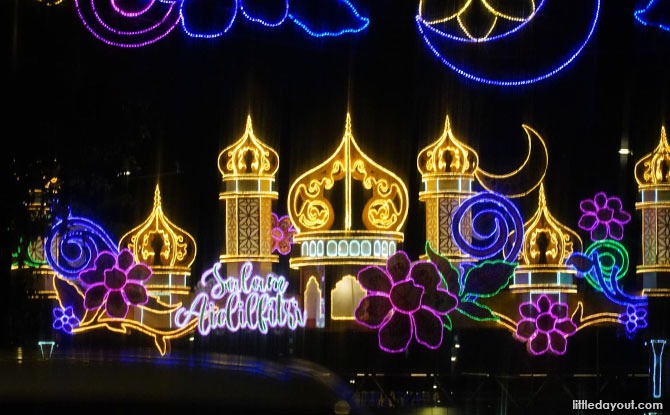 The lights at Geylang Serai will be turned on each day from 7 pm to midnight.
On 12 May 2021, the eve of Hari Raya Aidilfitri, the light up will be extended overnight until 6 am the next day.
Keep a lookout for festive decorations on buildings in the precinct such as Wisma Geylang Serai, Joo Chiat Complex and Geylang Serai Market. 
Visitors to the Geylang Serai Light Up should adhere to safe-distancing measures and not congregate in large groups. There will be Safe Distancing Ambassadors and volunteers on duty to remind visitors to observe social distancing.
More updates and information can be found on the Wisma Geylang Serai Facebook page here.