We all love food and when we visited the new digital lifestyle mall, several Funan food places caught our eye. Here are some Funan restaurants and eateries that you can find at the destination mall!
Funan Food, Eateries & Restaurants
---
1. Fireless Kitchen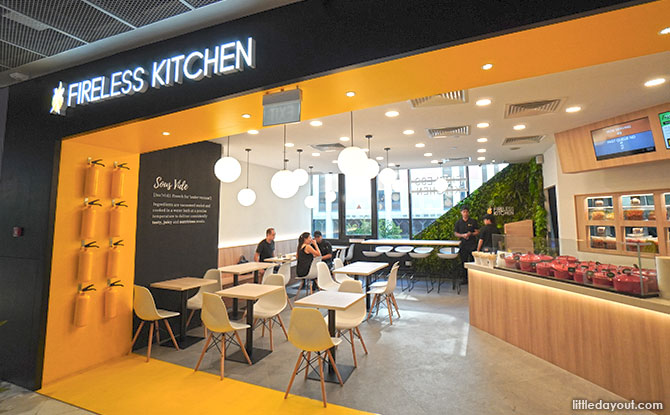 Their first ever store, Fireless Kitchen relies mainly on cooking their food the sous vide (pronounced sue-veed) way. Customers can assemble their own healthy grain bowls choosing various ingredients prepared the sous vide way. Food prepared in this unique vacuum style means that the food cooks in its own "juices" which ensures that the foods, especially meats, are moist, juicy and tender!
Where: #02-04
---
2. POP
Started by the people behind The Populus: Coffee & Food Co, this bright cheery café that serves up fresh bold twists on local and regional flavours with their bowls and wraps. With the interior having pops of yellow, this is a fun place to meet up with friends when you visit the mall.
---
-- Story continues below --
Where: #02-31
---
3. KopiTech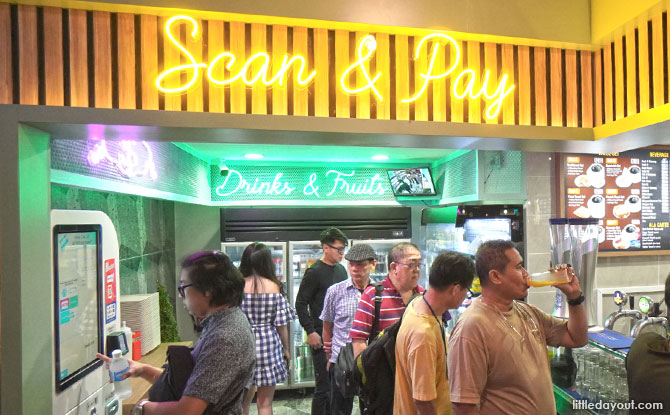 We didn't expect a "Kopitiam" to be on the list of Funan food places that caught our eye, but this isn't just any ordinary indoor coffee shop. Amidst the neon signs of the store names, as well as a moving animation on the screen with the words "Kopi Tech", the interior isn't the only high tech part.
As expected, you get to order from an app, use cashless payment and even make orders of your meal in advance! You even get discounts when you use e-payments.
Where: #B2-24
---
4. Godmama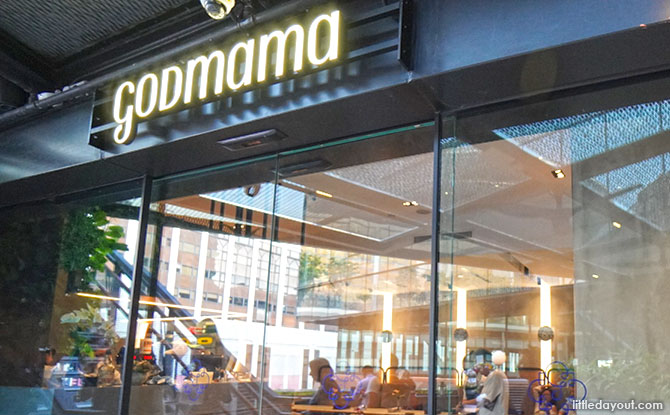 We dub this restaurant one of the eateries here with the best view. Serving up Peranakan Food following family recipes, this restaurant is located on the 4th floor facing the cityscape. They also offer lunch sets and Peranakan cocktails by night! They also serve all day brunch on weekends, which we always appreciate because weekends are for great brunch food, but with that few extra hours to sleep in.
Where: #02-04
---
5. Milksha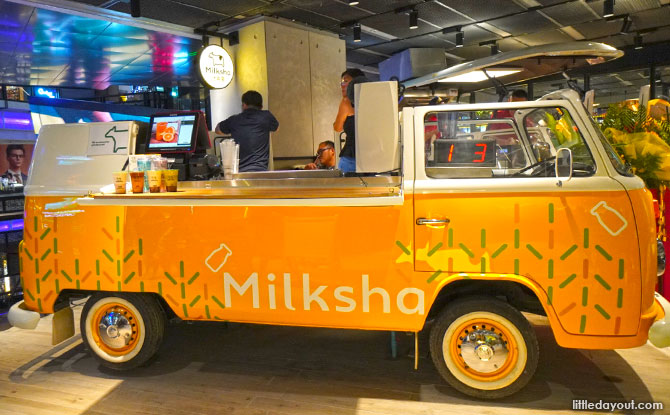 Do we really need another bubble tea store? The bubble tea lover in me screams: "Why are you even asking?" More options are always good when you're craving chewy pearls with tea. Milksha is known for its honey pearls that are imported fresh and fragrant milk. Great that there's another alternative for when the queue in the Suntec outlet gets too long.
Where: #02-K07
---
6. Nasty Cookie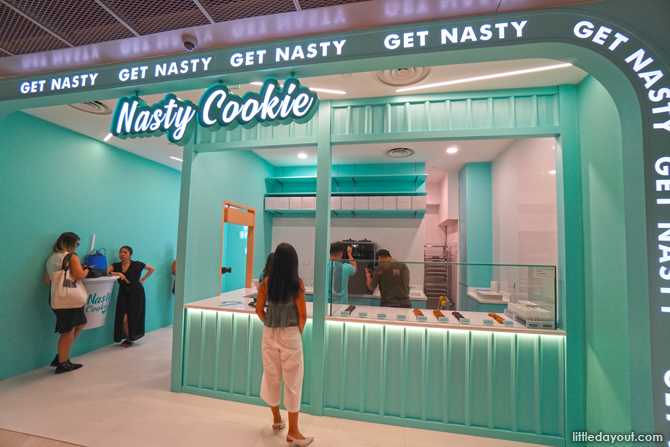 We call this cookie every child's dream cookie. Loaded with all kinds of toppings yet not overly sweet, we're glad that this online success now has a physical store. Now, you can see and smell these yummy treats for yourself! Check out more about Nasty Cookie here.
Where: #02-35
---
7. Noka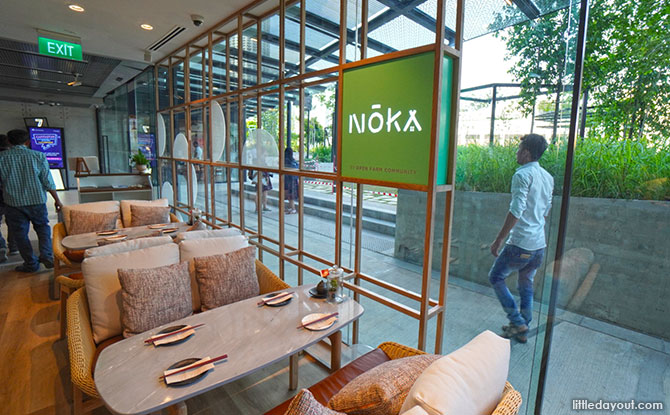 Many visitors to Funan might not know that there is a 7th floor, which is where Noka resides. Meaning "farmhouse" in Japanese, this unique restaurant prides itself in "celebrating the riches provided by nature", which translates to wholesome ingredients fresh from the edible garden at the rooftop, and ethical practices in the usage of water and single-use plastics.
Here's how to get to Noka: head up the staircase nearest to Godmama or you can also make your way to lift lobby A, where you can take the lift directly up.
Where: #07-38/39
---
8. Sinpopo Brand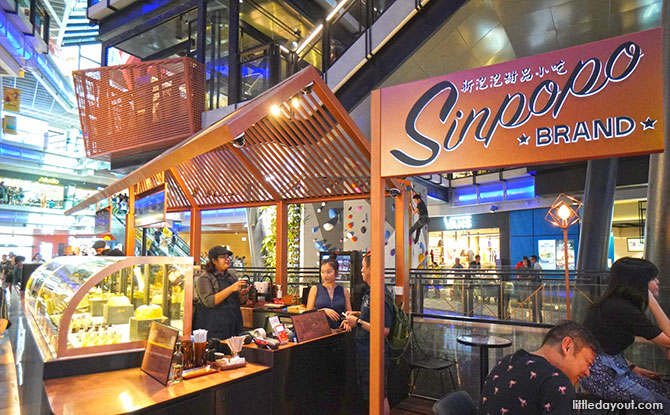 We enjoy making a visit to the Sinpopo outlet at Katong, but now that it's a Funan food spot conveniently located in the digital lifestyle mall, there is even more reason to pay it a visit for a bite. Other than their yummy mua-chee salad, we especially enjoy their desserts which come in interesting flavours like Pulau Hitam and Ondeh Ondeh.
Where: #01-K02
---
9. A Gan Guo Kui
For those who have never heard of the Chinese pastry Guo Kui, the store vendor candidly described it to be "like prata" This meat stuffed flatbread brand hails originally from China and is baked in a traditional charcoal heated clay oven. Choose from fillings such as beef, preserved vegetables, red bean and more.
Where: #B2-K05
---
10. Avobites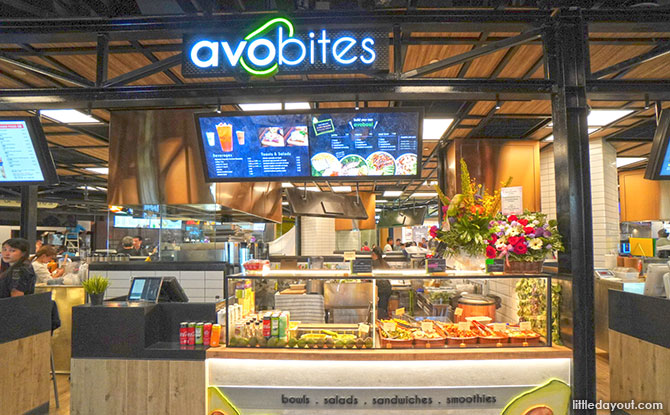 Remember the craze of this green superfood? Have it at any time of the day at this grab and go food kiosk. More than just "avocado on toast", you can have the nutritious benefits in a variety of dishes like avo bowls, avo smoothies and other combinations which they switch up every once in a while.
Where: #B2-K08
---
11. Butterknife Folk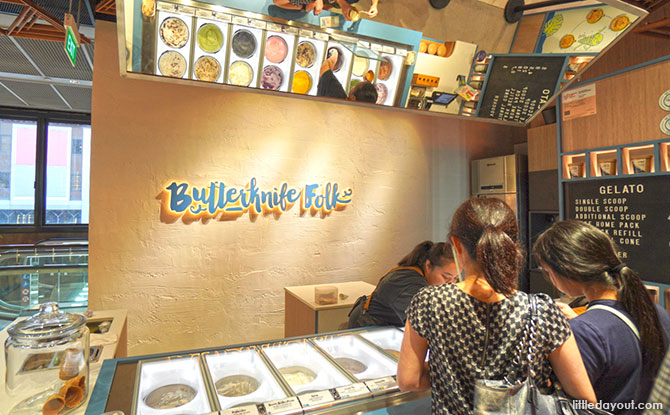 Chicken Rice Ice Cream. Yes, and done by none other than local brand Butterknife Folk. This limited edition flavour comes with black sauce, chilli and rice bits. The Funan outlet is also adopting a "no menu" concept", where you'll see the flavours available from the mirror above. It also means that each visit is going to bring a different flavour each time! Other than sampling Chicken Rice Flavour ice cream, we tried the Browned Butter Pecan, Jasmine Tea Amarena and couldn't resist getting a whole scoop of Bailey's Mudslide all for ourselves. We'll be back for sure.
Where: #02-02
---
12. The Dark Gallery
Dark Chocolate fans, this one is for you. Ever since our educational visit to Lemuel, we've found a new appreciation for chocolate and we're so happy to know that The Dark Gallery also offers single origin chocolates from different parts of the world. Get your cacao fix in the form of ice cream, drinks, or tasting platters with dark squares of smooth rich goodness.
Where: #01-14
---
13. The Oyster Bank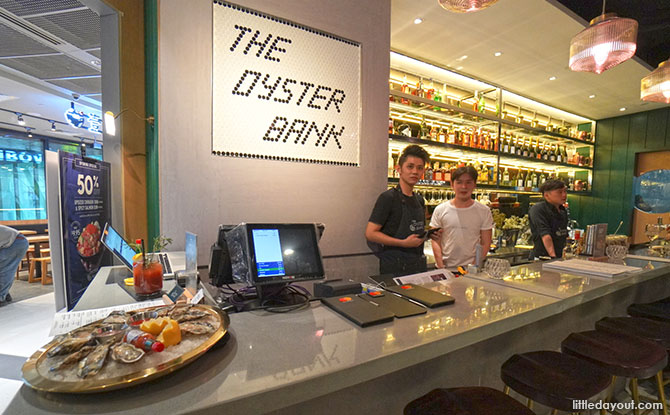 If you're up for Oysters at only $2, head on down to The Oyster Bank. We're so happy that this place exists and we'll be expecting snaking queuing during their Happy Shucking Hour: 5 pm to 8 pm on weekdays and 3 pm to 6 pm on the weekends (Saturday and Sunday). Choose to have them on their own or grilled with mentaiko or even breaded and deep fried! They also serve rice bowls with unagi, chirashi or aburi mentaiko.
Where: #02-32