Don't be deceived by its name! For those who have never tried Nasty Cookie, they are basically every kid's dream cookie: giant 85 gram cookies overflowing with delicious toppings and stuffed with customisable fillings.
When these instagrammable cookies initially caught our eye on the Instagram explore page with a video of a gooey chocolate cookie pull, they were still being sold on an online-only basis. Nasty Cookie is now opening its first-ever physical store at the newly-rebuilt Funan Mall.
Classic, Premium or Both?
The home-grown brand currently offers three classic and six premium flavours of cookies. The thick and chewy texture of the cookies reminded us a little more of cake and we can imagine that Nasty Cookie's cookies are definitely for the cookie lover who likes stuffing more than one cookie into his or her mouth at a time.
Customers can personalise the sweet treats with three different fillings – Nutella, Marshmallow frosting or Dulce De Leche (a condensed milk caramel). These luscious fillings can be injected into any of the available cookie bases, creating a decadent delight. Nasty Cookie also has seasonal flavours which are available for a limited period of time.
---
-- Story continues below --
Turn into a Cookie Monster
We tried the classic Half and Half, which is made with the original chocolate chip cookie as well as the dark chocolate chip cookie, and the Biscoff Cookie and Cookies n Crème.
We also decided to go for the sweet savoury combination with the Let's Pretzel cookie and a new addition: Choco Bueno, a dark chocolate cookie with a Kinder Bueno square.
Injection Time
We injected a marshmallow filling and Nutella filling and all thoughts of calories disappeared as soon as we bit into the warm, freshly-baked cookie – our childhood wish for a loaded cookie had come true.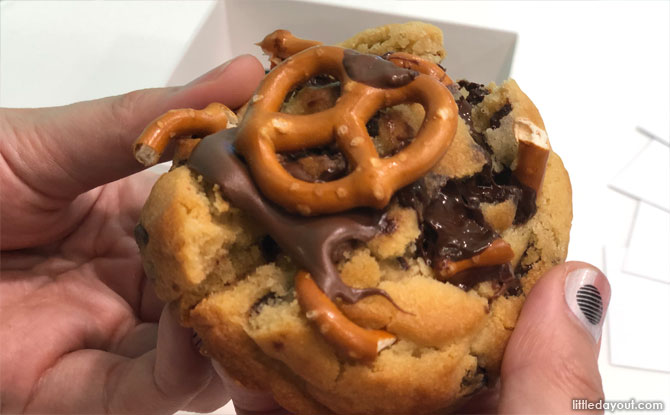 As sickly sweet as the nasty cookies looked, we were surprised to discover that they were not overly sweet and we could finish these cookies without that saccharine feeling hanging over in our mouths.
We also enjoyed the texture and crunch of the toppings. If you still need to be convinced to give these a try, any cookie-pull done with Nasty Cookie cookies is sure to get more than a few likes on Instagram.
Get a Nasty Shake
Nasty Cookie also added two new items to their menu: a Nasty Shake, which comes with either an oreo or specaloos variation, or the Nasty Signature Softserve, which has a vanilla base that hides a "nostalgic secret ingredient".
As the large neon sign on the wall reminds us: It's worth every calorie.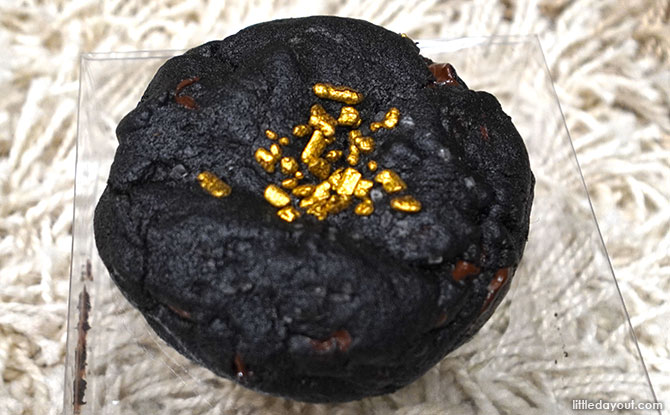 We ended off our cookie tasting session with their newest seasonal flavour which launches sometime in August: a Royal Truffle cookie that comes with a unique toffee filling. The dark cocoa cookie base with chocolate chips seems ordinary, until the strong aroma of truffle oil hits. Truffle oil and chocolate chip cookies? Yes. Plus it comes with gold coated flakes too. #fancy.
At first bite, my tastebuds were extremely confused, and even after finishing almost the entire cookie, I still couldn't figure out if I enjoyed the unconventional combination. But for anyone who likes all things novel, it's worth a bite.
Get your Nasty Cookie at Funan Mall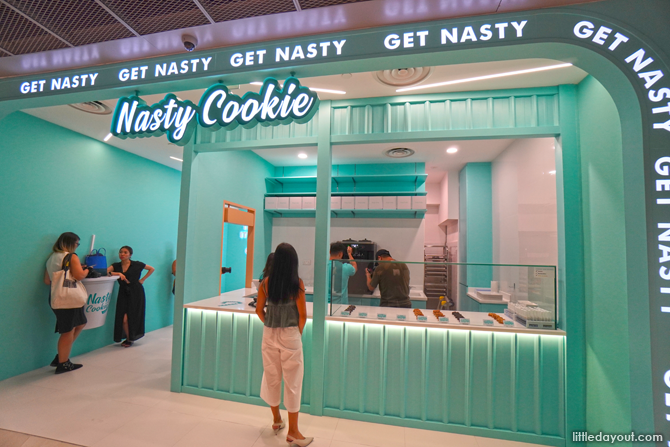 You can sink your teeth into Nasty Cookie at the second level of Funan Mall, 107 North Bridge Rd, #02-35, Singapore 179105, when the mall opens.
Media Invite