As restrictions lift and we have more reason to spend some time in the sun, especially at places like Sentosa. From now till 30 September 2022, visitors can enter for free via the Sentosa Express or their own vehicles.
---
Free entry to Sentosa via public transport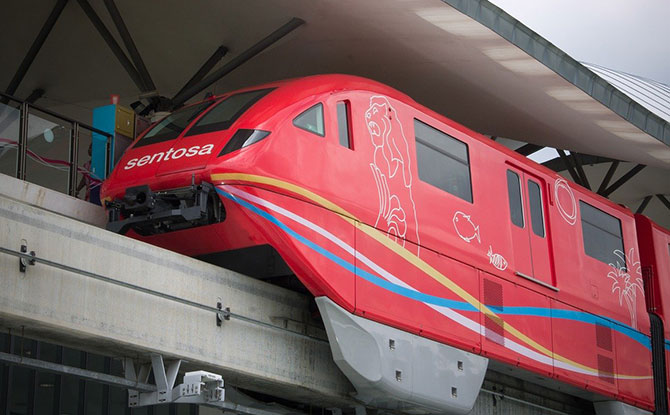 There are a few ways to enjoy the free admission to Sentosa. If you are entering at the Sentosa Express, use your Ez-Link Card to tap and enter for free. Visitors without an Ez-Link Card can approach the Service Ambassadors for free entry.
---
Free entry to Sentosa via driving
For those driving in by car at the Sentosa Gantry, enter free as long as the vehicle has a locally registered IU. Vehicles with non-locally registered IU can drive in by tapping or inserting the Autopass Card on the card reader at the booth to enter for free.
Do note that there is no entry for motorcycles. Goods & Service vehicles are allowed free entry on Mondays to Fridays, except Public Holidays, from 8 am to 6 pm.
Free island admission is also given for all BlueSG members entering Sentosa in BlueSG's electric cars. BlueSG rental charges apply. Visitors can reserve and drive an electric Bluecar from any BlueSG station to BlueSG Beach View Station at Sentosa Beach Carpark. This service is available 24/7.
---
Other ways to enter Sentosa
If you want an aerial overview of Singapore's city skyline, entering Sentosa by Cable Car is the way to go. To get to the Singapore Cable Car station at Harbourfront Tower II, alight at Harbourfront MRT and take Exit B to Harbourfront Centre. Follow the directions from there.
Guests can make their way into Sentosa for free by cycling or walking too. As part of Sentosa's efforts to preserve and enable the enjoyment of nature and the outdoors alongside the island's development, cycling and pedestrian linkways are available for guests to move around the island in comfort and safety, and to explore Sentosa gems which can only be accessible on foot and bicycle.
For more information, visit Sentosa's website here.
Sentosa's free entry has been extended till 31 December 2022. Get more details of the extension of free entry to Sentosa.