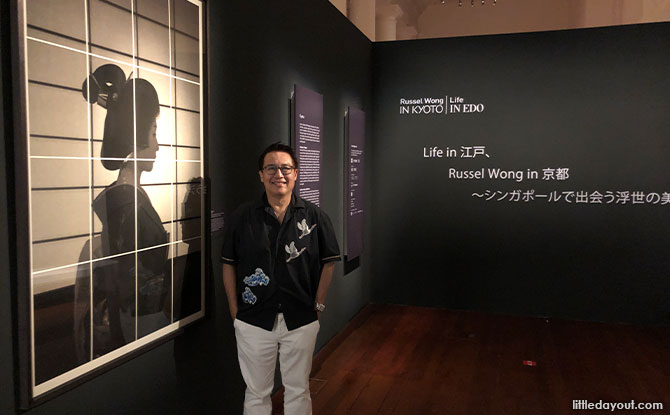 A part of the Asian Civilisation Museum's newest exhibition, Russel Wong in Kyoto gives visitors a glimpse into the rarely seen and lesser-known traditions of the geiko of Kyoto.
The photographer behind the exhibit is internationally renowned, Singaporean born, fashion and portrait photographer Russel Wong. Russel Wong has worked with Oscar-winning directors and Hollywood celebrities such as Jackie Chan, Michelle Yeoh and has also photographed covers for Time magazine.
Russel's interest in photographing in Kyoto and its geisha community began during a visit to Tokyo in 2005 to shoot publicity photographs for Watanabe Ken when he was starring in Memoirs of a Geisha which received mixed reviews. Russel hopes that the photographs can give the geiko community a voice for an international audience.
With many photos to see and admire, here are five things to note about the Russel Wong in Kyoto exhibit.
---
-- Story continues below --
---
5 Things To Know About Russel Wong in Kyoto Exhibition
The photos in the exhibition were taken over 13 years
The photos in this exhibition consist of 40 black-and-white photographs that were taken over a 13-year-long period. A large part of this is because of the "ichigen-san okotowari" or "turning away first-timer" system that is practised in most teahouses. It took Wong five years to gain access to the communities in all five geisha districts in Kyoto.
---
The photos are inspired by woodblock prints
All of the photos are printed in oban size, which is approximately 39 by 26cm and it is the most popular woodblock print format during the Edo period. Russel Wong shared, "In an ever-evolving world we live in, I enjoyed photographing these timeless images that had stood the test of time."
---
The photos give a glimpse into rarely seen ceremonies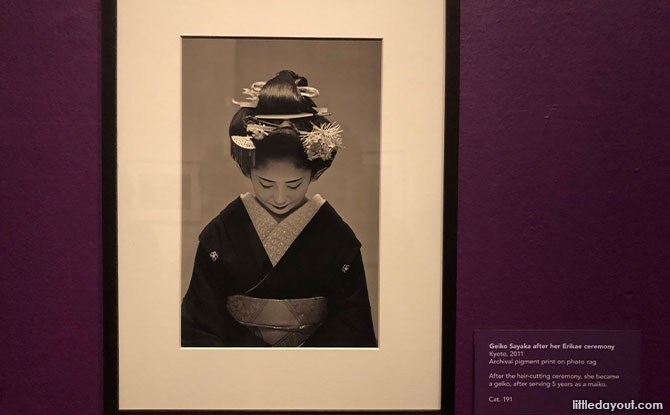 Photos such as "Geiko Sayaka after her Erikae ceremony" give a glimpse into the erikae ceremony, which is a two-week-long process where a maiko (geiko in training) prepares herself to become a geiko. This photo was taken after the hair-cutting ceremony.
There are also photos capturing the tea ceremony (sado), a crucial part of geiko and maiko training and courtesy visits in the neighbourhood known as aisatsumawari.
---
One of the photos record one of the recent heavy snowfalls in Kyoto
Heavy snow is not a common sight in Kyoto and so when Wong got the call that there was going to be a heavy snowfall from his contacts in Kyoto, he booked a flight and arrived the night before to get some memorable and rare shots. This photo was taken just last year in 2020 before borders shut for travel due to the pandemic.
---
Learn about the etiquette in the Kaiga
With a widespread fascination with the geiko community, visitors can learn more about the proper etiquette to ensure respect for the community. Many informational panels explain the hazy origins of geishas and what it is like to have a career as one.
---
Onsite tour of the Russel Wong in Kyoto exhibit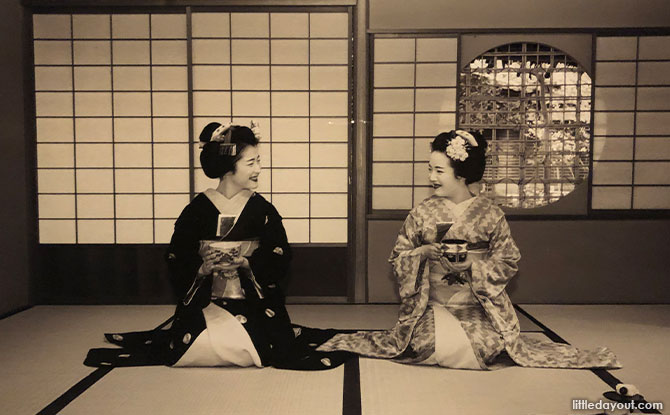 For those who want to hear more stories and see more behind the scene moments, join the artist and curator onsite tour featuring Clement Onn and Russel Wong happening Wednesdays, 9 June and 11 August 2021, 7.30 pm to 9 pm. Each session is $30 per participant and is limited to 8 people.