With a mighty great splash, the big bucket containing 1,324.89 litres of water (or the equivalent of 2,650 bottles of coca cola) tipped over and marked another step closer towards the official opening of LEGOLAND Water Park on 21 October 2013.
The water supply was switched on temporarily at the Joker Soaker, one of LEGOLAND Water Park's signature attractions, to mark its completion.
Decked in vibrant primary LEGO colours, the Water Park will feature 20 unique water-based rides and over 70 two-metres tall LEGO models, including the LEGO Joker at the Joker Soaker as well as others at the wave pool and lazy river.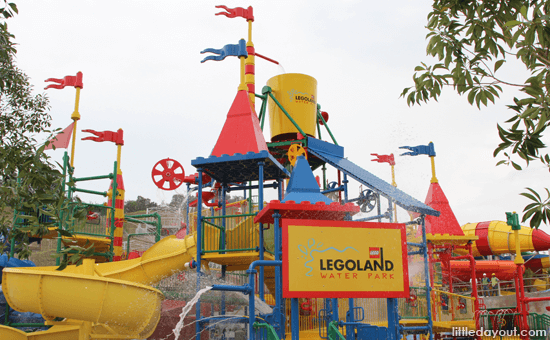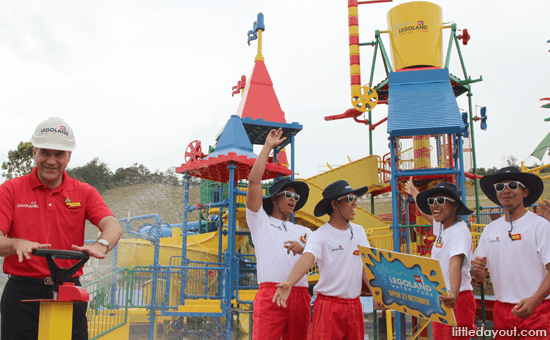 Kids can aim water cannons at one another at the Joker Soaker, a fun interactive play structure in a wading pool, but the joke is on them when the LEGO Joker dumps the water down on them.
Parents wondering about the cleanliness of the water will be pleased to learn that the Water Park's Neptune-Benson Defender Filters are capable of filtering particles as small as one micron.
"We are well on target for our opening on 21 October and we look forward to welcoming families to the first LEGOLAND Water Park in Asia. The Water Park is leading the transformation of LEGOLAND Malaysia into a family resort destination," said Siegfried Boerst, General Manager of LEGOLAND Malaysia Resort.
When it is open, the Water Park will be the largest LEGOLAND Water Park and it will be the first with a second gate, to allow visitors to enjoy it separately or in combination with the Theme Park.
Calling Junior Lifesavers
To add on to the fun, the search is now on for swimmers aged between six and twelve years old to be Junior Lifesavers at LEGOLAND Malaysia.
Posing with the LEGO 'mini' figure model, water rafts and soft LEGO bricks are (from left) Siegfried Boerst, General Manager of LEGOLAND Malaysia, Scott Elliot, Senior Project Manager of LEGOLAND Water Park and Stefan Bentivoglio, Model Shop Manager of LEGOLAND Malaysia.
Six junior swimmers will be selected to experience a once in a lifetime opportunity to be part of the opening crew of the LEGOLAND Water Park and also to work behind the scenes. Junior swimmers can register now at LEGOLAND Malaysia's official Facebook page. Get your swimsuits ready!
Read our other stories on and review of LEGOLAND Malaysia.