Ahoy, matey!
Love to live life on the high seas? Potato Pirates is one card game which is all about living the life of a pirate – looting, hijacking, sinking with the help of coding skills. We reckon this highly competitive card game will be enjoyed by pirate wannabes who relish sinking each other's ships and stealing crew members.
---
What Potato Pirates is About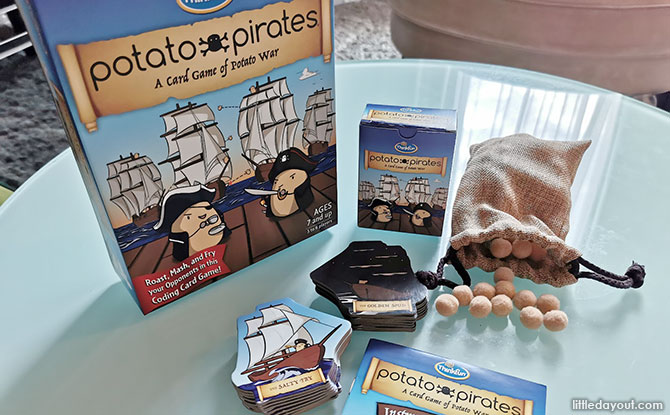 Potato Pirates was created by a Singapore-based education technology company – Codomo. #supportlocal
---
-- Story continues below --
With simple coding concepts sans a screen, this game is played with cards and a sack of potatoes. Players will need to programme their ships to battle other ships and try to acquire all seven Potato King cards, or just try to be the last one sailing.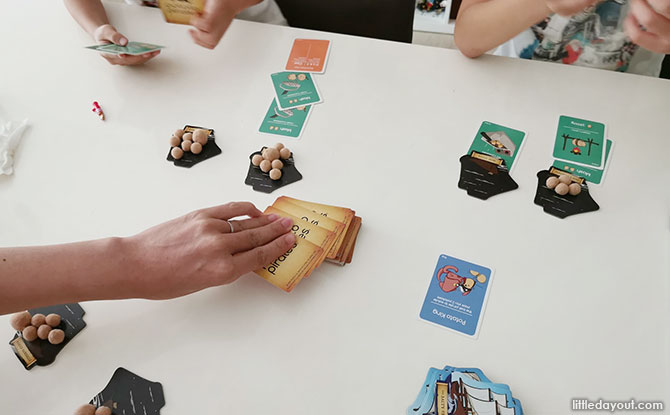 Given the brutality of attacks, the game can end quite quickly with frequent hijackings, lootings and powerful commands the ship are programmed to follow. This fast-paced card game also allows players to strategise and use computational thinking concepts to defeat opponents.
In our experience, the game is ideal for children 8 years and above.
---
How to Play Potato Pirates
To begin, each player has five cards, two ships, 20 crew members in the form of little felt potatoes.
The goals are simple –  try to get as many Potato King cards, eliminate all other players and defend your ships from attacks.
There are five types of cards: Potato King cards in blue, surprise attack cards in pink, control cards in orange and attack cards in green.
Whenever a player draws a Potato King card, he or she yells "All hail!" and the rest of the players have to respond in a salute and yell "Potato King!". The last player to do so surrenders two crew members to the player.
To programme an attack, you can use a maximum of three cards per ship. To maximise the attack, the attack cards should be paired with the control cards. These control cards set the rules of the attacks and can even allow you to attack all ships at one go, or make the attacks relentless with "if" conditions resulting in a loop effect.
The surprise attack card can also be used any time! Use them well to hijack, loot or deny attacks.
To learn the game effectively, we suggest reading the manual carefully and watch this video on instructions. It could be a little tricky to learn all the rules at one go especially for younger children, hence we recommend a video tutorial.
---
Potato Pirates Review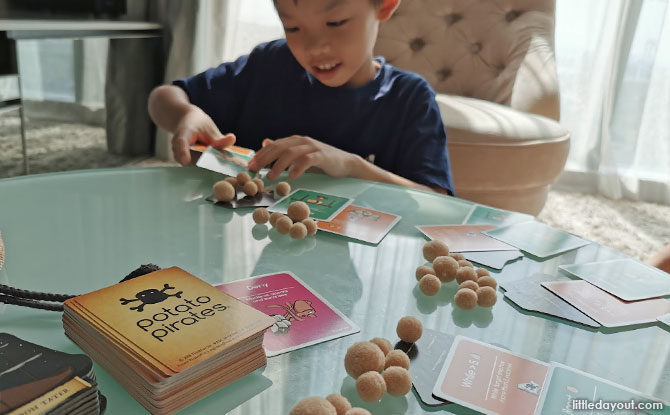 All parents and children love gamified educational experiences! Since coding can be difficult to learn, Potato Pirates makes the learning easy and subtle. Children will pick up the coding concepts quickly through the interactivity. Think of learning coding without a screen!
As a parent who is concerned with excessive screentime, this game is perfect for learning basic programming concepts such as conditionals, loops, variables and creating a function without resorting to a screen. The game is a social one, though highly competitive. Children can learn to launch the most damaging attacks and eliminate all other root vegetables with the help of control cards.
Potato Pirates certainly got our eyes, hands on deck trying to outlast each other's attacks. It is super fun with a pretty fast pace that gets you an adrenaline rush – even for the adults. It is a cleverly designed game that could see plenty of game plays especially amongst the boys and the feisty girls.
---
Blimey! Potatoes Attack!
Games are a fantastic way of getting family and friends to bond. The compact set can be brought along on holidays and staycations as well! Get your copy of Potato Pirates from this site.