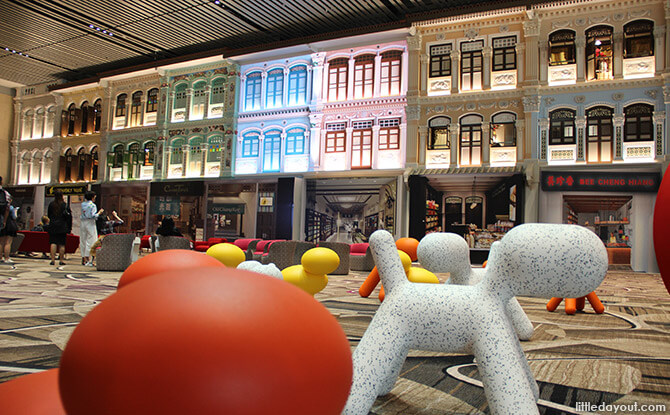 The new Changi Airport Terminal 4 is set to open by end 2017. With a fun and vibrant look, Changi Airport Terminal 4 incorporates many new features and concepts designed to deliver a more pleasant travel experience to passengers. Here are some of the family-friendly features and things you can do at Changi Airport Terminal 4.
"No Kerb" Kerbside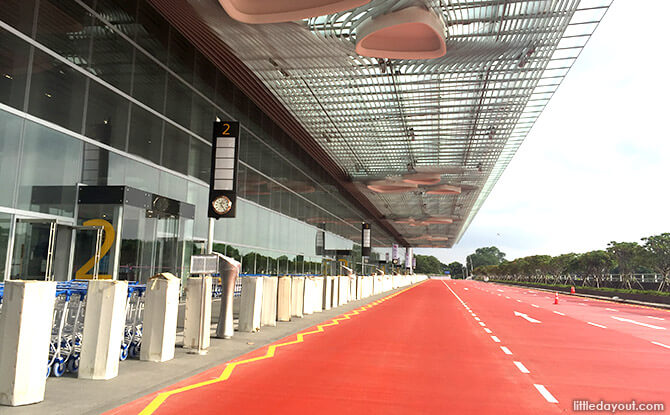 The family-friendly experience at Changi Airport T4 starts at the kerbside, or more accurately, the lack thereof.
At the vehicle drop-off point at the departure level, in place of the usual kerb is a slope that allows passengers to wheel their luggage straight into the terminal building. This eliminates the need to have to heave a bag up a kerb and it is boon for families heading off for vacation with multiple pieces of luggage, strollers and kids.
Play 'Spot the Petal Motif'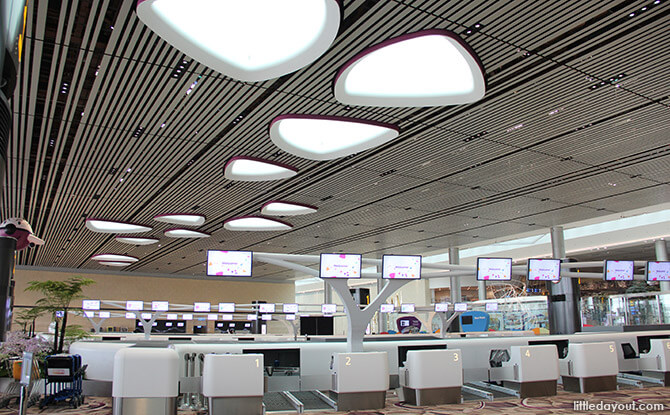 Ever find that the kids are bored and tired of waiting for the flight? At Changi Airport Terminal 4, you can play a game of "spot the petal".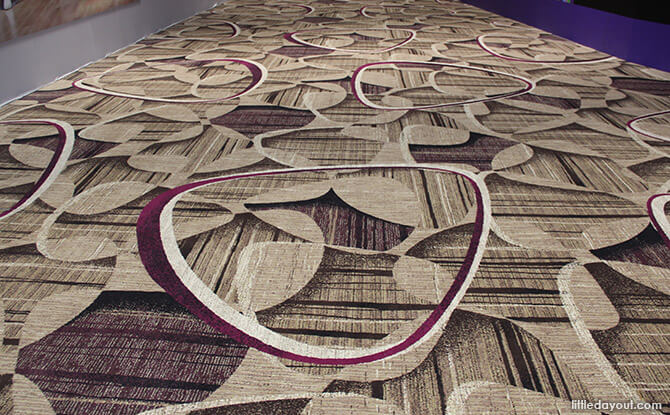 The petal motif is the central design element at Changi Airport Terminal 4. It can be found everywhere – from the carpet to the ceilings and even in the form of rubbish bins.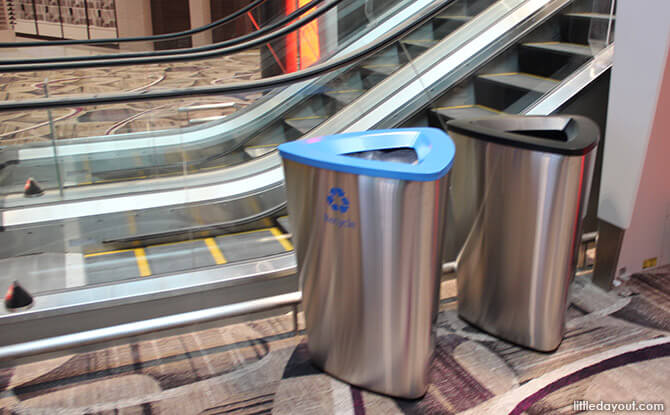 Keep the kids entertained by getting them to spot this ubiquitous petal motif hidden into the decor and furnishings of Changi Airport Terminal 4.
Digital Immersive Wall
One stressful part of travelling is clearing the security checks. The experience usually involves waiting patiently in line while trying to keep the kids from going insane. At Changi Airport Terminal 4, a 70-metre long digital screen at the security screening area will help to distract kids from the wait.

It features montages of scenes from around the region and also features a quirky animation of what happens to baggage after it has been checked-in.
Heritage Zone & Peranakan Love Story Show
Within Changi Airport Terminal 4's transit area is a permanent Heritage Zone. This is a showcase of different styles of shophouses found in Singapore and has REAL retail stores set into the façade. The row of shophouses also holds a secret – a digital screen hidden amongst the shophouse facades. A short film, Peranakan Love Story, plays on this screen to entertain passengers. It which tells a tale of how a young couple falls in love.
Nearby, one storey above, there will also be a Peranakan Gallery with exhibits on Peranakan food, traditions and objects.
Changi Airport Terminal 4 Children's Playground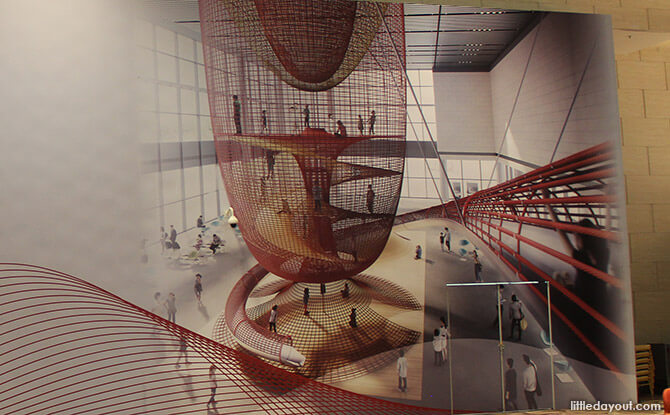 The Changi Airport Terminal 4 Children's Playground was still under construction when we visited the terminal on a media preview in July 2017. Nonetheless, judging from the artist's impression found on the playground area's hoarding, it looks like the playground will be immensely fun with epic slides that span across two levels and a climbing net structure at its centre.
We (and plenty of kids we bet) look forward to opening of the Changi Airport T4 Children's Playground when Terminal 4 goes operational. The children's playground is located within the transit area of Terminal 4, next to the Heritage Zone.
Novelty Seats
For the weary traveller, there is nothing better than finding a nice plush seat to take the load off one's feet.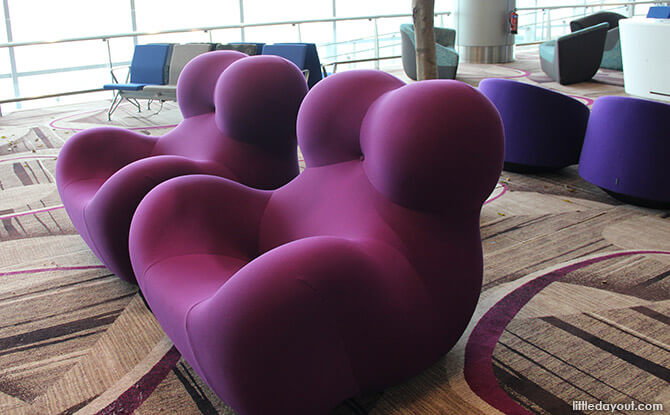 At Changi Airport Terminal 4, there are 1,500 of them. These come in a wide variety of shapes, sizes and colours.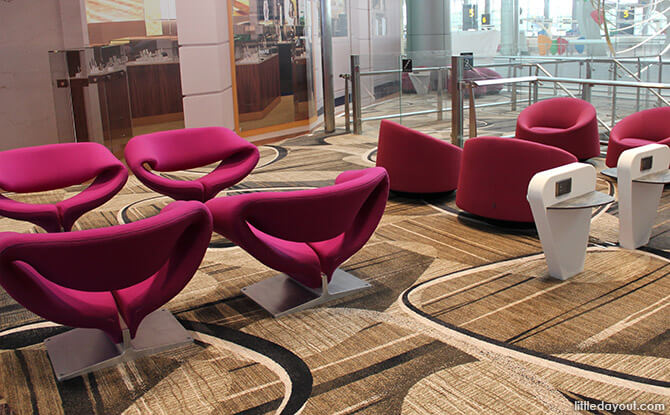 The family can search out their favourite and plonk down on them to have a rest.
We bet that kids will love sitting on the collection of animal-shaped seats at the Heritage Zone.
Taxi Queue for Pregnant Ladies and Parents with Infants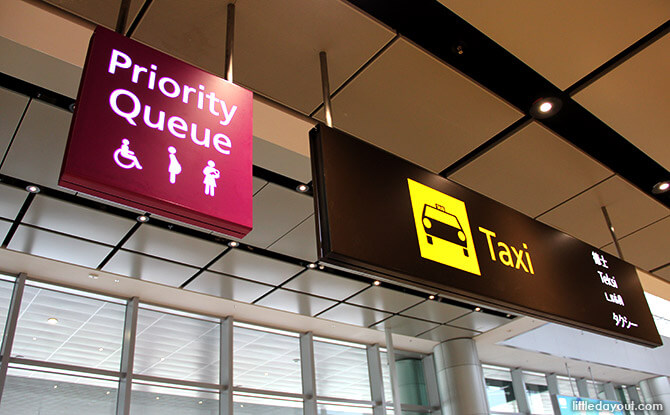 Finally, while not unique to Terminal 4, it is worth highlighting that there is a special taxi queue for pregnant women and parents with infants. Located at the Arrival Hall, it is just another thoughtful way that Changi Airport caters to families with kids and soon-to-be families with kids.