Tired of the hum and drum of your daily routine? Take a short getaway to Phuket! Surrounded by beautiful islands, Phuket is filled with plenty of night markets, beaches and delicious food. We recently went to Phuket on a family vacation and checked out for ourselves some family-friendly activities in Phuket, Thailand.
ATV Riding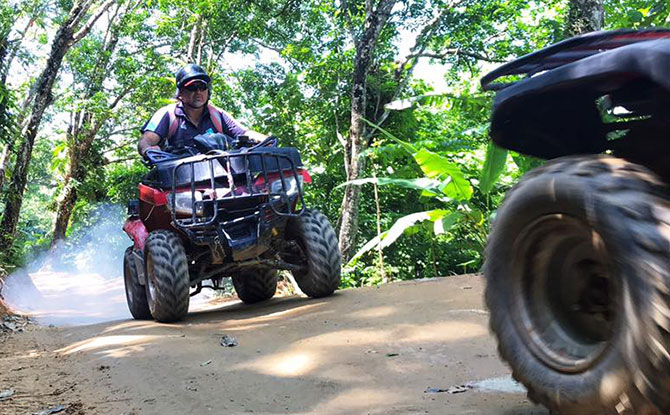 This may not be the first thing that comes to mind but ATVs, or All-Terrain Vehicles, can a fun family activity to do in Phuket, Thailand.
Riding a four-wheeled vehicle may not seem super kid-friendly, but trust us, we tried it and it was so much fun! Children younger than 10 can sit with parents and kids with a daredevil will seriously fall in love with the experience! There is usually a guide or two to ensure the customer's safety.
Alternatively, some companies have an option where you can ride with an experienced driver, so you can just "sit back" and enjoy the journey.
---
-- Story continues below --
The ATV ride can last from an hour to two hours depending on what you opt for. A popular route is to head up to the Big Buddha. You'd have some time to sightsee at the Big Buddha then you'd be heading back.
Island Hopping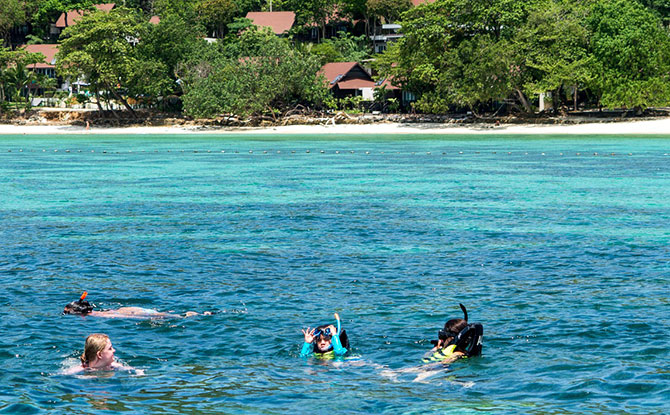 Many companies in Phuket offer island hopping tours. These take you around to Phi Phi Islands, Maya Bay, Banana Beach and maybe more. These tours would most likely include snorkelling and, boy, is this NOT to be missed!
Brilliantly coloured corals and fishes of every colour will surround you as you snorkel around these islands. No other place we've been to in the Asia Pacific can beat the abundant marine life here.
Can't swim? No problem! Everyone is required to put on a life vest and snorkelling equipment are provided.
We'd advise you to bring a waterproof camera or your GoPro to capture the beautiful sights underwater. This family-friendly activity in Phuket, Thailand, is a chance to teach the kids all about Mother Earth. We would suggest extra supervision with children but, all in all, it would be a good experience for the young ones. This, however, might not be suitable for children under 5 years old.
Ziplines – One fo the Family-friendly Activities in Phuket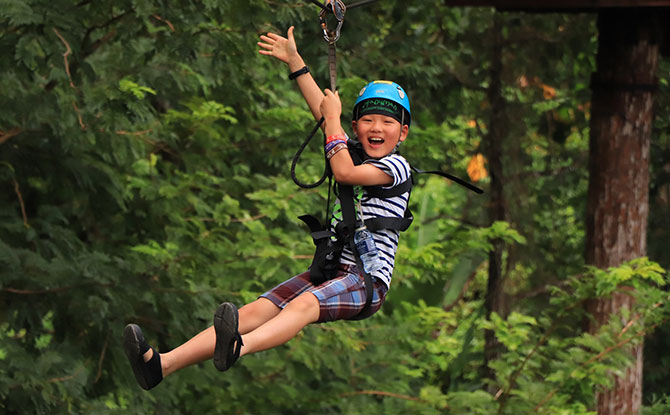 Another activity for the adrenaline seeker, is the ziplines at Phuket. You may want to check out Flying Hanuman because it has the largest area covered and the longest ziplines in all of Phuket.
Zip through the trees at an unbelievable height soaking in the scenery from all around you. There are high ropes challenges, treetop bridges and spiral staircases that lead you to the zipline platforms so it is definitely not for the faint-hearted.
The minimum age for children is 4 years old. With a 5-star rating on TripAdvisor it is definitely an activity not to be missed.
Enjoying the Beach Life
If all of the above do not interest you, then the next best thing to do in Phuket is to bring the family to the beach. The children can play in the sand while the adults rest and relax under shaded spots or in the sun.
Playing in the waves are common among tourists and there are lifeguards at points along the beach keeping a watch on you.
Jump when the waves come and try surfing with only your body! Didn't bring your sand play things? No worries, there are bound to be small shops along the beach that sell what you need and are really cheap.
Rent a sun bed grab a cold drink and throw all your worries away!