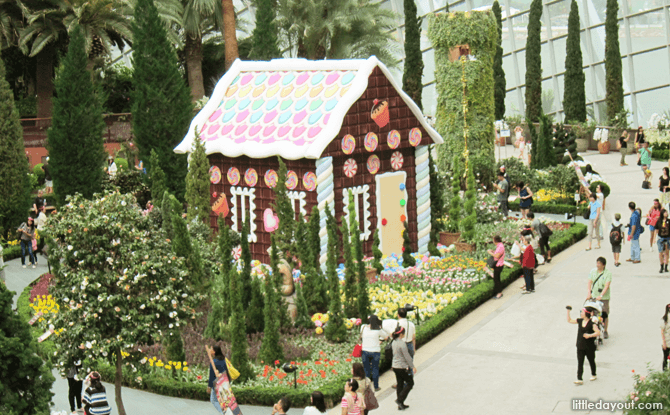 Who's afraid of the big bad wolf? Not us!
With vividly-coloured tulips like the scarlet "Red Riding Hood", the annual tulip festival Tulipmania is out in full bloom, set against the backdrop of quaint fairytales.
Back for the third time in Singapore, this year's festival offers the largest variety of tulips yet. Bring the little ones for a colourful day out into the world of fairytales!
Larger than Life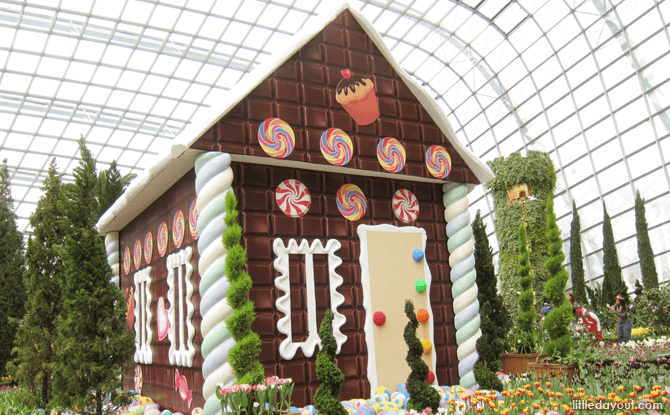 About 75,0000 tulips in 43 varieties are standing proud and tall, flown in from the Netherlands.
The central attraction is Hansel and Gretel's gingerbread house, looming large, surrounded by the beauty of various tulip cultivars. Look out for Easter Eggs hiding among the flowers!
Get the little ones to guess the other fairytale exhibits on display: The Snow Queen, The Ugly Duckling, Thumbelina, and Cinderella.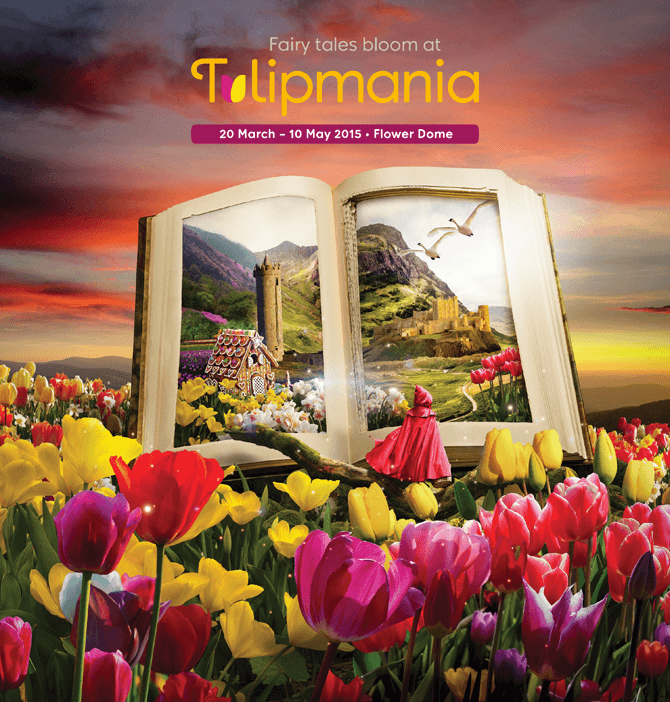 Image courtesy of Gardens by the Bay
To get the most out of the festival at Flower Dome, be sure to grab a free copy of the Tulipmania Garden Trail map when you buy your tickets, to see the fairytale characters.
Buying tickets online will save you time, too.
In fact, you can just flash the e-ticket in your mobile smartphone at the entrance of Flower Dome, to enter.
Did you know?
Tulips are the the third most popular flower in the world, after roses and chrysanthemums
The tulips that we see have been growing for over four years in Netherlands
The harvested tulips are kept in cold storage at 2℃ for 9-14 weeks for the roots to grow, followed by greenhouse incubation at 10-15℃ for 3-4 weeks
These tulips travelled more than 10,000km from the farm in Netherlands to Singapore in 24 hours
Once planted at Gardens by the Bay, the bulbs take about 3-5 days to bloom
The blooms can last up to 12 days
During Tulipmania, the temperature in Flower Dome is lowered from 23℃ to 18℃; at night it drops further to 15℃
Bring along the whole family
Grandpa and Grandma can also come along for this outing. For Tulipmania, local senior citizens enjoy 50% off weekday admission tickets to the cooled conservatories (terms and conditions apply).
Tulips for mum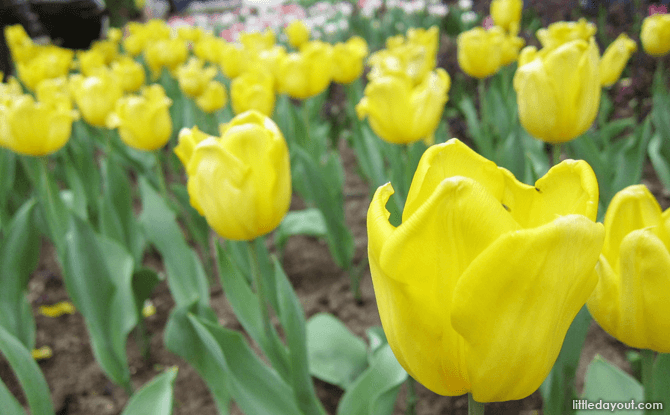 For mummy, a special floral arrangement workshop will be held to celebrate Mother's Day. Create a flower bouquet using tulips from the floral display on May 9, 2015.
The programme fee includes the materials, and each bouquet is $80.
Visit www.gardensbythebay.com.sg for advance registration, as walk-ins will not get a spot at this workshop. For enquiries, email education@gardensbythebay.com.sg.
Fairytale characters
Look out for popular fairytale characters at Flower Dome, a short dance performance and even fairytale characters on stilts.
The special appearances will take place on April 25-26, from 11 am to 5.30 pm.