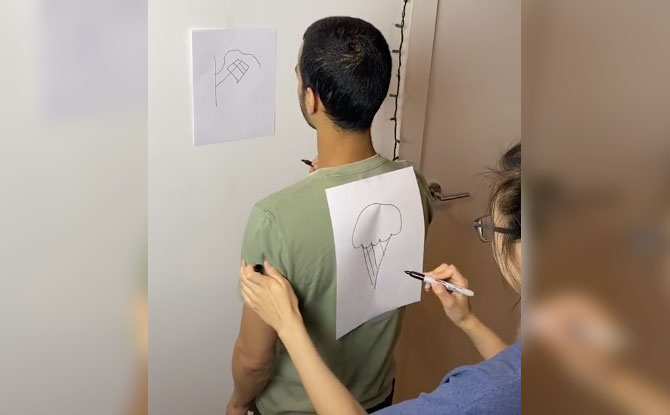 Want to try something with those that you are safe at home with? A fun drawing challenge has been posted by a TikTok user where you can doodle with a partner and see what picture emerges.
TikTok user @djasharofficial posted a video of himself and the person who he is isolated with doing a "back" drawing challenge.
The Back Drawing Challenge
This is how it is done. One person stands facing a wall with a blank piece of paper stuck to his or her back. On the wall, there is another piece of blank paper.
The second person uses a marker to draw something on the paper stuck on the first person's back. This is done one stroke at a time. The first person then tries to mirror and replicate what the second person is drawing on his or her back.
---
-- Story continues below --
The results can be quite funny as the person in front tries to translate what he or she is feeling on his or her back into an actual drawing. Don't be surprised if it turns out like a Picasso or piece of unfathomable modern art.
Doodling Version of Broken Telephone
This doodling challenge is a bit like a drawing version of the classic game of "broken telephone". However, in this case, the drawing challenge only involves two persons.
Imagine a variation where there were more people in a row!
One thing to take care of is to ensure that the person drawing on the other's back does not press too hard. If that happens, the pen or marker might go through the paper and end up colouring the person-in-front's shirt.
That would result in another challenge – washing out the ink stain!
Check out the TikTok drawing challenge below. It is just a bit of fun which you can try for yourself at home.