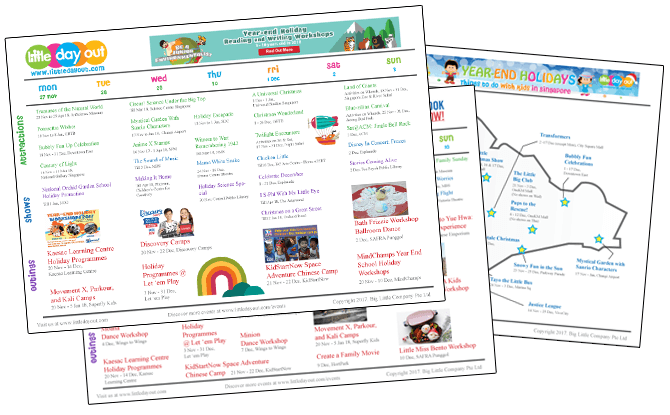 The year-end school holidays are here.
As the year starts to wind down, it is also time to start planning time with the family. To do so, we have prepared our Little Day Out Guide to the Year-End School Holidays, including what is taking place around the shopping centres in Singapore.
Downloadable Little Day Out Guide To The Year-End School Holidays 2017
This guide is designed to provide families with young children an overview of what is taking place during different weeks during the year-end period, including the latest at the attractions, exhibitions to pay a visit to, shows to watch and other fun activities taking place in Singapore during the school holidays.
Included is a map that outlines at a glance the various 'live' shows and meet-and-greets in the shopping centres around Singapore (information accurate at time of publication).
We hope you find the Little Day Out Guide to the Year-end School Holidays 2017 useful for planning out what you'd like to do with your children during the November / December school vacation. One way to do so is to print out the guide and circle the activities that you'd like to do, based on the days that you are available.
At the back of the guide are some sheets that kids can use to journal the activities and the experiences that they had during the year-end school holidays 2017. This can allow them to look back and recall what activities they have done during the school break.
Of course, there is only so much that we can squeeze into a downloadable handy holiday guide. For even more ideas, do refer to our Nov/Dec school holiday activities page or the Little Day Out events listing page found here.