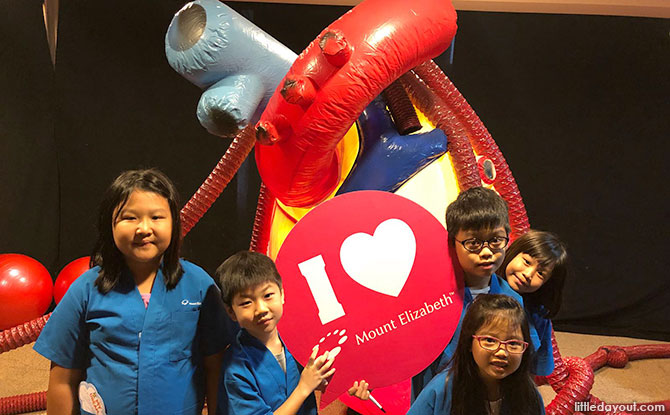 Mount Elizabeth Hospitals' wildly popular Doctor For A Day series returned in June 2018, building on its 'Speed Saves Lives' theme rolled out earlier in March this year. Get Darryl's first-hand account of this refreshed edition of Doctor For A Day, which lets children experience becoming a doctor and how fast medical services save lives.
Doctor for a Day June 2018 Review
I first came across the Doctor For A Day series some years back and had attended it with my two kids twice before. A new format beckoned and I heard that it would include more puzzles and medical situations that the kids could experience.
An hour later, I emerged glad I had the chance to try it again!
Fresh Edition of Doctor For A Day – Speed Saves Lives
The format had certainly changed quite a bit. Our team of 'doctors' was presented with a case study of a fictional 'Mr Eric Sim'. At each station, we were introduced to the different stages a real doctor would go through when faced with a medical emergency through the form of 'Eric'.
---
-- Story continues below --
Each child was given a booklet to keep track of new information.
We were then taken through some basics on topics ranging from anatomy, types of medical tests, how an A&E department works and nutrition in food.
This required the children to closely observe how 'Eric' lived his life. From the unhealthy food he ate, to the complaints he had about work… the 'doctors' worked to note what risk factors were the likely causes of the mystery illness!
Along the way, the children were also given basic courses supplementing the story to illustrate the overall medical process.
Reality Hit Home Fast
What I liked was that it was not always a video or a theoretical concept being explained to the 'doctors'.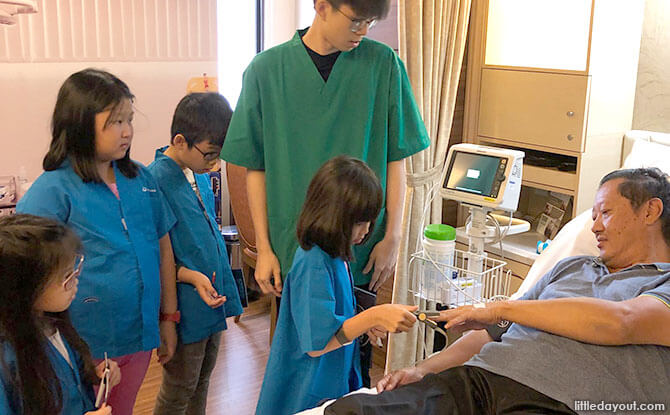 For example, there was a real-life patient at one of the stations they got to 'interview' and test (check blood pressure and fit on oxygen masks) as well!
This certainly brought to life the theory the kids were going through. It also drove home how important it is for us not to ignore early warning signs but to go for early screening. Looking around the room at each of the children, they had most certainly not expected to be interviewing an actual patient!
Saving the Patient
All this led to the grand finale at the operating theatre. The kids were presented with a giant heart (of 'Eric'!) and the opportunity of performing a 'heart bypass surgery' to save him.
The giant heart was impressive and came complete with veins and arteries connected to it, as well as a constant pounding to simulate the heartbeat. Kids were taught what a bypass surgery was and tasked to fix the veins and arteries that had been clogged.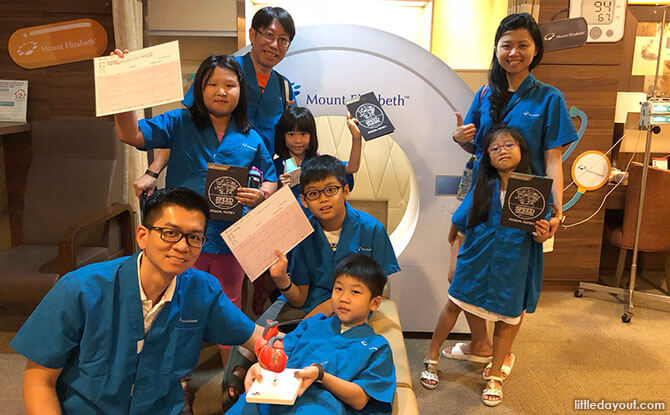 What I particularly liked was the hands-on nature of some of the activities, and the overall ongoing storyline of saving 'Eric'.
#SpeedSavesLives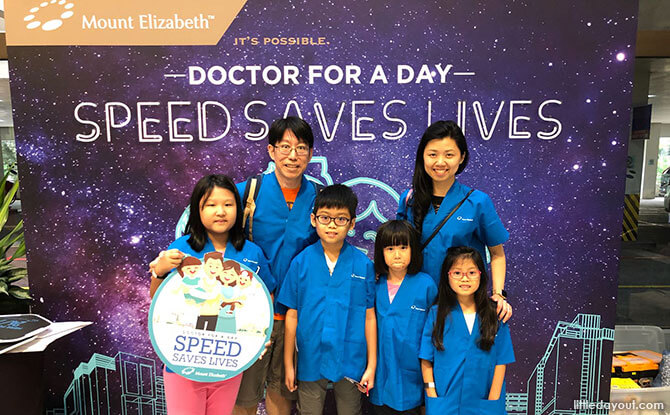 The emphasis on 'Speed Saves Lives' throughout was not lost on the kids and they certainly learnt of this importance during the experience. The Mount Elizabeth Hospitals staff facilitating emphasised from the first station how critical this was.
From making swift but accurate diagnosis to reacting with urgency at the A&E department and having the right specialists through its 24-hour clinic to make those quick calls accurately, the message certainly hit home with the children.
Overall, this was a memorable experience as the storyline really helped to embed the 'Speed Saves Lives' message to the kids.
Well done, Mount Elizabeth Hospitals, for building a good programme and making it even more immersive and memorable!
Doctor For A Day 2018 – Speed Saves Lives
Held 15 June 2018
Where: Mount Elizabeth Hospital
Child's age requirement: Six to 12 years old
Group size: Six to eight participants
This article is brought to you by Mount Elizabeth Hospitals. Mount Elizabeth Hospitals' A&E departments are also 24-hour clinics with paediatricians on call late at night.