With just seconds left on the clock, patient Eric Sim's life was in critical danger. Will the team of doctors be able to diagnose his ailment in time to save him? Fortunately for the fictional Eric, he was in good hands at Mount Elizabeth Hospitals' SPEED SAVES LIVES programme from Doctor For A Day 2018.
Parents and kids aged six to 12 experienced a day in the life of a doctor, as they raced against time as a team to solve medical puzzles, find clues, and crack codes in this escape-room game held at real hospitals.
The goal? Save Eric Sim's life. Dimmed, atmospheric hospital wards with the backdrop of urgent music made the tasks fun and, at times, nerve-wracking, for the participants.
"We get to have family bonding, and it's very educational for the kids," said customer service team lead Joanne Ng. The 42-year-old teamed up with her husband Alvin Wang, 47 and eight-year-old daughter Alyssa.
---
-- Story continues below --
#SpeedSavesLives
The refrain for Doctor For A Day is "speed saves lives", which reminded Mr Wang, a sales and marketing manager, of one late night where he had to urgently send Alyssa to a clinic due to high fever. He learnt that Mount Elizabeth Hospital's A&E department is also a 24-hour clinic, and there are paediatricians on call late at night too.
"A 24-hour clinic is useful, especially if a child falls seriously ill in the middle of the night," he said. "Doctor For A Day is a great way to play together as a family, and even learn about some medical conditions."
Race Against Time
At the first checkpoint of the 90-minute game, the task was to arrange a mannequin's organs in the right positions. Be careful of nervous little fingers dropping the patient's organs off the operating table!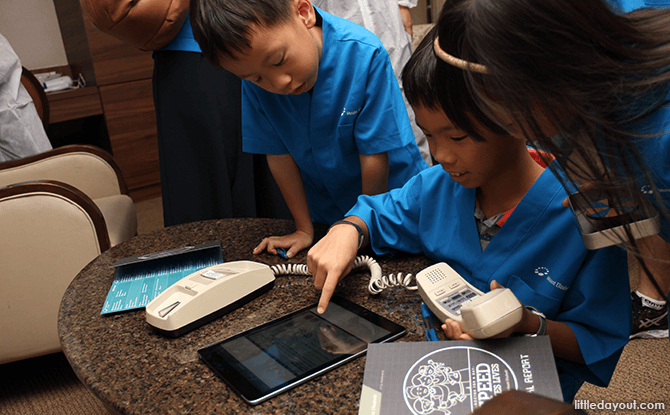 Armed with an iPad, next, the team had to figure out the patient's symptoms and search the room for clues, to get the correct numbers to telephone for help.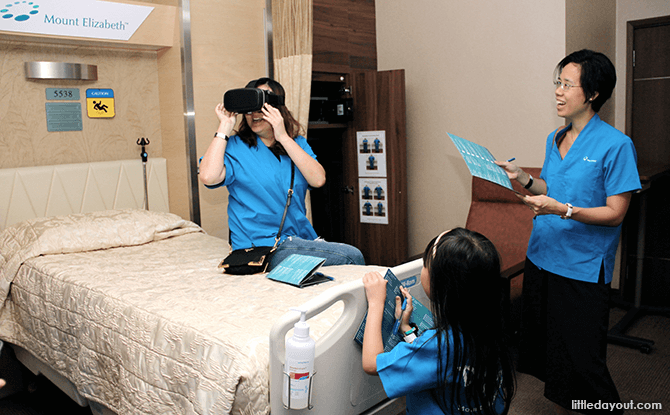 For immersive fun, participants had a go at virtual reality goggles in order to find more clues to crack a code.
And the team is ready for the next stop!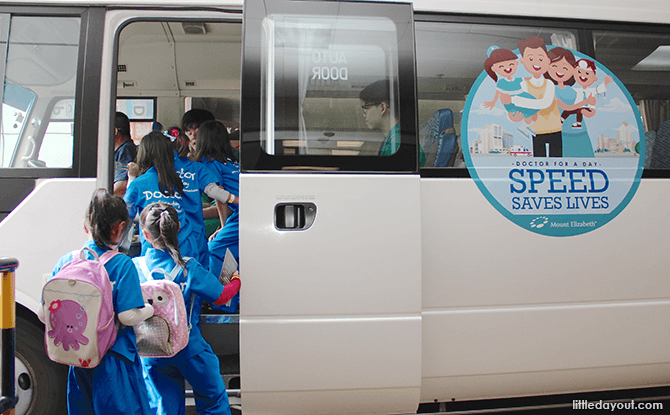 Time to take the Travel Pod to the next location – Mount Elizabeth Novena Hospital.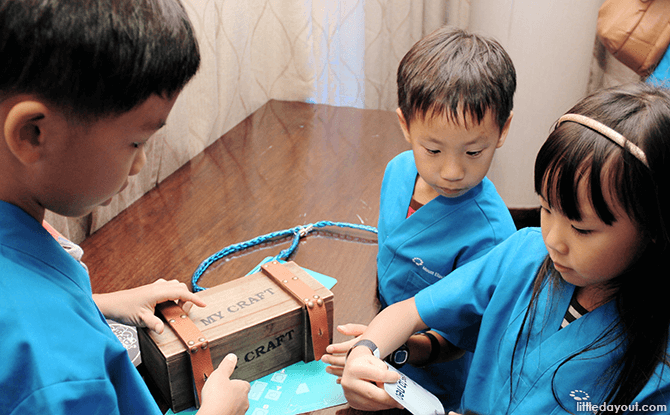 The hunt for clues were designed for kids to confidently contribute to the progress of the game, and learn the importance of teamwork.
"My favourite room was solving the math equations," said Samuel Cheong, 6. This particular room was pitch-dark, illuminated only by the faint glow of ultraviolet light to reveal strange numbers and symbols on the wall.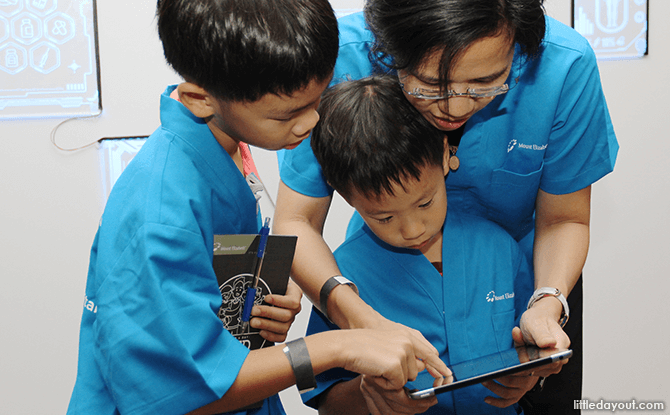 Samuel joined the game with his brother Joshua, 9. Said the boys' mum Kimberly Quek, who is in her 40s: "It's a great opportunity for the kids to play together in a team, and see the inside of the hospital."
Saving the Patient
Together with the Wang family, Ms Quek and her boys managed to diagnose patient Eric Sim's illness in the nick of time, which allowed the right medication to be administered. Eric is alive and well, thanks to the speediness of the team.
"It's important to be speedy as a doctor," said wise little Samuel. "If you're not fast enough, the person will die!"
Doctor For A Day 2018
Held 7 to 8 April 2018
Where: Mount Elizabeth Hospital (start point), Mount Elizabeth Novena Hospital (end point)
Child's age requirement: Six to 12 years old
Group size: Six to eight participants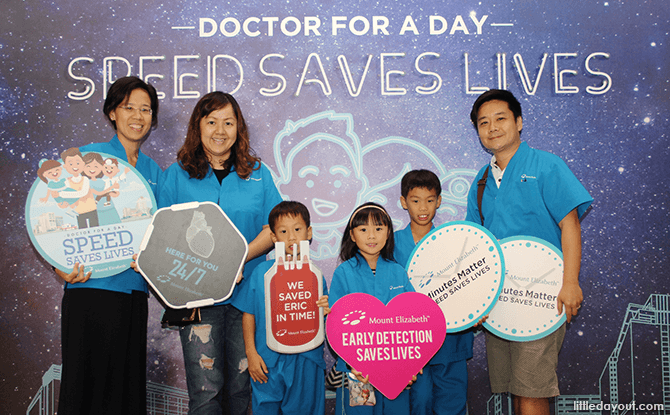 Relive memories of being a Doctor For A Day with Mount Elizabeth Hospitals' photo contest by uploading an image of your team to your Facebook profile with the hashtag #SpeedSavesLives to qualify. Photos with the most likes will win a prize.
This article is brought to you by Mount Elizabeth Hospitals.