It used to be simple.
Without the kids, it was easy to head around to the newest dining spots and eateries around town for a date. Once the children arrived, there were suddenly a whole host of considerations – is the place accessible with prams, is it not too crowded so that the barang barang that comes with parenting can be brought along without bumping into other patrons, and yet, does the place offer some semblance of a proper meal for the adults?
Out of Town Dining Spots
With these criteria in mind, we headed out-of-town to look for chill-out spots the entire family (adults and kids alike) can enjoy. Some are far from the maddening crowd, while others offer space for active kids to be themselves.
Here are our (inexhaustive) suggestions of out-of-town places perfect for chilling-out!
Infinite Studios is a new building along Portsdown Road, close to an existing favourite haunt, ColBar. During the weekdays, it is the stomping ground of media types with big names such as Discovery Channel housed within the building. The building is also home to two cafes, Revolution Coffee and Hoopla Coffee & Kitchen. Nice places for an afternoon pit stop and surprisingly, open on weekends too. The only downside to Infinite Studios is that it is a bit inaccessible.
Revolution Coffee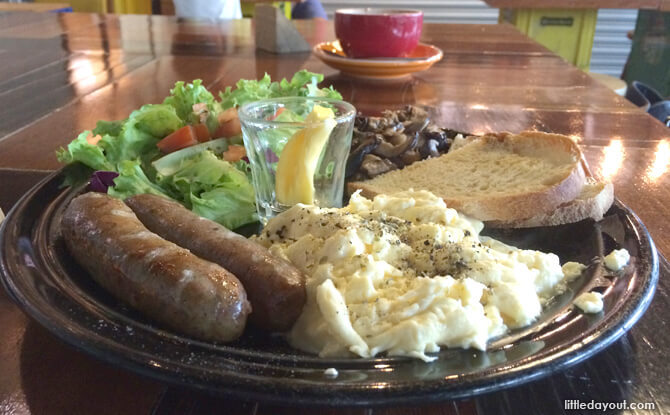 Crates converted to tables and old-fashioned outdoor seating give Revolution Coffee a hipster, industrial feel. Complementing its caffeinated delights are hot dishes, sandwiches, salads and cakes. Breakfast and brunch options include the Big Brunch Breakfast (nice scrambled eggs but we didn't quite like the sausages), Pancakes with Gula Melaka Butterscotch & Bananas, French Toast with Bacon and Maple Syrup and Baked Eggs. Macaroni & Cheese, Spaghetti and Corned Beef Hash are also on the menu. We plan to give their Sticky Date Pudding a go the next time around!
Revolution Coffee
21 Media Circle, #01-03A, Infinite Studios, Singapore 138562
Mondays to Fridays: 8 am to 5 pm, Saturdays & Sundays: 9 am to 6 pm
www.facebook.com/RevolutionCoffeeSG
Hoopla Coffee & Kitchen 
Sporting urban chic, Hoopla Coffee & Kitchen at Infinite Studios provides the usual breakfast options as well as sandwiches, salads and hot food options. We hear that a new menu featuring more hot foods is in the cards. Its signature dish is the Buttermilk Waffles with Gula Melaka Banana Drizzle.
Hoopla Coffee and Kitchen
21 Media Circle, #01-05 Infinite Studios, Singapore 138562
Mondays to Fridays: 10 am to 6 pm; Saturdays & Sundays: 9 am to 6 pm
www.facebook.com/hooplasg
Bonus Tip: There is a little park (partially sheltered) at the basement of Infinite Studios too.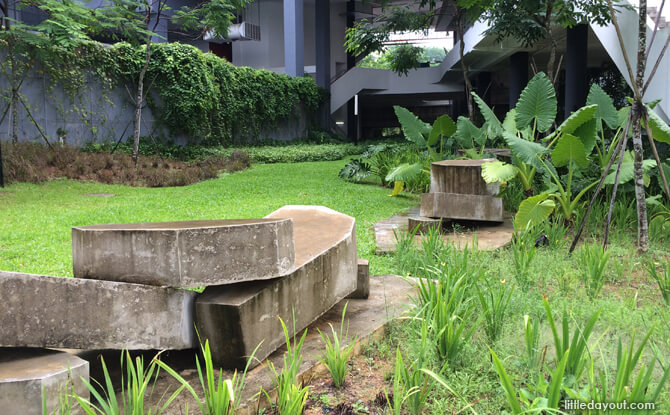 The Plant Story Garden Café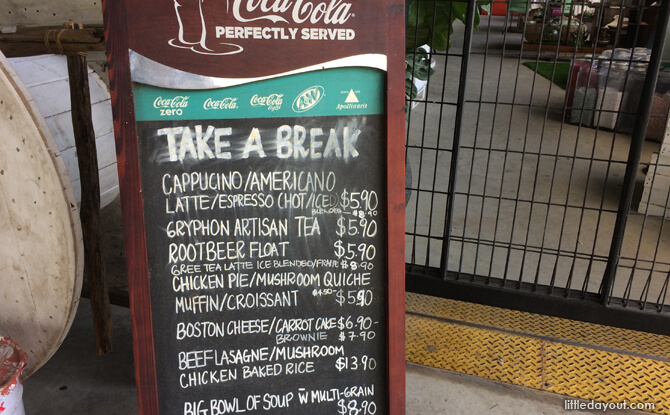 The Garden Café at HortPark has a rather limited menu (pastries, lasagna and baked rice and cakes) but its surroundings make up for that. With the immense lawns of HortPark next to it, there is space aplenty for kids to enjoy themselves while mommies and daddies get to hang out for a cuppa.
Garden Café
33 Hyderabad Road, #01-01, Singapore 119578
Mondays to Tuesdays, Thursdays to Sundays: 10 am to 7 pm; closed on Wednesdays and major Public Holidays
www.theplantstory.com
Badoque Café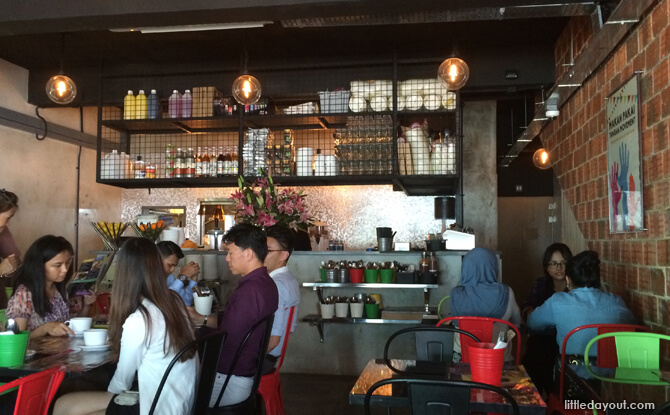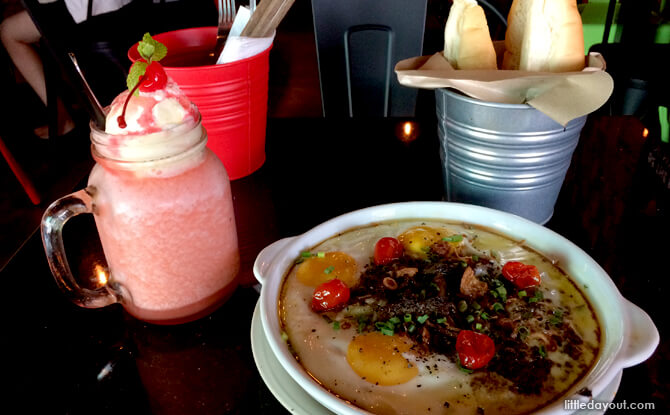 We love the word play in the name of this café (yes, we are geeky like that). But the name is not the only thing we like about this halal eatery at Simpang Bedok. It has a chill vibe and serves up good food that includes salads, pasta, meat and fish. The prices may seem a bit high but these are matched by the generous portions served. We had the Shabsouka, a mildly spicy middle eastern dish of minced meat, eggs with roasted tomatoes, onions, chills and spice. Yummy! And the accompanying drink of blood orange with lemonade and a scoop of ice-cream was fantastic too. Badoque also has a branch at Upper Thomson.
Badoque Café
298 Bedok Road S469454 & 246 Upper Thomson Road, Singapore 574370
Tuesdays to Thursdays, Saturdays & Sundays: 12 pm to 10 pm; Fridays: 2.30 pm to 10 pm; closed on Monday.
www.facebook.com/badoquecafeSG
The Coastal Settlement
Definitely out of town, opposite the old commando camp, is The Coastal Settlement. The restaurant oozes nostalgia, from the music being played to the furniture and collectables on the wall. Its full menu is filled with local staples alongside pizzas and other mains. Desserts include their own twists on classics like the TCS Waffle Stacks and TCS Chendol Classics.
The Coastal Settlement
200 Netheravon Road, Singapore 508529
Tuesdays to Thursdays, Sundays: 10.30 am to 11 pm; Fridays, Saturdays and Public Holidays and Eve of Public Holidays: 10.30 am to midnight.
www.thecoastalsettlement.com
Bonus Tip: Another place nearby where you can sit back and chill is Kakis Bistro and Bar. Just down the road from The Coastal Settlement, it is open from Wednesdays to Sundays only, 4 pm to midnight, and located at 289 Farnborough Road, Singapore 509747. www.kakis.sg
 Photo courtesy of Natalie Tan
Vava Bistro @ MacRitchie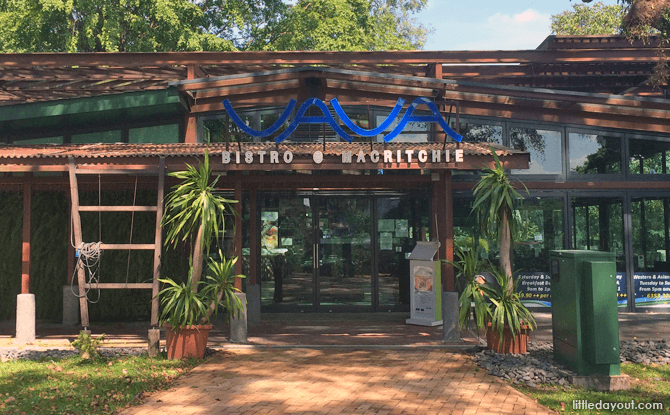 This restaurant located on a hilltop at MacRitchie Reservoir Park offers diners more than just food. It provides wonderful vistas of the calm reservoir waters together with its menu that contains an extensive set of entrees, burgers and pizzas. Open for dinner from Tuesdays to Sundays, Vava Bistro also opens in the morning on weekends for brunch.
Vava Bistro @ MacRitchie
181 Lornie Road, Hilltop, MacRitchie Reservoir Park, Singapore 297732
www.vavabistro.com.sg