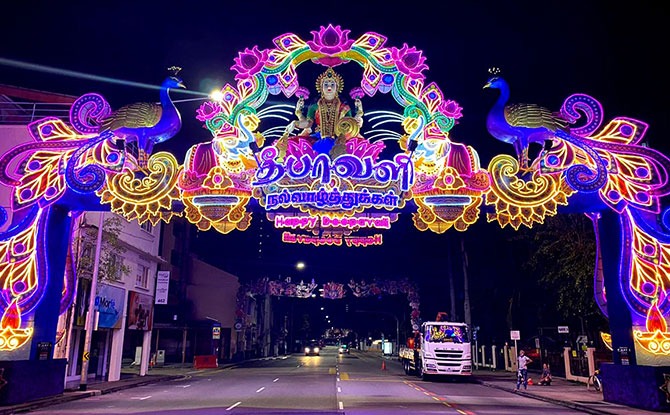 The Deepavali Light Up 2020 takes place from 3 October to 6 December 2020. It brings a brilliant glow to Little India as part of the celebrations in the run up to Deepavali, which falls on Saturday, 14 November 2020.
---
Deepavali Light Up 2020 in Little India
The main arch of the Deepavali light up 2020 is located at the junction of Serangoon Road and Sungei Road. This year, at the centre of the main Deepavali light up arch is the Goddess Mahalakshmi, the Hindu goddess of wealth. She is seated on a lotus flower with a pair of elephants by her side.
Those who are planning to head down to view the Deepavali Light Up 2020 in person are advised to observe safe distancing measures such as keeping at least one metre away from others and not visiting in group sizes beyond what is allowed under the government guidelines.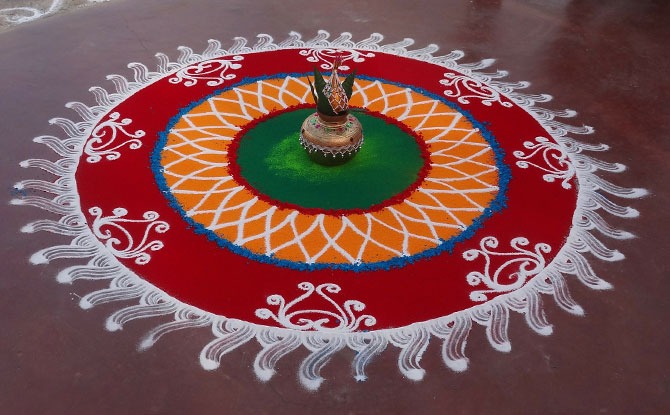 ---
-- Story continues below --
Another onsite activity taking place in Little India for Deepavali 2020 is the Community on Colours – Rangoli Art Installation. To be held at POLI @ Hindoo Road, the installation is being led by Rangoli artist Vijaya Mohan.
While the Deepavali Light Up 2020 at Little India and the installation at POLI @ Hindoo Road are still proceeding, other festive activities will take place online this year.
---
Deepavali Festival Village
This year, the Deepavali Festival Village will go online at the Little India Shopkeepers and Heritage Association's Facebook page from 10 October to 10 November 2020.
---
Dheebam – Deepavali Story
On 7 November 2020, 7 pm, there will be a live retelling of the Deepavali Story in English. This virtual performance will feature certain components pre-recorded in locations around Little India.
---
Amarkala Deepavali Countdown Concert
On the eve of Deepavali 2020, 13 November, there will be a countdown concert, a partnership between LiSHA and MediaCorp's Vasantham, which will broadcast live from MediaCorp's studios.
---
Mega Deepavali Online Show
On 14 November 2020, from 10 am to 12 pm, there will be a Mega Deepavali Online Show. Produced in Singapore, it will include a specially commissioned video about Little India and a new Deepavali Community Song. There will be songs, dances, and skits by local celebrities and performing groups. It will be broadcasted in the USA, UK, Australia, France, Tokyo, Manila, Malaysia, UAE, and India, and on digital channels.
For more information on what's in store for Deepavali at Little India, visit the website here.