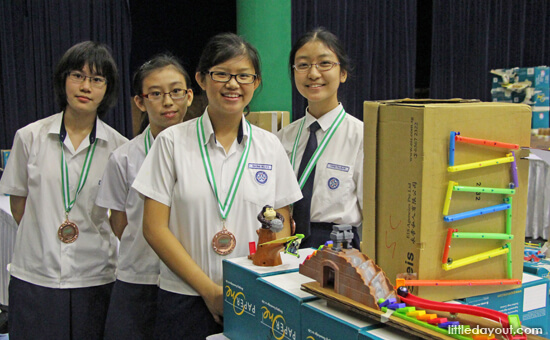 Wallace, the quirky inventor fromWallace & Gromit (the claymation series), always came with up with complex ways to do the simplest things such as putting on his pants or spreading jam on toast.
Similarly, primary school students taking part in this year's Singapore Amazing Machine Competition were challenged to create a contraption to take a picture with a digital camera, a relatively simple task, by drawing inspiration from a Rube Goldberg machine.
Rube who you may ask?
While the name may not be familiar, just think of the Honda car commercial where car parts create a chain reaction to launch car or the amazing video from 2D Photography on how to take a picture the "hard way" (see below).
Team WRTT from Yangzheng Primary School won the primary school category of this year's competition and teams from Unity Primary School won both the second and third places.
First Runner-up – Team QLAK from Unity Primary
When asked what had gone into the making of their machine, the first runner-up – Team QLAK comprising Lim Ren Jie, Qiu Da Wen, Timothy Kom and Ang Zhi Tat, Primary 6 students from Unity Primary School, shared that they had spent three months designing their machine. This included weekends huddled together experimenting and amalgamating ideas that even included a bottle of fizzing soda.
Despite having to balance their time between their studies and the competition, their hard work paid off with their second placing in the Singapore Amazing Machine Competition. The lessons learnt from participation had gone beyond science alone. With a sense of camaraderie amongst them, they also shared with much maturity that they had learnt that "winning is not important, but it is the process [of taking part that is more important]".
Second Runner-up – Team Kinetic 4 from Unity Primary
Second Runner-up, Team Kinetic 4, was also from Unity Primary School. Members Naomi Wu, Tang Tai Ran, Joey Lim and Grace Tham, all Primary 6 students, originally had an ambitious plan involving 80 separate actions for their machine. After many iterations and trial-and-error, the number of steps was whittled down to 40 and finally 17. Their final colourful machine included a toy gorilla, falling dominos and Thomas the Tank Engine.
The experience also taught them to "never give up" and to persist in order to achieve their goals. It also gave them the opportunity to come up with new ideas and practise thinking "out of the box" about science in fun and challenging ways.
When asked if they would be back to take part in the Singapore Amazing Machine Competition next year, the answer was a clear, resounding "Yes!"