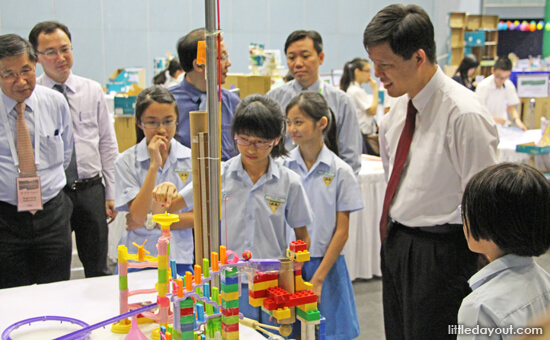 A marble rolls down a tube causing a series of tiles to fall over, a toy train cuts a string with a pair of scissors and an exploding soda bottle goes off.
These were some of the amazing ideas brought to life by the minds of creative students at the Singapore Amazing Machine Competition 2013.
The annual competition, now into its fourth year, was held on 29 and 30 August at the Science Centre Singapore. Upper primary, secondary and junior college (JC) students were challenged to draw inspiration from Rube Goldberg machines and dream up ways to accomplish a simple task in as complex a manner while applying scientific principles.
Creating Amazing Machines
In the case of the primary school students, the task was to capture a digital photo of a team member and secondary and JC students had to start and stop a video recording.
---
-- Story continues below --
Teams had just one day to construct their machines and present them to the judges. More than 200 students from 20 schools participated in the competition, which not only provided them an avenue to explore scientific concepts but also to apply creative problem solving skills.
And the Winners Are…
The winners of the Category A (Primary 4 – 6) were Team WRTT from Yangzheng Primary School with second and third prizes going to Teams QLAK and Kinetic 4, both from Unity Primary School.
In Category B (Secondary 1 – 4) and Category C (Secondary 4 – JC Year 1), the top honours went to the Teams Quantum-X from Fuhua Secondary Schoola and Mean Machine from River Valley High School respectively.
Guest-of-Honour, Mr Chan Chun Sing, Acting Minister for Social and Family Development and Senior Minister of State, Ministry of Defence, presented the prizes to the winners at the Science Centre Singapore on 30 August 2013.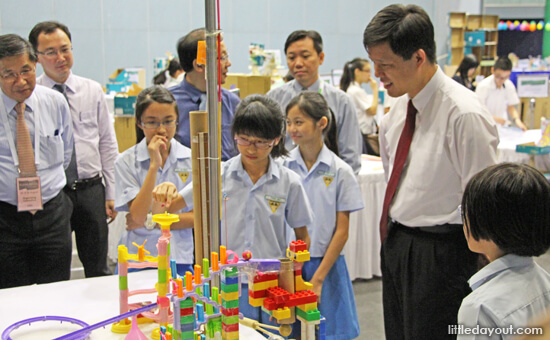 Team WRTT from Yangzheng Primary School Demonstrating Their Invention to Mr Chan Chun Sing
Learning to Dream Big
Associate Professor Lim Tit Meng, Chief Executive, Science Centre Singapore said, "We want our future generation of innovators to dare dream of big and elaborate ideas like Rube Goldberg's machines. This competition encourages students to be inquisitive and creative. We want our students to be able to use their knowledge in a fun and exciting manner as they set out to turn those dreams and ideas into reality."
The competition was jointly organised by the DSO National Laboratories, Science Centre Singapore, School of Science and Technology (SST) and NUS High School of Mathematics and Science.
Read more about creative young minds and what a Rube Goldberg machine actually is.