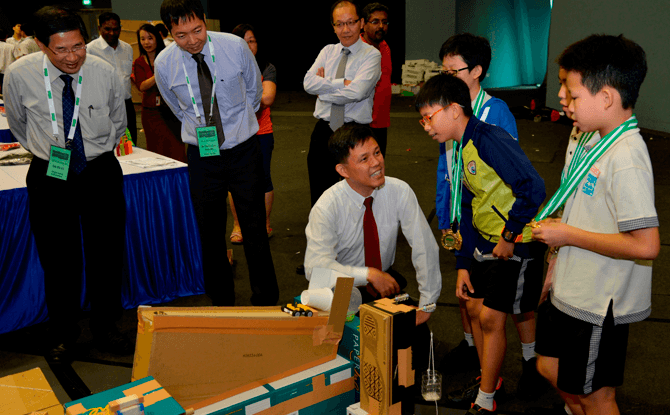 More than 200 students, including Primary 4 to 6 students, took part in the Singapore Amazing Machine Competition 2014 at Science Centre Singapore on 29 August 2014.
In line with the activities leading up to Singapore's 50th birthday in 2015, the competition took on the theme – the "Singapore story" – where students were to develop a Rube Goldberg machine to share their Singapore story.
A Rube Goldberg machine is a deliberately over-engineered system involving a series of chain reactions that is created to perform a simple task. It is named after cartoonist Rube Goldberg who drew such over-complicated machines in his cartoon strip.
Teams have been planning these conceptual machines for several months and had one day to construct the machines at the Science Centre Singapore on 28 August and demonstrating them to a panel of judges.
In the Primary 4 to 6 category, the 1st Prize went to Team Graciousness A from Zhangde Primary School, 2nd Prize was awarded to The Fantastic Four from Unity Primary School and 3rd Prize to RG Team 1 from Raffles Girls' Primary School. The winning teams received their prizes from Mr Chan Chun Sing, Minister for Social and Family Development and Second Minister for Defence.
Commenting on the "Singapore story" theme, Associate Professor Lim Tit Meng, Chief Executive of Science Centre Singapore, said, "With Singapore's Golden Jubilee just a year away, it was interesting to see how the participants weaved their memories of our nation into their creations. They took us on a ride through their narratives, and many impressed us with their analytical thinking skills and creativity in incorporating their Singapore stories into their inventions. They certainly exhibited both sound scientific knowledge and innovativeness, thus fulfilling SAMC's objective of promoting science and creativity."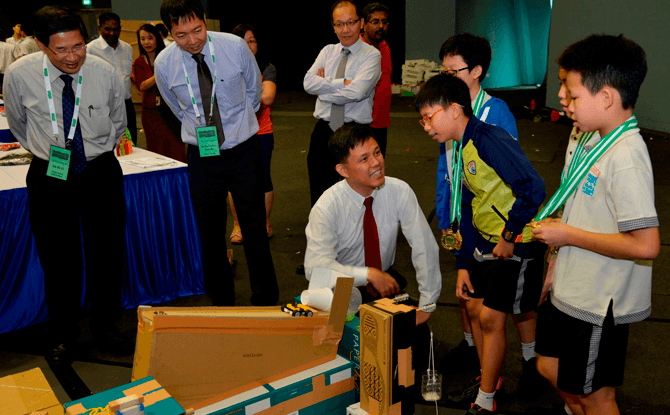 SAMC 2014 Cat A 1st prize winners present their machine to Mr Chan Chun Sing.