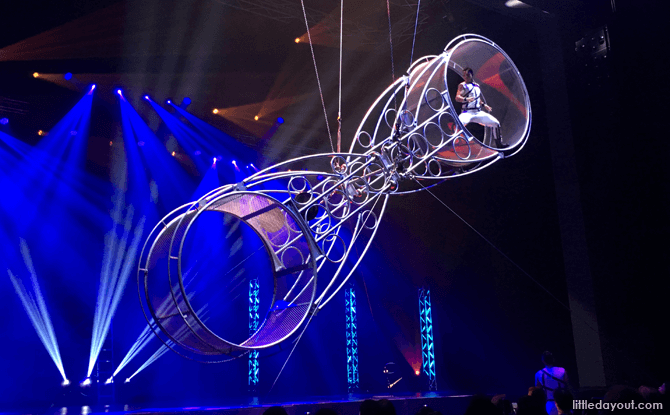 It is called the Wheel of Death for a reason.
Spinning in mid-air, the apparatus has two "hamster wheels" fixed at its ends. Daring duo, Carlos Macias and Angelo Rodriguez, run, jump and even skip rope on the contraption while it spins round and round. The threat of falling with no safety net is ever present. Each revolution of the wheel is accompanied by evermore death-defying stunts, leaving the audience at the MasterCard Theatre, Marina Bay Sands, at the edge of their seats.
The Wheel of Death was one of the stand-out acts at Cirque Adrenaline, a entertaining show that brings together highly-skilled performers for a high-octane evening.
---
-- Story continues below --
Lighting up the stage were many other acts.
Strong men, Joshua McGahan and Mark Flores, demonstrated control and poise as they flexed their muscles in unusual poses. In the High Bar act, four spinning gymnasts took turns flying from bar to bar, narrowly missing each other.
Another stand-out performance was by Gediminas Pavlovicius. Performing Rolla Bolla, Gediminas, a second generation Circus performer, balanced on top of stacks of rolling pipes. He swayed precariously from side to side while the wobbling pile under him threatened to send him flying to the ground.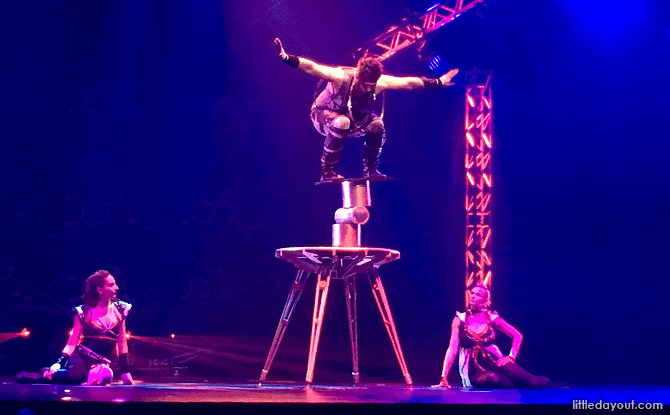 Physical comedian Darren Patridge also kept the audience in stitches with his clownish antics. His comedic act included fitting himself into a balloon and directing a madcap film noir.
Another highlight was the Sphere of Fear. Starting with one motorcyclist, a second and third are added into an enclosed metal globe, riding dizzily in circles barely an arms length away from each other.
Just when you think it can't get any more crowded inside the Sphere, a fourth performer enters the metal cage, standing in the centre while the three motorcycles buzz around her like a swarm of angry hornets.
Cirque Adrenaline is a heady display of power, grace and death-defying skills. Pumped up with humour for good measure, audiences can look forward to an entertaining and exhilarating evening at the Cirque.
Cirque Adrenaline
15 to 25 December 2016
MasterCard Theatre, Marina Bay Sands
Tickets available from SISTIC