Children's Day is here again!
Kids get Friday, 3 October, off from school and with Hari Raya Haji falling on Sunday, 5 October, this coming Monday is a holiday, making it a long weekend for the rest of the family too.
If you are thinking of taking the family out over the weekend, here are our picks of eight events and activities where you can celebrate Children's Day together with your kids.
1. Octoburst! – A Children's Festival at Esplanade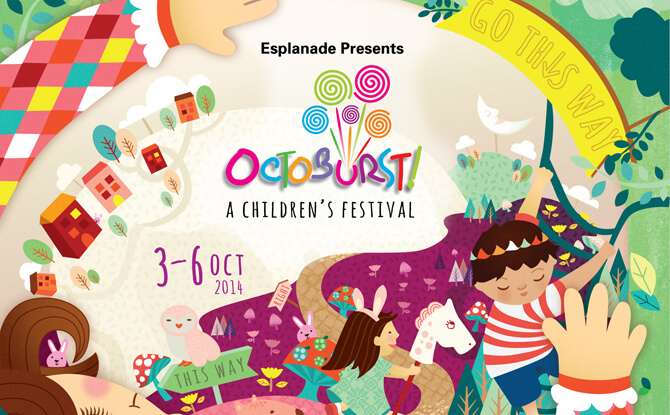 The Esplanade becomes a children's playground over the four-day weekend with Octoburst! 2014 – A Children's Festival. There are performances for kids and by kids, and even an interactive art installation that will leave kids all "strung up". Something Very Far Away (Unicorn Theatre, UK) and Dance Appreciation Series: An Introduction to Ballet Classics are ticketed performances to catch and there are many other free activities taking place around Singapore's premier arts centre too. Visit their website for details.
Octoburst! 2014 – A Children's Festival
3 to 6 Oct, Various timings
Esplanade – Theatre on the Bay
2. Pedestrian Night at Orchard Road
This Saturday, the stretch of Orchard Road in front of Ion, Wisma and Taka becomes a pedestrian mall. This is part of a six-month pilot where Orchard Road gets taken over by the masses on foot every first Saturday evening of the month. For this inaugural edition, pop-up mini-tennis courts will be taking over the street alongside stage performances and sports freestylers. There will be a clinic conducted by Melissa Pine, WTA Finals Tournament Director, in conjunction with the SC Global "Tennis for Every Child" program. Who knows, they may even bring back Swing Singapore somewhere down the road (pun intended!).
4 Oct, 6 pm to 11 pm
Stretch of Orchard Road from Tang Plaza to Ngee Ann City
3. Fun Family Weekend at Play @ NMS
The National Museum of Singapore's Children's Wing celebrates Children's Day with a free workshop, My Favourite 70's Show, conducted by The Amazing Art Shuttle. Make a personalised craft TV set and bring it to life with a storyline in this parent-child workshop. Limited spaces available and onsite registration required.
4 Oct, 2 pm and 3.30 pm
Play @ NMS, National Museum of Singapore
4. LEGO BRICKBUSTA 'Catch the Crooks' at Toys 'R' Us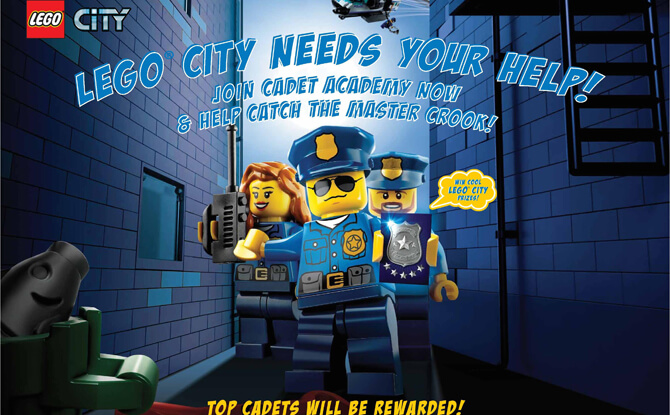 f
Every Saturday and Sunday between 4 and 26 October, children are invited to join the ranks of the LEGO City Police as Cadets at the LEGO® BRICKBUSTA event and participate in a variety of exciting missions and exhilarating action to help stop the crooks! Those aged 5 to 12 years old can play real-life detective, hunt down suspicious crooks and build their own LEGO City Police Car! Taking place at various Toys R Us locations around Singapore.
4 Oct, 12 pm to 8 pm, Toys R Us VivoCity
5 Oct, 12 pm to 8 pm, Toys R Us Forum
5. Rhino Month at the Singapore Zoo
Make a clay rhino craft and wrist band, go on a guided tour of Wild Africa and take part in other activities where you will learn about rhinos and the threats they face.
3 to 6 Oct, 10 am to 4 pm; also taking place on other dates up to 19 Oct.
Singapore Zoo
6. ChunkFest at The Meadow
Singapore's biggest ice cream festival is back for the seventh year. Enjoy a smorgasbord of 20 flavours at ChunkFest 2014. In addition to the choice of flavours such as Cookie Affair, Americone Dream, White Russian and Banana Peanut Butter Greek Yogurt, there will also activities to keep visitors entertained.
4 Oct, 2 pm – 10 pm
The Meadow @ Garden by the Bay
7. Complimentary Entry to ArtScience Museum on Monday, 6 October
Celebrate the long weekend with complimentary entry to ALL exhibitions on Monday, 6 October! Even better, kids enter free with every full paying adult for the whole month of October. It's now the Art and Science of Photography Season at the museum. Catch the works of Annie Leibovitz, one of America's most celebrated photographers, at the A Photographer's Life 1990-2005! exhibition which is ending on 19 October 2014. Go east and view the works of Chinese photographers at Flux Realities: A Showcase of Chinese Contemporary Photography before it ends on 2 November. Both exhibitions are part of the 4th Singapore International Photography Festival.
6 Oct, 10 am – 7 pm
ArtScience Museum
8. Free Entry for Kids to Gardens By The Bay Conservatories
As part of a Children's Day special promotion, all Singaporean kids get to visit either or both conservatories for free as long as they are accompanied by an adult who pays the full-priced local admission fee. Check out the Indian Safari Floral Display at the Flower Dome and come face to face with tigers and elephants – made of plants of course!
3 to 6 Oct, 9 am – 9 pm
Conservatories at Gardens by the Bay