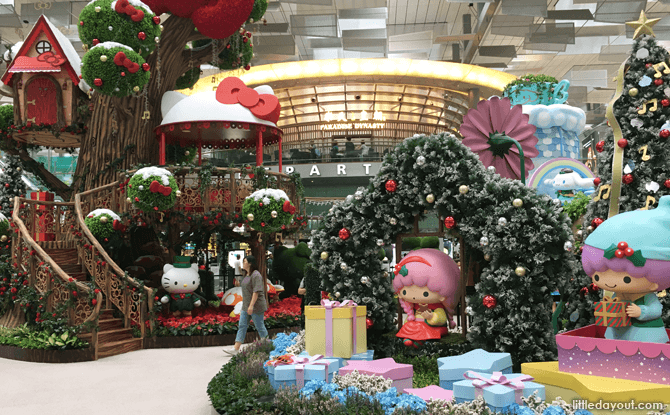 Say "Hello" to the year-end holidays with Hello Kitty and Friends at Changi's Mystical Garden with Sanrio Characters!
The popular Sanrio characters, Hello Kitty, Dear Daniel, Cinnamoroll, Gudetama, Little Twin Stars (Kiki and Lala), My Melody and Pompompurin, are back at Changi Airport and are sure to bring delight to all visitors.
Step into a Mystical Garden at Changi Airport and be enchanted by shows, photo-taking opportunities, games and exclusive prizes up for grabs!
Take note that to participate in some of the activities, a minimum spend of S$60 at Changi Airport's Public Area, or S$120 in the Transit Area and Supermarkets is required.
What to Look Out for at Changi's Mystical Garden With Sanrio Characters
Here are 10 things to be sure to look out for when you go wandering around Changi's Mystical Garden with Sanrio Characters this year-end holiday season. Activities are located at the T3 Departure Gate, Departure Hall Check-in Row 11 and Basement 2.
1. Drone Shows
For the first-time ever at Changi Airport, visitors can view a celebratory indoor drone show, the largest of its kind in Singapore featuring up of 40 drones!
These flying drone dancers formed shapes such as fireflies and festive formations, such as snowflakes and Christmas trees, in a buzz-worthy performance.
The drone show at Changi Airport takes flight daily at 7.30 pm and 9.00 pm.
2. Light Shows at the Mystical Garden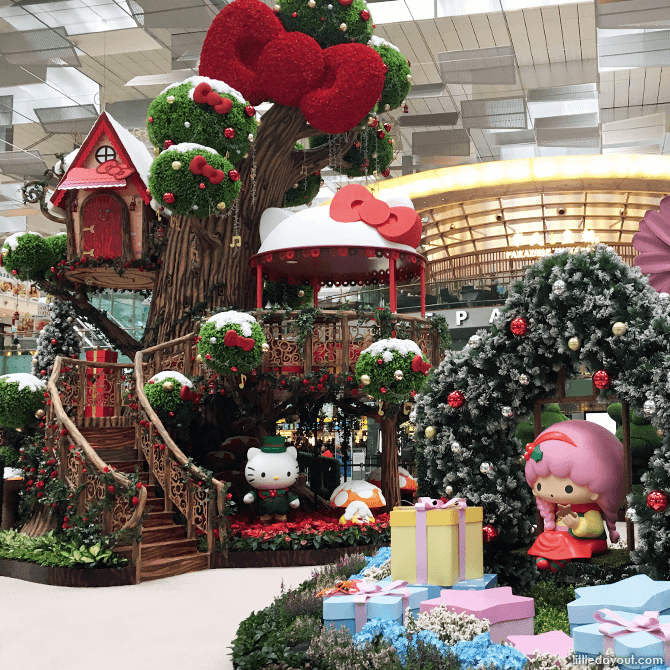 The centrepiece of Changi's Mystical Garden with Sanrio Characters can be found in front of the Terminal 3 Departure Gate. The Mystical Garden features favourites such as Hello Kitty in locations such as a gazebo and treehouse. The treehouse is topped off with Hello Kitty's signature red bow.
From 18 November 2017 to 5 January 2018, fans will be treated to light and snow shows at the Mystical Garden.
The light and snow shows will be held daily at 3.00 pm and 5.00 pm.
The Mystical Garden is open from 10.00 am to 10.00 pm daily.
If you want to see more Hello Kitty at Changi Airport, head over to Terminal 2 where a four-metre tall Hello Kitty topiary awaits at the Departure Hall.
3. Meet-and-Greet with Hello Kitty and Friends
On weekends, travellers and airport visitors will have the chance to cuddle up and take pictures with their favourite Sanrio characters in meet-and-greet sessions.
Different Sanrio characters will make their appearance at the meet-and-greet sessions which take place up till 24 December 2017. Here is the line-up of appearances:
Gudetama: 18 and 19 November
Twin Little Stars: 25 and 26 November
My Melody: 2 and 3 December
Cinnamoroll: 9 and 10 December
Pompompurin: 16 and 17 December
Hello Kitty and Dear Daniel: 23 and 24 December
Venue: T3 Departure Hall – Immigration
Time: 4pm and 6pm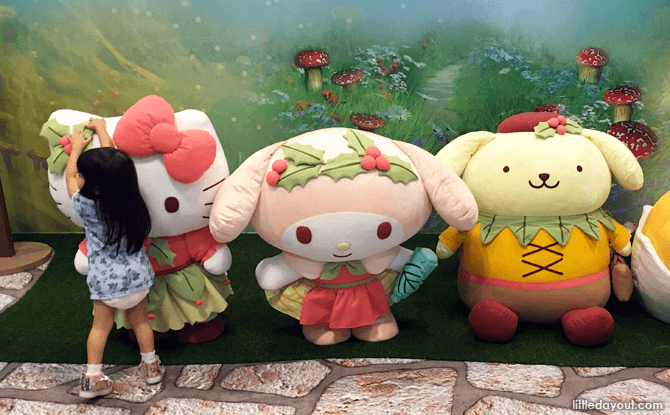 Even if you aren't able to attend the meet-and-greet sessions, do head over to the Mystical Garden which has large character displays that visitors are welcomed to take pictures with.
4. Tree House Catcher (Redemption Required)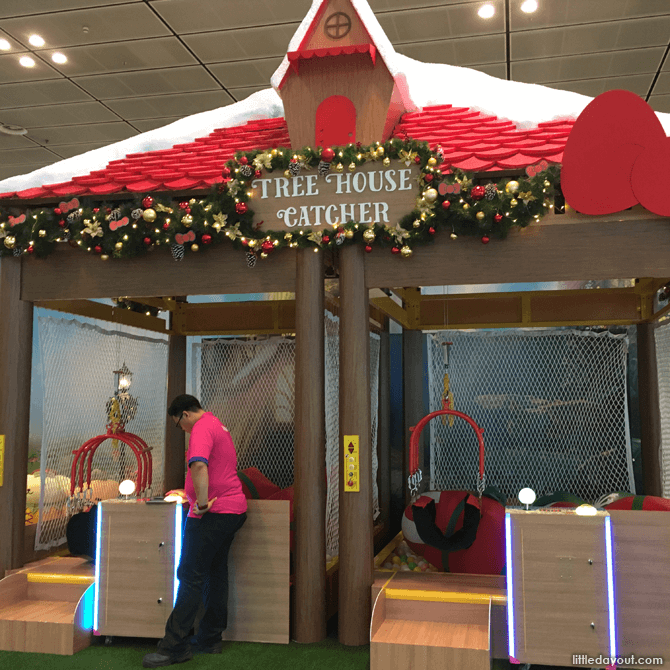 Ready for a fun team challenge? Pair up with a family member or friend and choose one person to be the human 'controller' who will direct the human 'crane' (the other person) suspended in mid-air to pick up a gift from the gift pool.
It's sure to loads of fun and a fun test of communication and coordination! Who knows, you could be the one walking away with the top prize of a one-metre tall Sanrio character plush toy!
5. Handheld Maze Games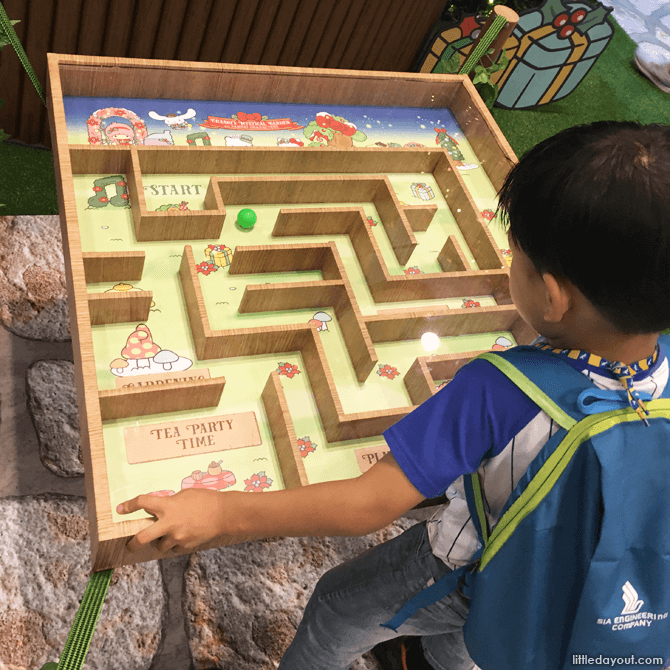 Lazy Egg Gudetama is late for his party! Try this handheld maze that requests visitor's help to get Gudetama to the party with his friends! This game, though simple, is especially attractive because of its beautiful illustrations.
6. Yo-Yo Tsuri or Water Fishing (Redemption Required)
This is a fun Japanese festive game where kids will need to use a metal hook attached to the end of a paper hook to catch colourful Christmas balls in the water before the hook disintegrates! Upon fishing out a ball, players will receive a character card which will allow them to redeem prizes in the Ferris wheel station!
7. Ferris Wheel Prize Collector (Redemption Required)
After getting character cards from the Yo-Yo Tsuri game, cross your fingers and give the wheel a BIG spin! Get ready to win exclusive and cute prizes ranging from travel bags, gelato vouchers, stickers and plush toys!
8. Tote Bag Stamping
Redeem a tote bag at the registration counter (whilst stocks last) and bring it over to the stamping area to spruce it up! There are stamps with many different designs that feature characters from Hello Kitty and Friends. You can be as creative as you want and customise your bag!
If they run out of tote bags for the day, try doing it on a piece of paper and framing it up after!
9. Hello Kitty-themed Children's Playground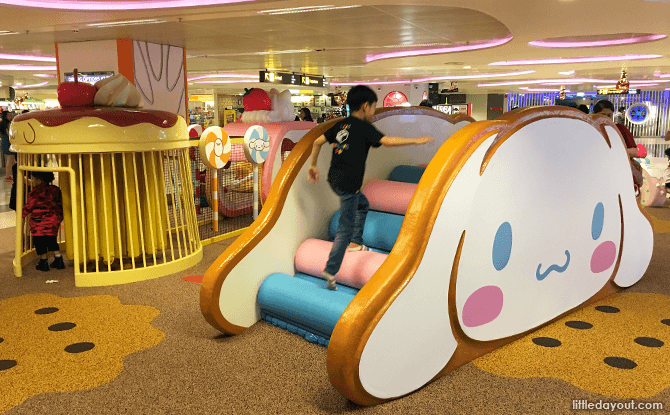 So kawaii! The Changi Airport Terminal 3 Basement 2 children's playground has been transformed to the first-ever Sanrio-themed children's playground at the airport.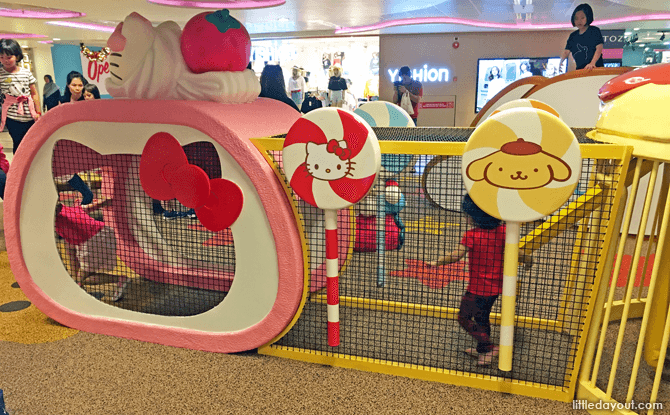 With a variety of mazes to run through and over, as well as a see-saw and many adorable character figurines on display, it's no wonder that many adults were also joining in the fun, using the different structures as backgrounds for pictures!
10. Limited-edition Sanrio Character Plush Toys
It wouldn't be the season of giving without any gifts! Eight limited-edition Sanrio character plush toys are up for grabs exclusively as part of Changi's Mystical Garden With Sanrio Characters.
Featuring Hello Kitty and Dear Daniel, as well as Cinnamoroll, Gudetama, Little Twin Stars (Kiki and Lala), My Melody and Pompompurin, each of these toys can be purchased for S$8.90 with a minimum spend at Changi Airport.
For other unique mementos, check out the set of specially designed postage stamps featuring Hello Kitty and Friends in Changi's Mystical Garden.
Showcasing all eight characters, the stamp folder, which comes with a free Sanrio-themed lanyard, is available for purchase at S$21.80 at Changi Airport T3 B2 Sanrio redemption booth, 3 Level 2 event pop-up store and T2 SingPost.
For more information on the activities and terms and conditions, visit www.changiairport.com/mysticalgarden
Changi's Mystical Garden With Sanrio Characters
Dates: 17 Nov 2017 to 5 Jan 2018
Location: Changi Airport Terminal 3