Changi Recommends' Changi WiFi is a rental service that allows you to pick up a device from Singapore Changi Airport before you fly for you to stay connected while overseas.
The device is a WiFi router which is paired with the telco service provider in the overseas destination country. It allows up to six devices to be connected through the device to the country's 3G or 4G network, depending on what is available.
In certain countries, such as Australia, Japan and China, the Changi WiFi device provides unlimited data usage every day. In other countries, for example, Hong Kong, US, and Europe, there is a daily fair usage limit, after which the data speeds are throttled downwards.
We decided to make use of Changi WiFi service on an overseas trip to Japan and this was our experience.
How to Rent Changi WiFi Device
To rent a Changi WiFi device, a reservation first needs to be made online at the Changi Recommends website.
At the website, you select a destination, a date and time for device collection, a date to return the WiFi device and a collection point.
Destinations can either be single countries or for a group of countries, e.g. 12 countries in Europe.
Possible collection points are found at the Public Areas of each of Changi Airport's terminals, including Changi Airport Terminal 4. Which collection point you choose will depend on the terminal you are flying out from.
Bookings online need to be made at least day in advance and it is subject to availability. No payment is required at this stage but an email confirmation will be sent to you.
On the day of your flight, head over your chosen collection point to pick up the device. You will need to present your passport at the manned counter for registration purposes and provide a credit card for a deposit against the device.
The WiFi device came packaged neatly inside a carrying pouch along with accessories such as a charger and cables.
When you return from your trip, drop off the entire pouch at an automated return machine at the Arrival Halls. You can return the device at any terminal.
Using the Changi WiFi Device
When we arrived in Japan, it was a matter of turning on the Changi WiFi device and connecting our own personal devices to it. Doing so is similar to how you would connect to any WiFi router or access point.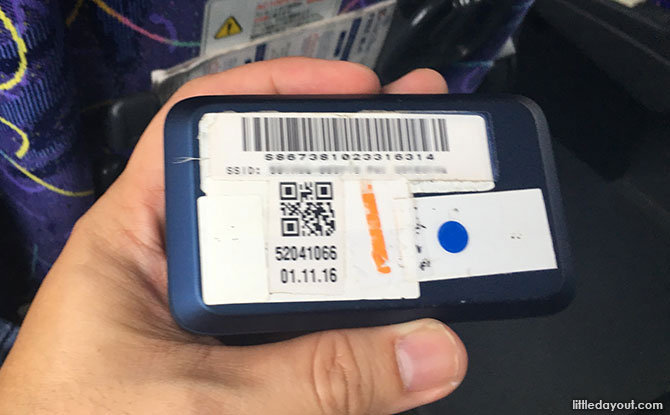 From your mobile phone, laptop or tablet, select the correct WiFi network, enter the network password which is labelled on the back of the Changi WiFi device and, voila, you are online.
Review of the Experience Using Changi WiFi
Here are some of the good points we found from our experience with the Changi WiFi device in Japan. This comparison is vis-à-vis other overseas Internet connection options roaming using Singapore telco overseas data roaming plans or using localised WiFi hotspots at the overseas destination.
Internet Everywhere: Having the Changi WiFi device meant that it was possible to connect to the Internet at any time without having to search out a hotspot. This allowed us to make use of Google Maps for navigation, Whatsapp to save on making overseas voice calls and generally staying in touch with the rest of the world (if that is what you want to do on vacation).
Decent Connection: The connection, in Japan at least, was pretty good. The data throughput on the Changi WiFi device was even better than our hotel's internal WiFi. Furthermore, when we were at in a resort in Hokkaido, the device's connection outperformed a Singapore telco's overseas roaming service which kept dropping its 4G connection. Of course, this experience would probably vary from destination to destination, but in Japan, our experience was pretty good.
Allows Up to Six Devices to be Connected: With one Changi WiFi device, it was possible for multiple persons to connect to the Internet. The connection was pretty stable even with six users connected.
Here are some other points, not entirely bad, but limitations to take note of.
Battery Life: If you use the Internet frequently during your trip, e.g. for navigation, to look for recommendations, for communication purposes – you will find the battery on the WiFi device drains quickly. The solution to this is to bring along an external battery pack to keep the WiFi device charged. Plan ahead and check the remaining battery life of the device to make sure you don't get stranded somewhere with no Internet when you intended to use Google Maps to navigate your way back to the hotel. Another side effect to this if you are using the Internet intensively is that it can heat up pretty quickly. This made the device pretty hot and was just kept it stowed away in our travel backpack as we moved about.
Local Coverage Area: The WiFi device only provides localised hotspot coverage. This means that should your travelling party decides to split up, e.g. one goes shopping while the other grabs a coffee, you cannot rely on the WiFi device once you are away from the person with the device. This means that there may still be a need to fall back on making a voice call or roaming telco data in such instances (or just agree to a plan on where to meet and stick to it).
Overall, the experience using the Changi WiFi device was a positive one. Depending on your usage patterns and telco, there may be cheaper options available but the Changi WiFi faired well in terms of reliability and convenience. Would we use it again? Probably.