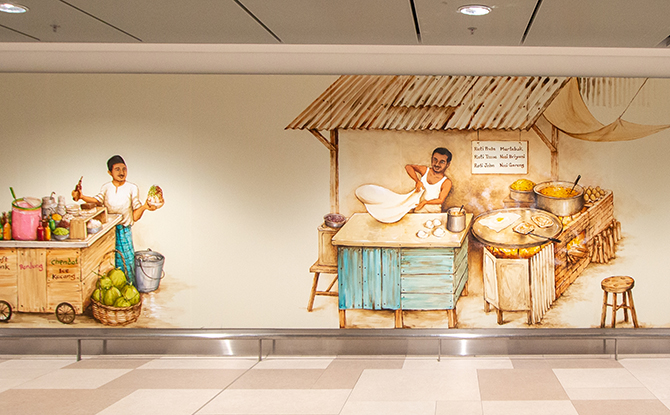 If you find yourself at Changi Airport with some time to spare, why not check out some Changi Airport Terminal 4 art installations? Two pieces in particular, created by home-grown talent, tell a visual story of Singapore's eclectic and colourful heritage and history.
We take a closer look at the two works, Singapore Rojak and Hey, Ah Chek! to discover how they came about and the stories behind how they came about.
Singapore Rojak
Much like its namesake, the iconic local dish, Singapore Rojak is a 37 m long mural that celebrates the rich cultural diversity and local food heritage that makes us uniquely Singapore. Hand-painted by local artist Yip Yew Chong, this Changi Airport Terminal 4 mural is composed of 10 different paintings of signature local food and colourful traditional shops -allowing tourists to journey through the sights and sounds of old Singapore and locals to take a trip down memory lane.
Featuring local favourites like durians, roti prata, chendol and bandung, nasi lemak, Eurasian pastries, Peranakan kueh and the perennial favourite – char kway teow, feast your eyes on the brilliantly coloured and beautifully detailed life-sized illustrations of old hawker stalls, transporting you to a time when hawker food was still sold on Singapore's streets.
---
-- Story continues below --
Besides local dishes, Yip masterfully paints the colourful traditional shops and nostalgic scenes of old Singapore- ranging from Indian flower garland shops, lanterns and mooncakes to batik being laid out to dry. These individual scenes capture the multicultural and multiracial nature of Singapore's rich heritage while giving a nod to days of old.
Located at Basement 1 of Changi Airport Terminal 4, take time to visit and enjoy this mural if you happen to be in the area.
Hey, Ah Chek!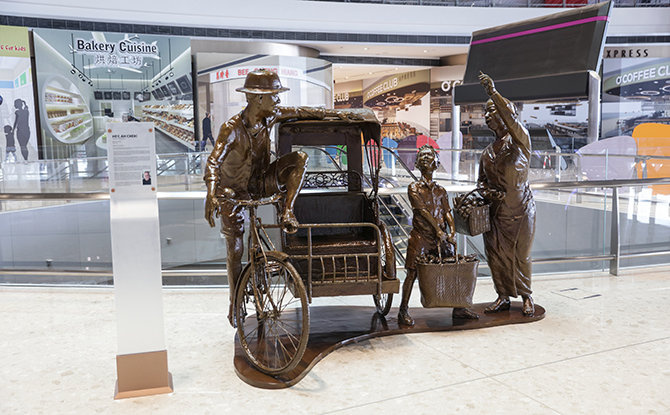 Hey, Ah Chek! is an art piece created by local sculptor and Cultural Medallion winner, Chong Fah Cheong. Drawing inspiration from his childhood memories growing up in the old days of Singapore, Hey, Ah Chek is a slice-of-life scene of a young boy hailing a trishaw with his mother after a trip to the market.
Although trishaws are still around today, most of them are mere tourist attractions with modern designs. In order to preserve the sculpture's authenticity, Chong had to scour the streets of Singapore, Malacca and Penang to find and recreate a trishaw from the 1950s and 60s. His persistence paid off and he finally found a dilapidated one in Singapore and used it as the basis for his work, preserving his childhood memory in bronze.
Visit Ah Chek, Ah Ma and Ah Boy at level 2, Terminal 4 and try sitting in Ah Chek's trishaw!