Well-known and well-loved lollipop brand Chupa Chups makes a sweet landing at Changi Airport this March School Holidays 2022. Visitors can dive into the colourful world of candy and lollipops at Changi's Sweetest Treat from now till 3 May 2022.
---
March Holidays 2021 at Changi Airport
Giant Displays and Optical Illusions at Changi's Sweetest Treat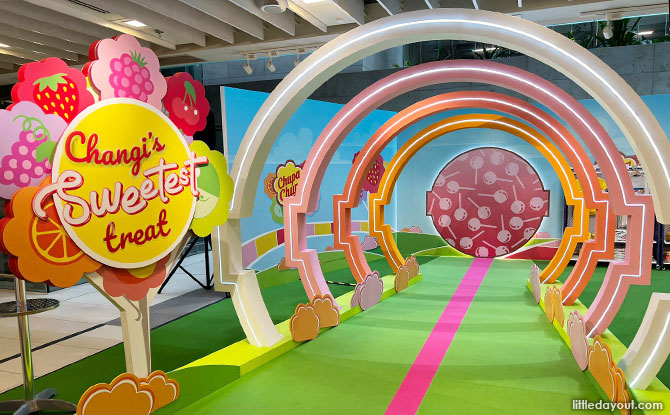 Fans of the popular confectionery brand can pose with large colourful Chupa Chups displays across Changi Airport Terminal 3 during the March School Holidays 2022.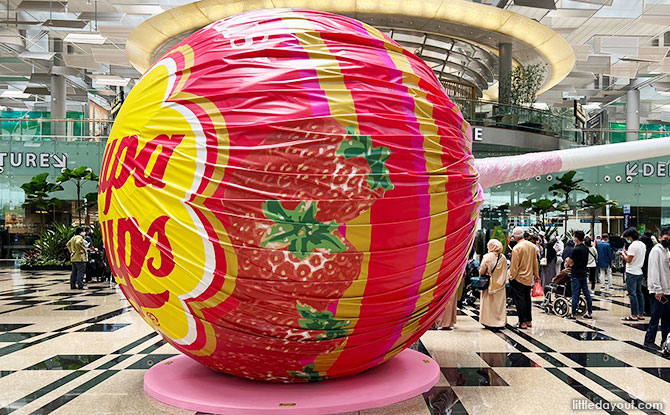 ---
-- Story continues below --
One highlight at Changi Airport not to be missed is Singapore's largest Chupa Chups lollipop!
At 11-metres-long and 4-metres-tall, the mega-sized lollipop display holds Singapore's Book of Records for the largest Chupa Chups lollipop display. It is located at the Departure Gate at Terminal 3.
Another spot where visitors can pose for pictures is at a 3D Optical illusion installation. Standing at the correct spot, they can look as if they are holding a giant lollipop.
---
Chupa Chups Playground Photo Spot
For another sweet photo treat, head over to the Chupa Chups playground close to Check-in Row 11 at the Departure Hall.
There are all sorts of play equipment at his Chupa Chups playground where kids (and adults) can live out their dreams of being in a Willy Wonka factory.
Unfortunately, this just a photo spot but this doesn't mean that you can't put in your best action pose!
---
Shopping & Exclusive Merchandise at Changi's Sweetest Treat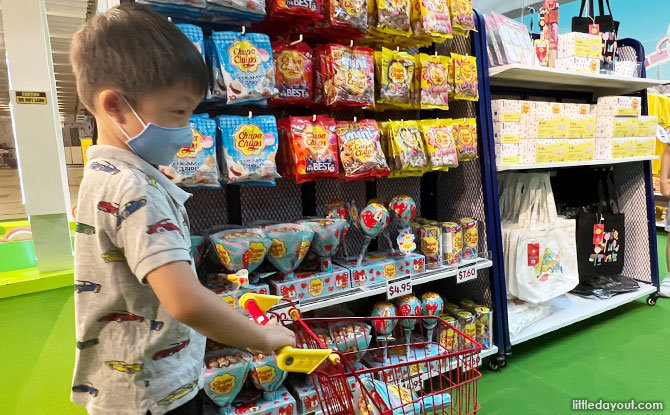 For those who can't get enough of their sweet treat, grab a trolley and go shopping at a special Chupa Chups pop-up store.
For every $50 spent in a single receipt at Changi Airport T1 to T3 public areas, redeem exclusive Chupa Chups merchandise such as a Chupa Chups Cooler Bag, a Chupa Chups Collapsible Lunch Box or a Chupa Chups Foldable Bag. Get more details on redeeming the premiums here.
---
SMART workshops at Changi's Sweetest Treat
There will also be various workshops that creative kids can enjoy and develop their interests. From Storytelling to Magic, to Arts & Crafts, to Robotics and Technology workshops, little ones will be kept engaged this school holidays.
Workshop participants can also get a free Chupa Chups Cool Friend Backpack worth $30 with every purchase of workshops happening from 11 to 13 March 2022. Get more details about the S.M.A.R.T workshops here.
More details for Changi's Sweetest Treat can be found at the site here.