Amazing List of March School Holidays 2022 Activities in Singapore for Kids
This March school holidays 2022 in Singapore take place from 12 to 20 March. The vacation time may be short but you can still take the time to have some fun bonding time together with the family.
What to Do During the March 2022 School Holidays in Singapore
Whether you are planning activities for the kids during the March holidays 2022 that will take them out to nature or are looking for other things to do, we've put together a useful list below. Find out what's on and the many things to do with the family and kids during the March school holidays 2022.
Mid-Year Examination Holiday Workshop by Marshall Cavendish
14 to 18 March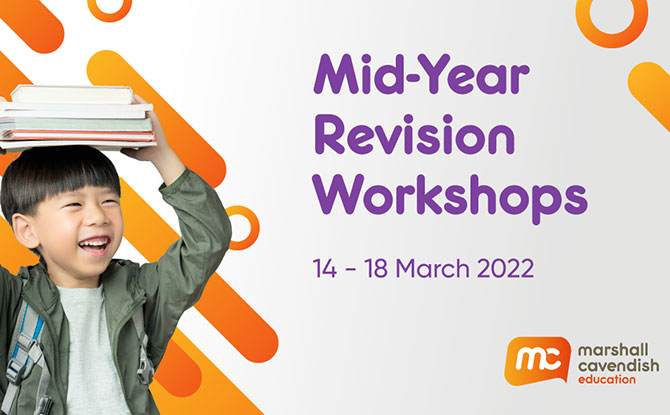 Marshall Cavendish Education has curated a series of Holiday Workshops to prepare children for the Mid-year Examinations. Allow your child to develop understanding in the Math, Chinese and Science and conquering the exam with strategies at these workshops.
On top of exam preparation workshops, we have also prepared coding workshops to help stimulate the child's logical thinking and analysis to develop higher order thinking skills.
Use promocode LDO10 to receive a 10% saving! Get more details here.
---
Esplanade Presents "March On 2022" Children's Festival
9 to 13 March, Esplanade – Theatres on the Bay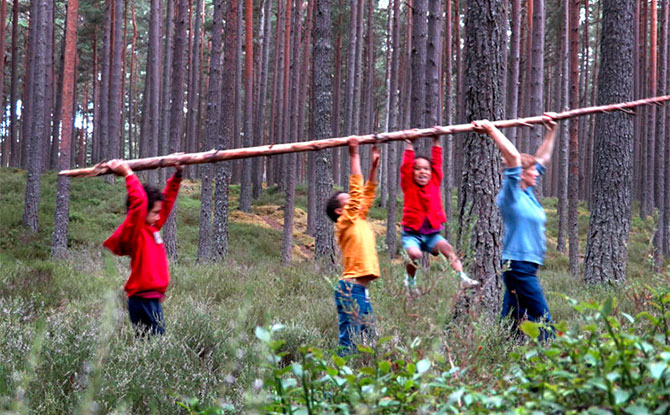 Celebrate childhood at March On 2022 at Esplanade – Theatres on the Bay from 9 to 13 March. From Wednesday to Sunday, take part in exciting dance workshops, attend fun theatre shows and get to meet enthusiastic young performers who will be sharing their experiences. Find out more about March On 2022 children's festival.
---
Little Day Outings
March & April 2022, Punggol Beach, Changi Beach, Thomson Nature Park, Mandai Forest and Sungei Buloh Wetlands Reserve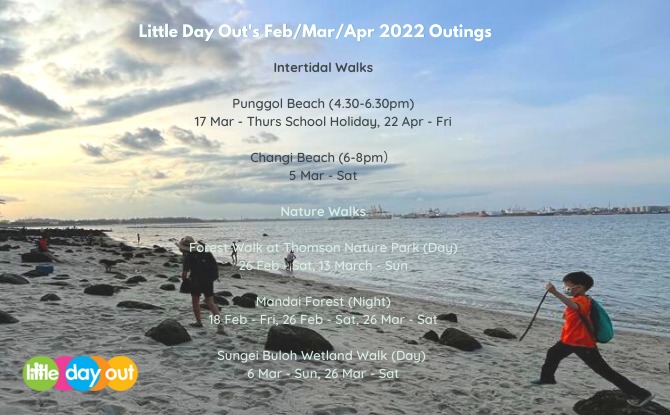 We heard you and we have more walks and outings all about nature's wonders in the next few weeks! Head to the shores to find our tiny neighbours in all colours and shapes at the intertidal zone, or trek into the Mandai Forest in the dark to find a deer, and experience Thomson Nature Park and Sungei Buloh's habitats and the curious inhabitants. Take your pick and sign up today! Spots will be sold fast, fastest fingers first!
---
Magical Mangroves Marine March
18 March 2022, Berlayer Creek & Marina at Keppel Bay
Explore part of our Southern waterways on a nature walk all about mangroves and corals from Berlayer Creek to Marina at Keppel Bay during the March holidays on 18 March Friday morning! Join our magical Mangroves Marine March to Labrador and Keppel Island, learn more about conservation efforts and do your part for the environment. Spots are limited, so sign up fast now!
Sakura featuring tokidoki
From 4 March, Flower Dome, Gardens by the Bay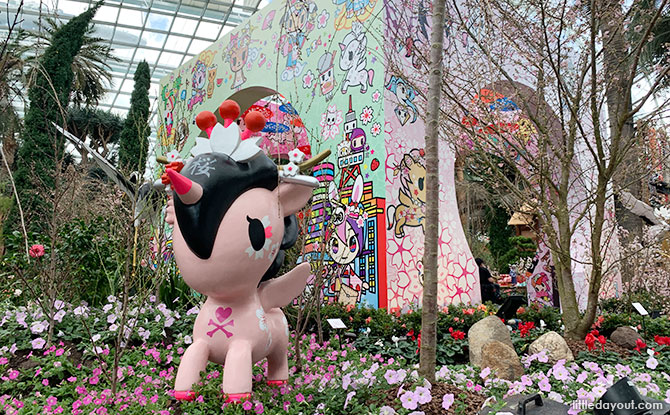 tokidoki's five magical Unicornos are making their debut at this year's Sakura floral display. There will be Japanese cultural programme and activities to look forward to as well. Get more details here.
---
Family Fun March Holidays at the National Museum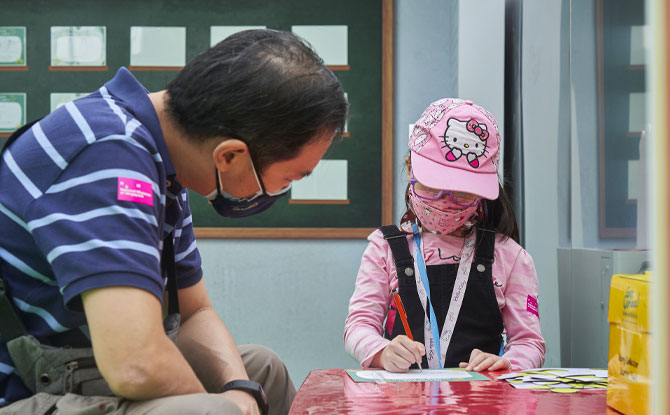 Take part in a range of on-site and online programmes including storytelling sessions, workshops, artefact hunts and more at the National Museum of Singapore during the March school holidays 2022. More details here.
---
One Last Boogie!
From 10 March, Universal Studios Singapore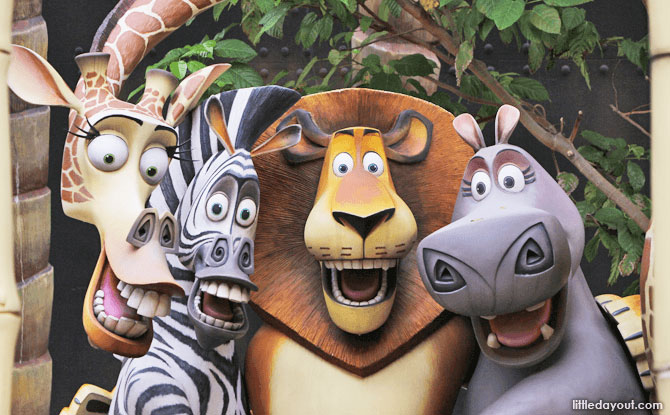 Join the crew from DreamWorks Animation's Madagascar as they celebrate with their fans one last time with their farewell celebration. Find out more.
---
Attack on Titan: The Exhibition
Attack on Titan: The Exhibition at ArtScience Museum showcases artworks from the manga including by Hajime Isayama. Fans can view characters and objects from the manga series. Get more details here.
---
Weird But True!
Now till 31 Jul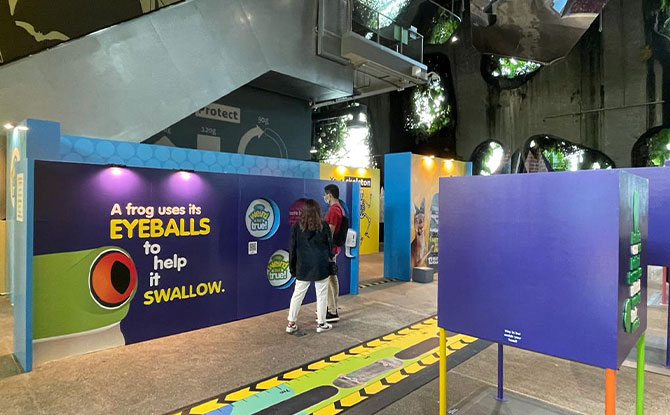 From the weirdest in nature and stunning flowers to the ambition of a wasteless world and plants that devour meat, there are various facts to learn at the National Geographic exhibition within the Cloud Forest. Get more details here.
---
Changi's Sweetest Treats 
11 Mar to 3 May 
Take photos with the largest Chupa Chups in Singapore or take some fun pictures at the Chupa Chups Playground, or the Chupa Chups Garden. Enjoy S.M.A.R.T. workshops and redeem premiums too. Get more details here.
---
Little Adventurers at Indian Heritage Centre
12 to 20 Mar 
Head down to Indian Heritage Centre for a line-up of exciting workshops and a variety of craft activities. Pick up an activity kit which comprise three fun craft activities. Once kids are done with the craft, they can head up to the galleries to spot these artefacts in person. Get more details here.
---
NEWater Visitor's Centre Treasure Hunt
12 to 20 Mar, Every Wednesday in March thereafter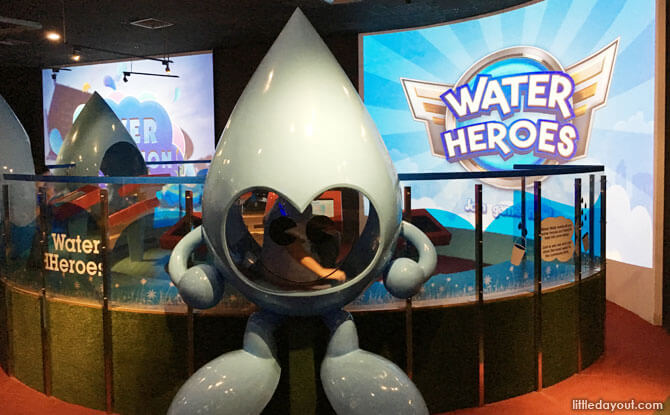 Head down to NEWater Visitor's Centre for a treasure hunt organised in collaboration with Tanjong Katong Girls' School in conjunction with Singapore World Water Day. 
---
Brickman® Wonders Of The World
12 Mar to 3 Jul (Opening postponed till 25 March 2022) 
View more than 50 jaw-dropping masterpieces of the world's most iconic landmarks created out of LEGO bricks. Get more details here.
Editor's note: The opening of Wonders of the World has been postponed till 25 March 2022.
---
A New Light on an Old Tale
National Archives Singapore
The small exhibition at the National Archives Singapore starts off with the narrative of how Japan and Britain were once allies during the early 20th century before the clouds of war started to gather in the 1930s, eventually progressing to life during the Occupation. Get more details here.
---
The World of Nickelodeon 2022
Marina Square, till 17 April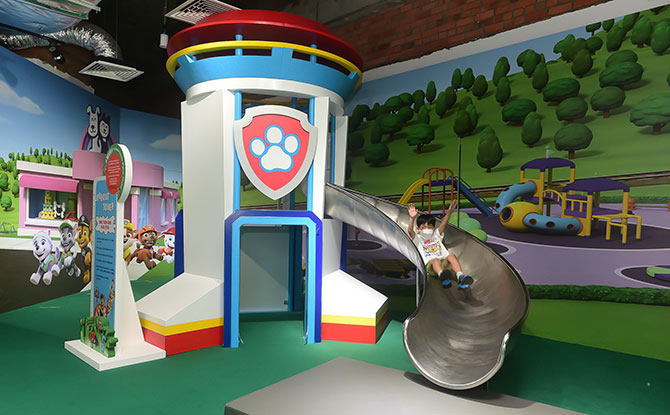 Kids can have fun at a Nickelodoen-themed entertainment centre with 12 different stations and characters like SpongeBob SquarePants and Paw Patrol. Find out more details here.
---
The AR-mazing Tiger Trail
Around Singapore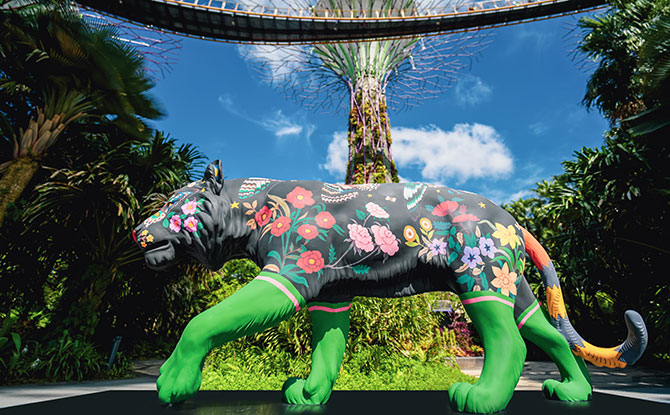 Discover over 30 tiger sculpture with a unique concept behind each of them. There are bonus features such as interactive AR elements and quizzes too. Find out more details here.
---
Mappy Race x Adventure Edition
PAssion Wave @Sembawang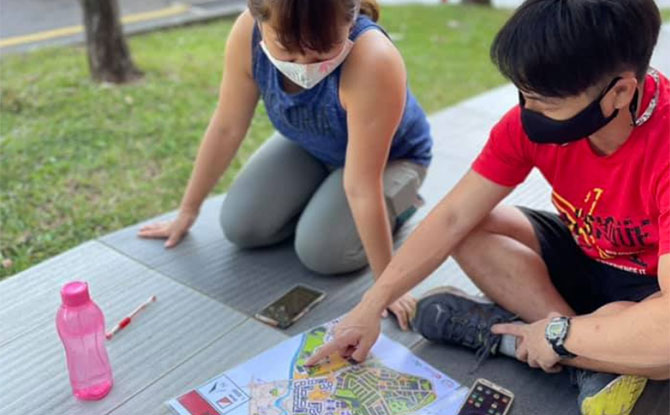 Go on a foot navigation race where teams plan & navigate a route comprising of approximately 20 checkpoints around PAssion Wave @ Sembawang, Sembawang Park and the estate. Find out more details here.
---
Jurassic Dinosaur Adventure Park
Downtown East
D'Marquee at Downtown East has been transformed into a primeval forest where  prehistoric reptiles have been spotted lurking about. Find out more details here.
---
Jumptopia: Wonder Garden
Till 3 Jul, Bayfront Plaza, Gardens by the Bay
Featuring eight garden-themed Kiztopia Friends bouncy castles, kids can bounce about at Jumptopia: Wonder Garden during the March school holidays 2022. More details here.
---
SpongeBob x Impossible Kumoya Pop-up Cafe
Jalan Klapa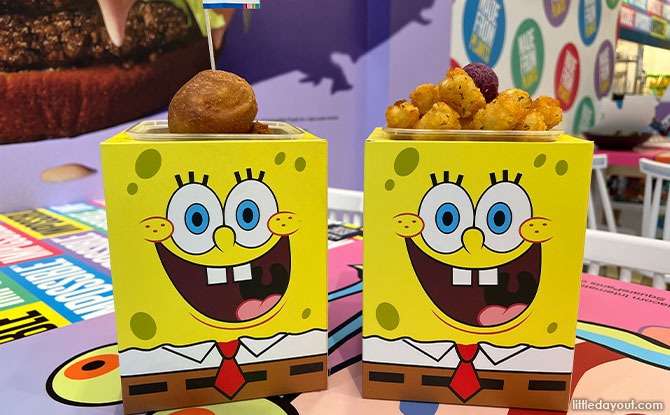 Spot familiar friends such as Patrick Star, Squidward, Gary, Mr Krabs, Sandy and Plankton at Kumoya. Find out more here.
---
Singapore Literature Book Bazaar
7 to 20 March, The Arts House & Online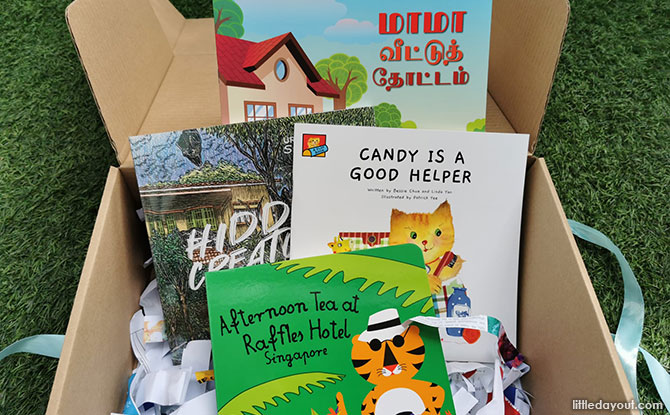 This hybrid event will feature new book launches, book sharings, meeting of authors, panel discussions and publishers' talk show curated for the consumers in mind. Get more details here.
---
LEGO Playcation Online Workshops March 2022
19 March, Online  
Take part in LEGO building lesson during the March holidays. Kids can build their dream or go on a LEGO City Car Adventure during these workshops. Get more details here.
---
Jurong Lake Gardens Online March Holiday Programme (Scavenger Hunt)
14 March, Online  
Join the folks from NParks for an informative learning session through games (scavenger hunt) to learn more about the biodiversity in Jurong Lake Gardens. This programme is free. It is one of three online programmes being held by Jurong Lake Gardens Get more details here.
---
Coco and Friends
12 March, Online  
Through the eyes of Coco the Malayan Colugo, children will embark on a nature adventure learning about Coco and his forest friends, and about the plants that are useful to both Man and animals. Get more details here.
---
Colouring the Coasts of Chek Jawa
19 March, Pulau Ubin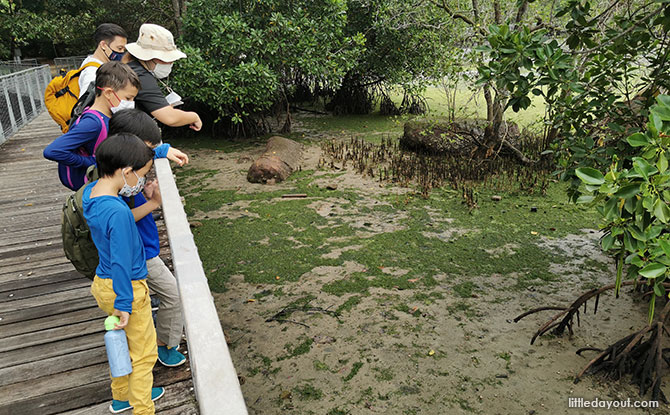 Go on a guided nature trail at Chek Jawa featuring the coastal boardwalk and House No. 1. Conclude your coastal experience with an art-making session, painting your memories on framed canvas. Get more details and register here.
---