Visit the world's first SpongeBob x Impossible collaboration pop-up café from 16 December 2021. Brought to you by Kumoya, Singapore's longest-running cafe specialising in themed pop-up cafes, diners are invited to dive into an undersea adventure with SpongeBob and his buddies.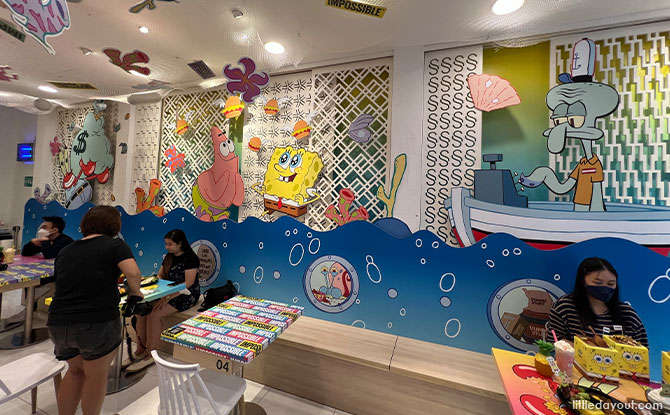 Spot familiar friends such as Patrick Star, Squidward, Gary, Mr Krabs, Sandy and Plankton. Diners can enjoy six snacks, four mains, two desserts, and four drinks on the Spongebob themed menu. This will also be Kumoya's first-ever meat-free menu and dining experience since it is collaborating with Impossible Foods.
Here are some of the items on the menu that we tried.
Review Of SpongeBob x Impossible Menu Items
Snacks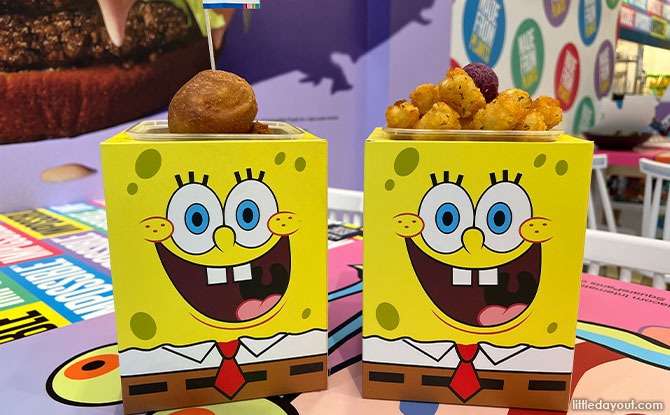 The snacks for this pop-up are served in a cute Spongebob box that makes a cute collectable too. We tried the Impossible Plant-Based Mini Corn Dog that comes with a side of pickle mayonnaise with herb dip.
We also tried the Mini Tater Tots and Sweet Potato Mochi Balls. We really enjoyed the Sweet Potato Mochi Balls and wished they were a standalone side instead as the Mini Tater Tots are also served with many of the mains.
Some new snacks on the menu include the Impossible Chilli Con Carne Fries and Impossible Nuggets.
---
Mains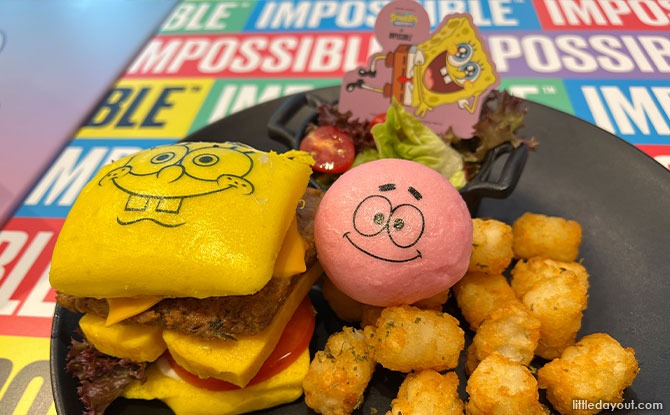 There are four mains to choose from with a mix of burger, pasta and rice dishes.
We tried the "No Problemo" Impossible Burger which has an Impossible patty with a kawaii SpongeBob bao, tamagoyaki, caramelised onions, tomatoes, and sliced cheddar cheese. It is served with a salad side, mini tater tots, and a cute Patrick Star matcha bun.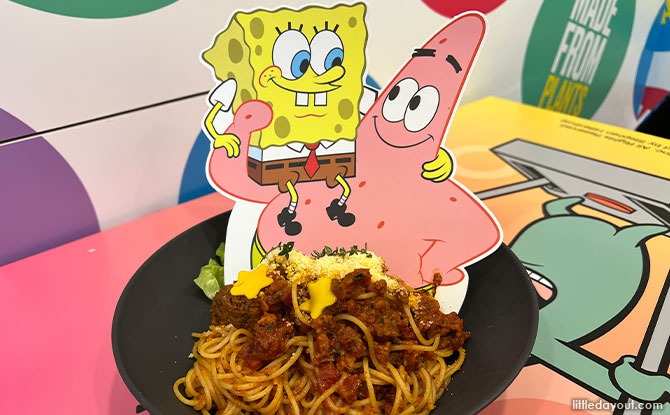 We also ordered a pasta dish with the fun name of "I Wumbo, You Wumbo, He She We Wumbo" (anyone else got the reference to the episode?) Impossible Meatball Pomodoro Pasta. As complicated of a name this dish was, we liked the simple classic pasta with plant-based meatballs, Pomodoro sauce and parmesan cheese.
Other mains include the Aye-aye, Captain" Impossible Japanese Croquette Curry Rice and the "I'm Ready!" Life Is Sweet Impossible Big Breakfast meal which is a hearty meal to have at any part of the day.
---
Desserts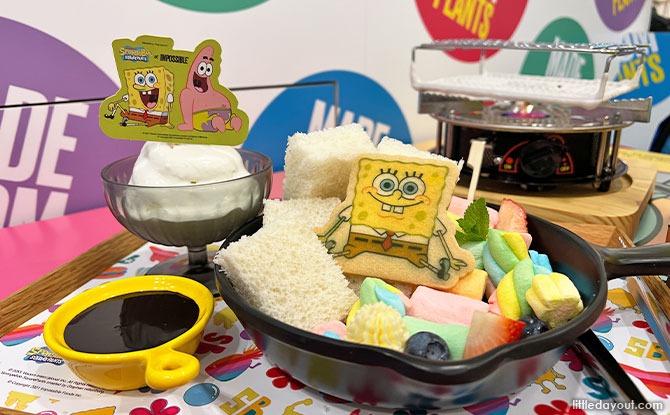 There are two desserts to choose from. The first was the "Order Up!" Get Toasty Dessert Set that comes with a personal grill to toast some Shibuya toast, colourful marshmallows and Hokkaido milk soft serve. It also comes with a fondue set with chocolate dip, fresh fruits, and a cute Spongebob butter cookie.
Diners can also choose the "Let's Talk Funny" Pudding Parfait which comes with Hokkaido soft serve, Spongebob mango pudding, Patrick Star strawberry pudding, honey stars and fresh fruits.
---
Drinks
For this Kumoya SpongeBob x Impossible collaboration pop-up café, we really enjoyed the drinks. Diners can bring back some Bikini Bottom memorabilia and bring home their very own pineapple cup when they order the Pineapple-Under-The-Sea Pineapple Iced Tea in Lychee Momo or Pineapple flavours. You can also order cute Spongebob or Patrick Frappes.
---
Kumoya SpongeBob x Impossible Pop-Up Cafe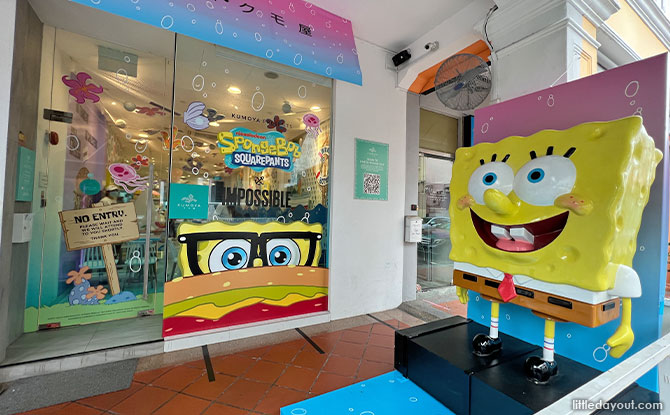 The Kumoya SpongeBob x Impossible collaboration pop-up café is located at Kumoya's 8 Jalan Klapa outlet. The café opens Wednesday to Sunday from 12.00 pm to 9.30 pm.