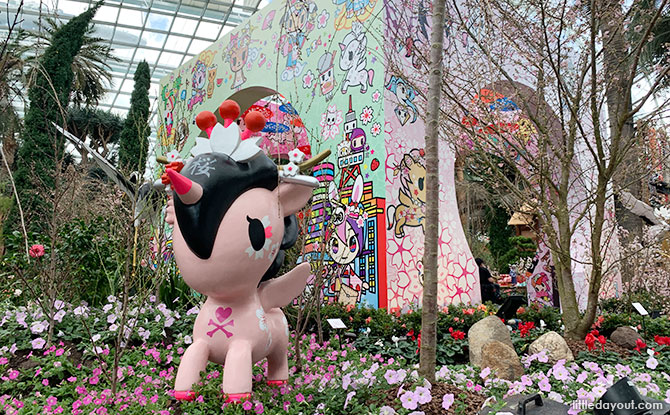 The cherry blossoms and torri gates are back at the Flower Dome; the Sakura floral display, this time featuring tokidoki, is back from 4 March to 3 April 2022.
---
Sakura featuring tokidoki 2022 at the Flower Dome, Gardens by the Bay
Making their debut at the sakura floral display are tokidoki's five magical Unicornos, Fubuki, Ichiyo, Haru & Harumi, Yoshino and Sakurako. The characters can be found around the Flower Field, where Japanese cultural displays can be found.
---
-- Story continues below --
At the centre of the Flower Field, step into a giant box with a colourful display of umbrellas hung above and marumado, or traditional round Japanese windows with a view.
While some of the cherry blossoms have already bloomed, the majority of the cherry and plum trees are still in their budding stage or early stages of bloom when we visited on 4 March 2022.  In a couple of weeks, we expect it to turn into an explosion of colour with pink flowers filling the field.
Also on display are works of Japanese floral art by Ikebana International Singapore.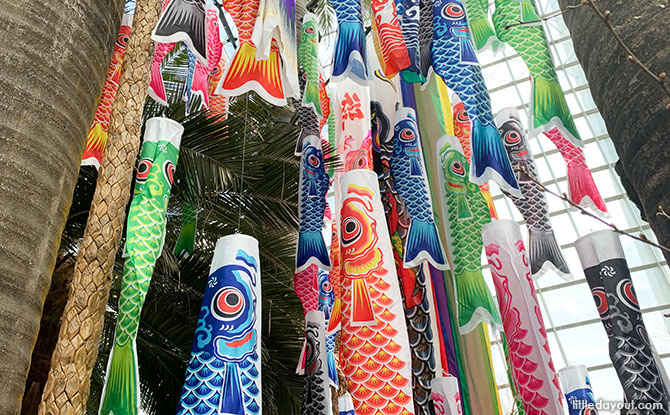 There is also a striking display of Japanese carp streamers known as koinobori on loan from the Japanese Association, Singapore. These add a festive touch to the Sakura 2022 floral display.
There are also cultural programmes lined up on selected weekends during the period of the floral display.
---
Free entry to Flower Dome for orange and blue CHAS card holders from 5 to 11 March
In a show of appreciation for the support from the community over the last 10 years, Gardens by the Bay will be extending complimentary entry to Flower Dome to lower income Singaporeans during the opening week of this year's Sakura floral display, from 5 to 11 March 2022.
Each individual will need to present an orange or blue CHAS card at the Friends of the Garden centre to redeem for one Flower Dome ticket, subject to availability of time slots.
---
Sakura Floral Display 2022
Sakura featuring tokidoki characters takes place from 4 March to 3 April, 9 am to 9 pm at the Flower Dome. Usual admission charges apply.
Get more details here or book tickets to both the Flower Dome and Cloud Forest here.