It's challenging enough to nurture bilingual children. How about trilingual children? Betty from California runs a very popular site CHALK Academy which contains plenty of resources to help parents encourage bilingualism or even trilingualism at home.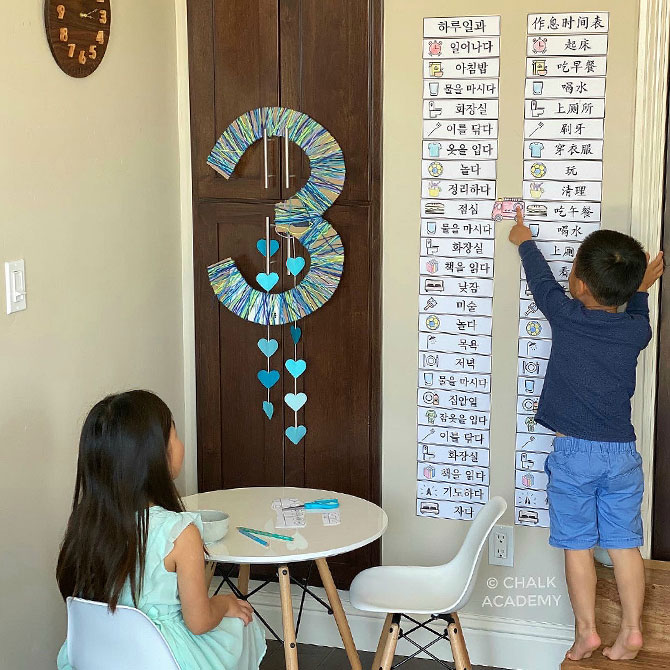 CHALK Academy has great tips to share regarding routines and coping techniques for those who are spending more time at home. We are glad to have her share her experience from across the globe.
---
Little Day Out's Interview with CHALK Academy
Can you tell us more about yourself? How is everyone doing with the current situation in California?
Hello! My name is Betty Choi, and I'm a paediatrician and medical writer. I am also the creator of CHALK Academy, a website focused on child-led learning and raising multilingual children.
I live in a small beach town in California, USA, with my husband, 6-year-old daughter, and 3-year-old son.
---
-- Story continues below --
Prior to the pandemic, I was working from home while my daughter attended school part-time. My son did not formally start school, and we had a nanny part-time when I was working.
My children speak English, Chinese, and Korean, which is uncommon in our monolingual community. Since my husband and I are not fluent in our heritage languages, their language skills often surprise others.
We roughly follow the one person, one-language method:
Me – Mandarin Chinese
Nanny – Korean
Dad/family language – English
Now with the pandemic, I am doing everything full-time at home…and we are taking it day by day! My husband is also a physician and continues to work at his clinic and hospital through this pandemic.
---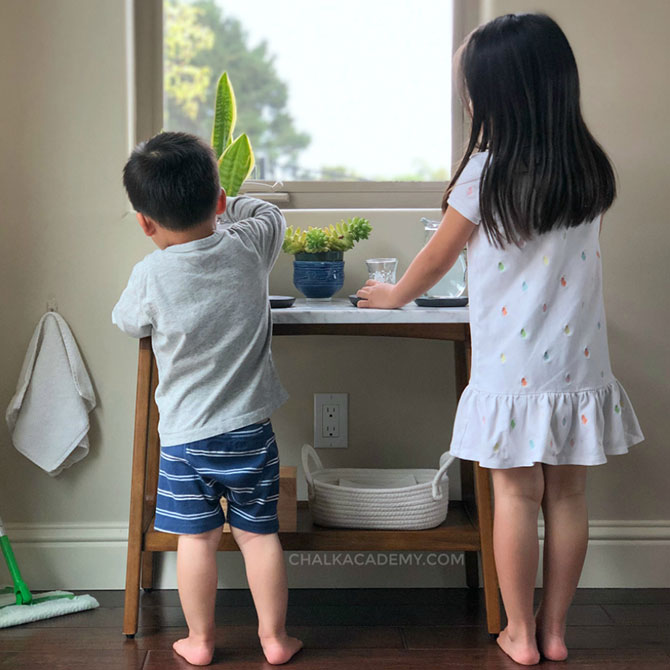 Our daily routine generally follows the Montessori rhythm of 3-hour time blocks:
早上 (Zǎoshang / Morning) – Work
中午 (Zhōngwǔ / Midday) – Kids' quiet time while mommy works
下午 (Xiàwǔ / Afternoon) – Play
晚上 (Wǎnshàng / Evening) – Wind down
夜晚 (Yèwǎn / Night) – Kids sleep while mommy works
Both children participate in practical life skills, such as vacuuming, helping with cooking, folding towels, and putting away their toys.
Water and snacks are available at the kids' self-serve station which promotes independence and keeps them energised.
---
Could you tell us what challenges you face in terms of changes to your usual pre-COVID-19 routines?
The main challenge is not being able to see our friends and family. We cannot go to many places that we previously enjoyed.
In addition, many Americans have trouble adhering to physical distancing recommendations. We have to be hyper-vigilant about other people approaching too closely.
Our favourite hiking trail closed due to problems with crowds gathering. Although we are allowed to walk along the ocean, we cannot bring towels for sitting on the beach.
However, my children understand that these changes are necessary and important for protecting our community, especially the most vulnerable people.
---
As a paediatrician, could you advise how to keep the children's immunity healthy?
Eating healthy – Eat mostly natural, unprocessed foods, such as fresh fruit and vegetables, whole grains, and lean protein (eg, tofu, fish).
Regular hydration – Have scheduled water and bathroom breaks during the day and with meals since kids can easily forget about this when enthralled with play! (Of course, they should also go when they have the urge outside of the scheduled break).
Sleeping at a consistent bedtime plus naps for younger children
Staying up-to-date on recommended vaccinations per age
Having plenty of free play; outdoors in the sunshine if possible
Minimising screen-time, especially in the hours before bedtime as the emitted light can interfere with sleep hygiene
---
What resources do you use to engage the children in difficult times?
Our Christian faith is the most important resource during challenging times. We refer to the Bible regularly and pray for guidance from the start to end of each day.
---
How do you self-care and provide support to your spouse?
During the workday, my husband and I check in with each other through text messages and sometimes phone calls. When we are both home and not working, we share parenting duties, including household chores and tending to our children.
We recognise each other's strengths and divide and conquer as needed. For example, my husband cleans our cars, and I organise the kitchen. Finally, we also let each have protected time for exercise without the kids. Solitary self-care time is needed for uninterrupted reflection and recuperation.
---
Learning more than one language is so important for having a better understanding of the world.
When kids realise there is more than one way to say something, they are also learning that humanity consists of different perspectives, cultures, and experiences.
Languages also connect us to our family and heritage!
---
What are your children's favourite games and activities for learning Mandarin?
First, I'd like to emphasise that Chinese listening and speaking skills are integrated throughout the day through natural conversation, play, and routine! Since my children do not have the chance to learn Chinese elsewhere, I need to optimise Chinese dialogue at home.
Even friends who send kids to bilingual schools say that they still need to encourage the minority language at home.
As for boosting literacy, this is where games and activities can make a big difference in learning Chinese characters! There are so many fun ones that we have done over the years!
My 3-year-old son's favourite Chinese activities include: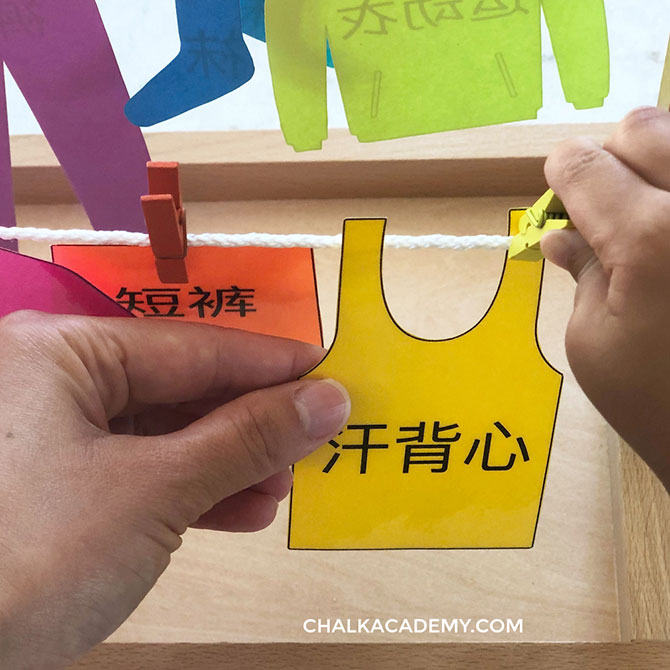 When my daughter was younger, she loved: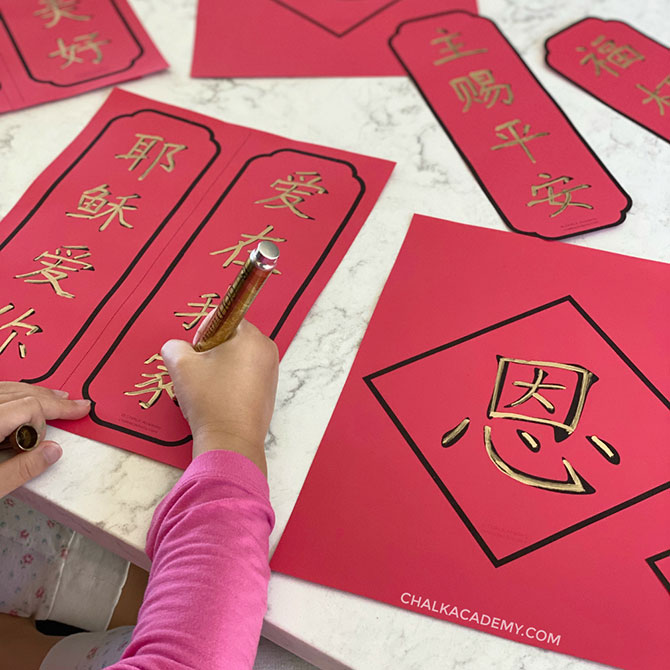 My 6-year-old daughter's current favourite Chinese activities include:
Both children love play dough, dot stickers, Chinese music, and of course great Chinese books!
---
How would you advise parents in Singapore trying to encourage effective bilingualism in their children?
Treat the minority language as an important target language at home.
If Chinese considered a second language that's pushed aside as an elective, less important course, then the child's attitude toward the language will likely reflect this.
Speak the minority language consistently at home
Learn songs in the minority language
Listen to audiobooks in the minority language
Read relatable and interesting books
Do fun activities and make special memories in the minority language!
---
Encouraging Fun Language Learning is Key!
CHALK Academy has shared very helpful tips and also a lot of resources that can be used. We hope you will feel that this language learning is less daunting. The extra time you have at home with your children will mean more opportunities for bonding and learning together. For now, take the situation in a positive light and impart some language skills!
For more on CHALK Academy's journey, browse her site or go to her social media pages on Instagram and Facebook. You will be wowed by the number of resources she shares!