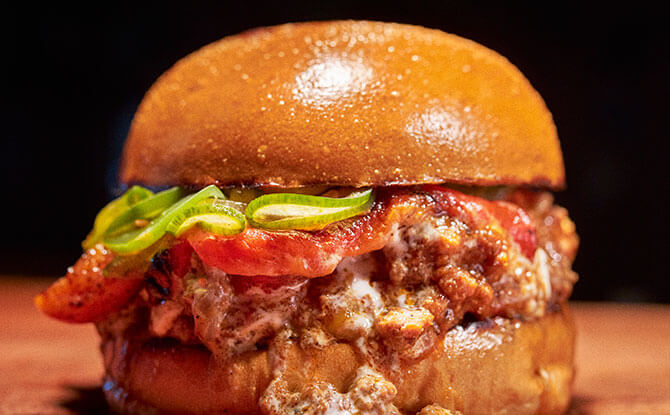 This April 2020, Impossible Foods is celebrating Earth Month and all the people who are making a positive impact on the planet. Till the end of April, customers can savour limited edition dishes and receive special Impossible- branded merchandise during their next meal in.
Celebrating Earth Day
Being a part of this celebration is easy. Simply order an Impossible dish from any of the participating restaurants and you will be rewarded with a delicious plant-based meal as well as limited edition Earth Month pins and stickers.
On Earth Day itself, which falls on Wednesday, 22 April, key partners including Three Buns Singapore, Nam Nam, Pizza Express and PS. Cafe will celebrate the occasion by giving out exclusive merchandise like tote bags, sustainability cutlery and socks to all customers.
Impossible Foods for Earth Month
Be sure to try some dishes specially created for Earth month including a new plant-based menu from Three Buns Singapore, featuring new burgers like the Impossible Hombre, a Mexican-inspired stack with Impossible hot chilli and roasted peppers; and Le Big Mock, a plant-based take on the famous burger with dill, toasted caraway and vegan cheddar on a toasted mango-flour sesame bun.
P.S. Cafe will launch the all-new Impossible Bombay Koftas served with a cauliflower and potato hash, and Pizza Express will introduce the hearty Impossible Meatballs al Forno.
Some new Impossible Foods restaurant partners, such as Straits Chinese, Chilli Padi and Springleaf Prata Place, have also joined the mission to offer locally inspired delights that are plant-based.
Look out for are Straits Chinese's Impossible Nyonya Nogh Hiang and Chili Padi's Impossible Rendang Burger with Mango Kerabu and Belingjo. Springleaf Prata Place will be introducing an Impossible version of the famed Murtaburger.
Make an Impact with Impossible
If you want even more merchandise to show your love for Impossible Foods, scan QR codes from all of the participating restaurants and share the sustainability savings infographic on your Instagram for a chance to win Earth Month tote bags.
At the end of the campaign, Impossible Foods will showcase the cumulative impact of choosing Impossible Burger over beef from cows by unveiling the total savings in terms of water, land and greenhouse gas emissions. It'll be a fun way to see how one small meal can contribute to big changes.
Find out more about Impossible Earth Month and the participating restaurants here.