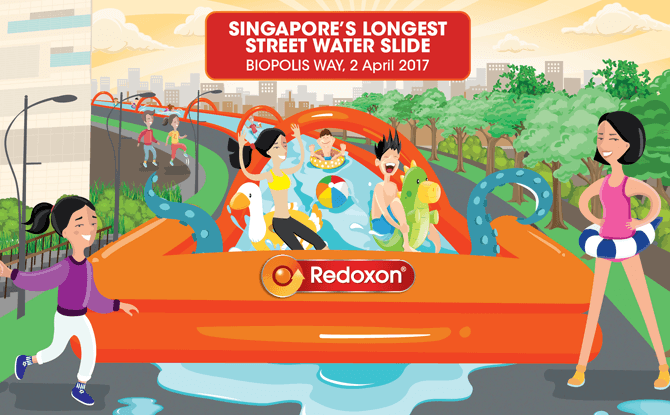 Experience Singapore's longest street water slide on Sunday, 2 April 2017 at Boost & Slide. Get ready for some slippery fun at Biopolis Way, one-north, on a 300-feet (91-metre) long slide.
This free pop-up event is organised by Bayer in conjunction with the launch of Redoxon® Triple Action. Taking place from 9 am to 6 pm, participants will need to preregister online for a time slot to take part in Boost & Slide. Time slots are limited and each sign up is tied in with the participant's individual name and NRIC.
Street Water Slide
The Boost & Slide water slide will have a total of three lanes. Only one person is allowed on the lane at a time. Parents can slide beside their children and floats are allowed, as long as they do not exceed 1.5 metre in width.
Participants will need to be a minimum height of 1.1 metres to experience the street water slide. Those below the age of 18 will need to present an indemnity form signed by a parent or legal guardian.
No shower facilities or lockers will be available at the event. Be sure to make the necessary arrangements to change and keep your belongings safe.
Other Activities at Boost & Slide
In addition to the water slide, there will be nutrition-inspired activities, interactive games for families, a healthy food trail around Biopolis and a Redoxon® bar where you can sample creative concoctions of the Vitamin C drink.
Visit the Boost & Slide website for more details.
Boost & Slide
Date: 2 April 2017
Time: 9 am to 6 pm
Venue: Biopolis Way, Biopolis @ one-north
Pre-registration online is required.
www.boostandslide.com