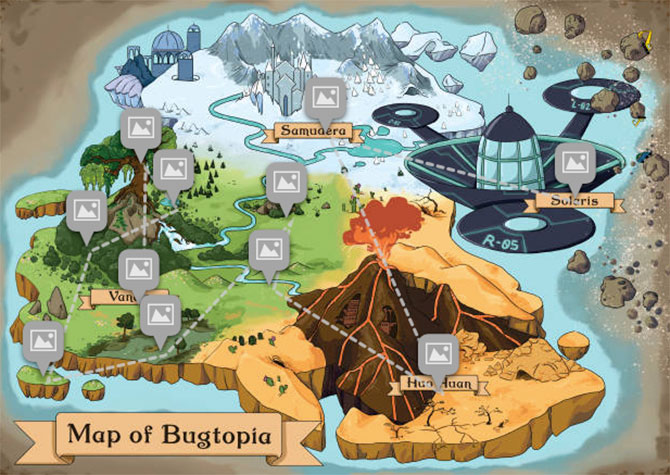 If you have young library-goers at home, they would probably have caught the bug – the Book Bug that is. The current series of the popular collectible card game Book Bugs: Rescuers of the Lost has been sending young readers to the world of Bugtopia as they aim to help determine the future of the land's future. Young patrons have had to read as many books as possible from public libraries across Singapore to to save Bugtopia.
During the following couple of weeks of the December vacations, moms and dads as well as their kids can take part in an interesting series of Book Bug events. This includes Community Day at the Jurong Regional Library on Friday, 16 Dec 2022, StoryMap, an interactive online map depictng Bugtopia for an immersive world-building experience and Rescuers' Pursuit, a self-guided treasure hunt the libraries, as well as Community Gallery, a platform where young patrons can send Book Bugs-related illustrations or reflections.
---
Book Bugs Community Day
This half-day event will allow fans of Book Bugs to participate in various Book Bugs booth activities during the end-of-year school holidays, as a serve round-up of the Book Bugs reading promotion. It takes place 16 Dec 2022 (Friday), 2 pm to 6 pm, Jurong Regional Library.
For more information on the happenings during Book Bugs Community Day, visit www.go.gov.sg/bookbugs-commday.
---
-- Story continues below --
StoryMap
Kids get to navigate an interactive online map that brings them through Bugtopia, the fictional world where Book Bugs: Rescuers of Stories Lost is set in. It also follow the progress of the narrative of Book Bugs: Rescuers of Stories Lost. The StoryMap consists of embedded multimedia such as text, images and videos which enhances the immersive worldbuilding experience. This free online activity is available on https://childrenandteens.nlb.gov.sg/events/bookbugsr/story/ till 31 December 2022.
---
Rescuers' Quest
Rescuers' Quest is a self-guided library trail at Public Libraries (except library@orchard, library@chinatown and library@esplanade) that aims to further immerse patrons in the story behind Book Bugs Rescuers of Stories Lost. The trail comprises three posters that patrons will have to look out for at the participating Public Libraries and scan the QR codes to view three short videos.
It is free for public and will be available till 31 December 2022.
---
Community Gallery
The Community Gallery is a virtual platform for patrons to share their passion and interest for Book Bugs via submitted writings/text, artworks, images and videos. Submissions will be displayed online and accessible to all for free on the virtual platform (Padlet) via the link: go.gov.sg/bookbugs-community.