In its second year now, Sentosa FunFest 2016 is the mega beach carnival to be at this June holidays. Lest you think that it is only for the cool and hip, young adult crowd, this is a beach carnival for the whole family. There is lots of sun, sand and foam for all to enjoy. (And you don't have to be in a bikini to join in the fun!)
Think big, bouncy and wet. Sentosa FunFest is the dream of every inflatable/bouncy-castle-mad child… except that the organisers have upped the ante with mega inflatables – some as tall as 7.5 metres. Top that with foam and water added in, and you are in for a fun day out.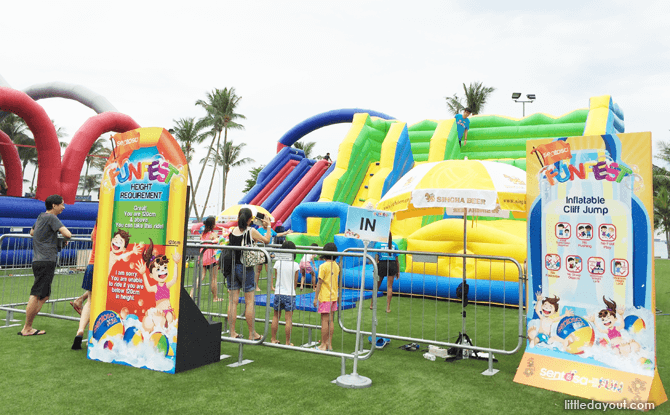 There are more than 10 giant inflatables to try your hand (and legs) on. And these are not your usual boring, sedate bouncy castles. There are obstacle courses, water-slides and foam pools. For my bouncy-castle-mad six-year-old, Sentosa FunFest was a mind-blowing, jaw-dropping vision, when he saw the adventures awaiting him at the entrance of the grounds.
---
-- Story continues below --
Do note that there is a height requirement of 120 cm for some of the inflatables for safety reasons. Still, some do allow children above 90 cm, as long as an adult accompanies them.
Slide and Bounce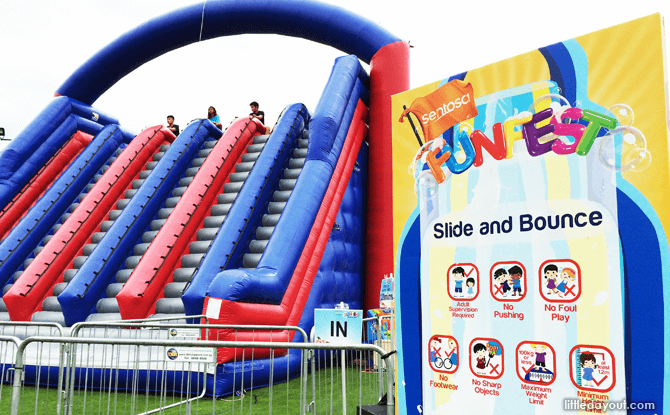 We love the giant Slide and Bounce. A slide is a slide and a giant slide at 7.5 metres doubles the fun. You slide down and run through an obstacle course, navigating the inflatable squares of different heights dotting the course.
This station is split into two, giving children who do not meet the height requirement access to the fun obstacle course.
With the stationmasters sprinkling water at the participants, you are racing against your competitors on a wet, slippery inflatable surface that gives way under pressure if you do not step with strategic calculation.
My son competed against Daddy on a few runs. When Daddy was tired out, he challenged me instead. It was mad, riotous fun, as we scrambled together, valiantly climbing "mountains" and collapsing into "valleys".
Inflatable Cliff Jump
Another favourite was the Inflatable Cliff Jump. You climb up to a height of five metres and have two options – taking the tamer slide down or boldly and wildly jumping off the cliff portion. High on the heady cocktail of sun, foam and sea breeze, I happily promised my son to join him in the jump off the cliff… only to later sober up and chicken out by sliding down the cliff instead.
My dear husband laughed at me and jumped off with my son on his second round. Happily, I can share the confirmation of my last-minute suspicion – the inflatable landing is rather hard for older bones, but presumably younger bones can absorb the shock. (Dear Husband exited the station, nursing a sore shoulder and bum; Dear Son was raring to go a third time.)
Inflatable Traversing Wall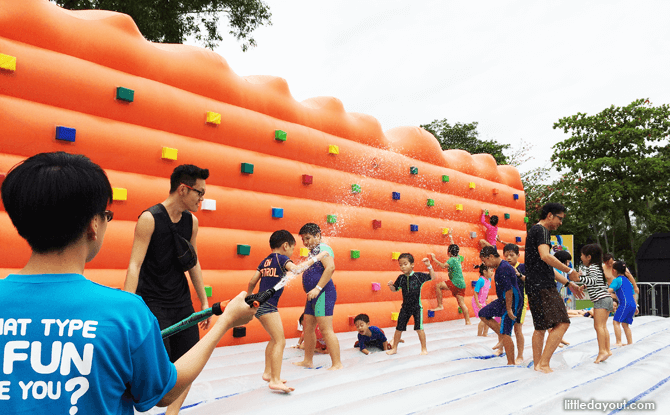 Do not dismiss the Inflatable Traversing Wall as a normal bouncy castle kind of inflatable. It has a bouldering wall on its inflatable wall. Most children are happy to bounce on it and let the stationmasters spray water on them, but the beauty of this station is to challenge yourself to conquer an inflatable rock wall.
Dear Son is a keen lover of rock-climbing, so he was trying to climb it once he got on. It looks easy with regularly-sized and -spaced handholds and footholds, but it is no mean feat climbing/bouldering this wall, since it is a wet inflatable. Determined to climb it, I gave Dear Son a helping hand. It is well nigh impossible to get a good, lasting grip, but Dear Son's exhilaration and jubilation at reaching the top was priceless and we had a great time bonding in this adventure.
Inflatable Balance Beam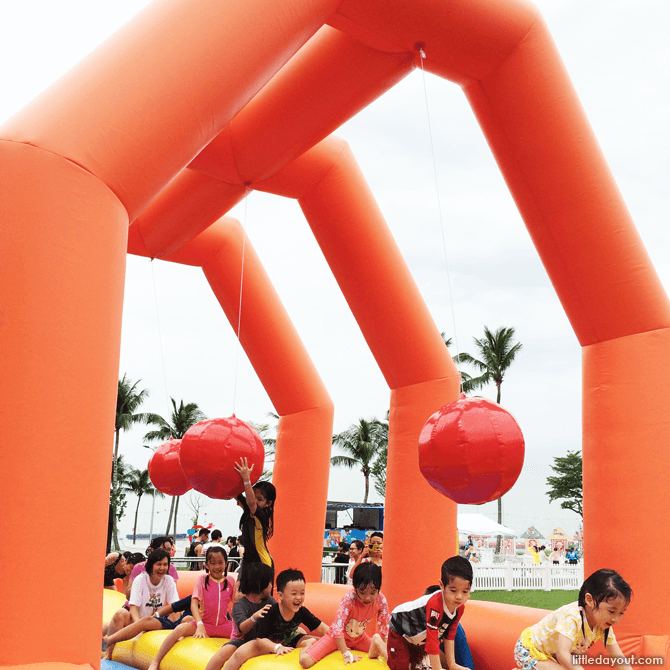 The Inflatable Balance Beam tests your balance on the wet beam, while avoiding the swinging hanging balls. It was a high task for children wanting fun, so most children just crawled across it with the hanging balls being still. But hey, it's still great fun for the kids, though I'm sure the organisers will be more than happy to swing the balls for any adult who wants to have a purist challenge.
Bubbly Foam Pool and Foam Play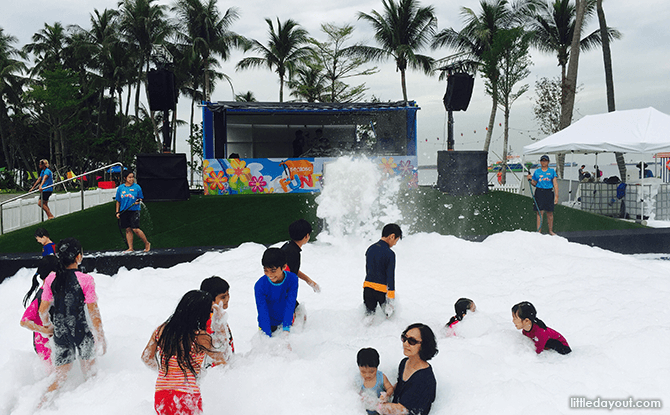 In front of the DJ station is the Bubbly Foam Pool. It is a straightforward station with foam coming down at you and nice music coming your way.
My six-year-old and his friend loved making funny wigs and moustaches and walking out looking like the Abominable Snowman, to the extent that they rejected the station's hose-down service. My 18-month-old toddler was touching and holding foam in fascination, while my 63-year-old mum delighted in his fascination. This is a suitable station for young and old, as long as you watch out for foam getting into your children's eyes.
You can also enjoy foam play at two more stations. There is a smaller water slide suitable for younger children. You slide down into a bed of foam, which is enormous fun, judging by the kids going for repeat slides.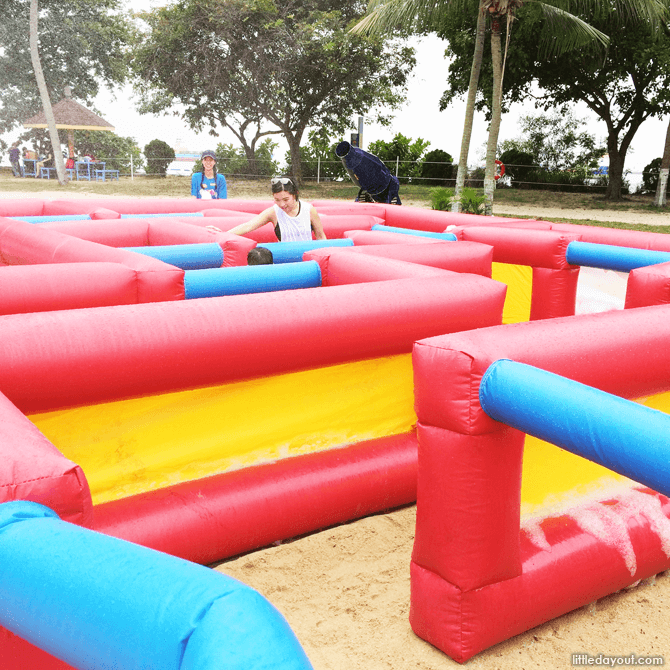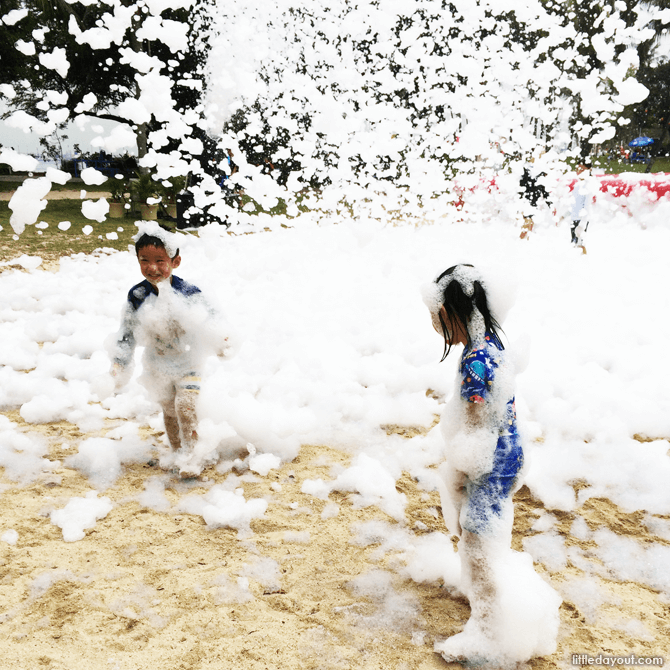 The Kiddy Amazing Maze is your regular maze set-up enhanced with sprays of water coming from both sides and a giant cannon raining foam on the kids. In the literal foam storm, the children were weaving in and out, dancing to the rhythm of the foam sprays.
Horizontal Slide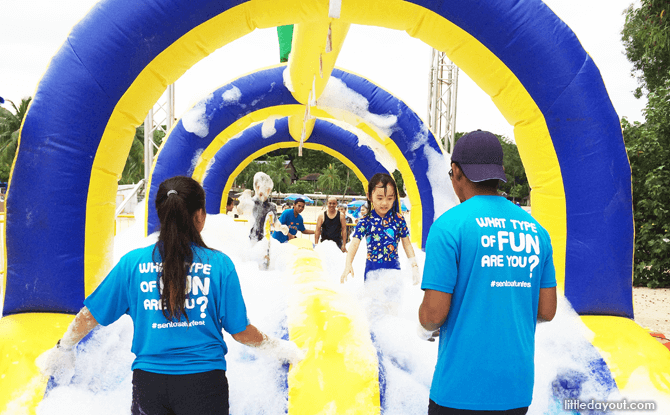 The Horizontal Slide had mixed reviews from us. The children loved it, while the adults weren't wowed. I think the length of the slide afforded a longer run for the children's shorter bodies, while the adults tended to either get stuck or not go far. I suppose it has partly got to do with gravity and friction acting on body mass as well. But one thing to be sure, it is fun trying to shoot yourself forward on a slide of water and foam.
Sway and Swing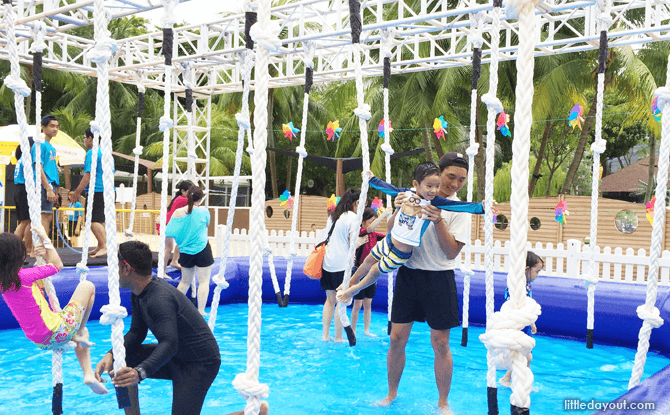 If you fancy some Tarzan-style action, do not miss the Sway and Swing. Here, you can act out your Tarzan aspirations, and do a jungle call, as you traverse the pool below via the hanging vines, erh, I mean, ropes. Be prepared to help young Tarzans across though, till they have developed enough arm muscles to swing independently.
Nerf Blaster Team Challenge
Definitely check out the NERF Blaster Challenge. Two teams challenge each other in shooting targets on inflatable bunkers. The objective is for each team to shoot down all targets in the shortest time. The team with the best timing of the day wins a NERF hamper worth $100. The challenge starts from 10 am to 5 pm.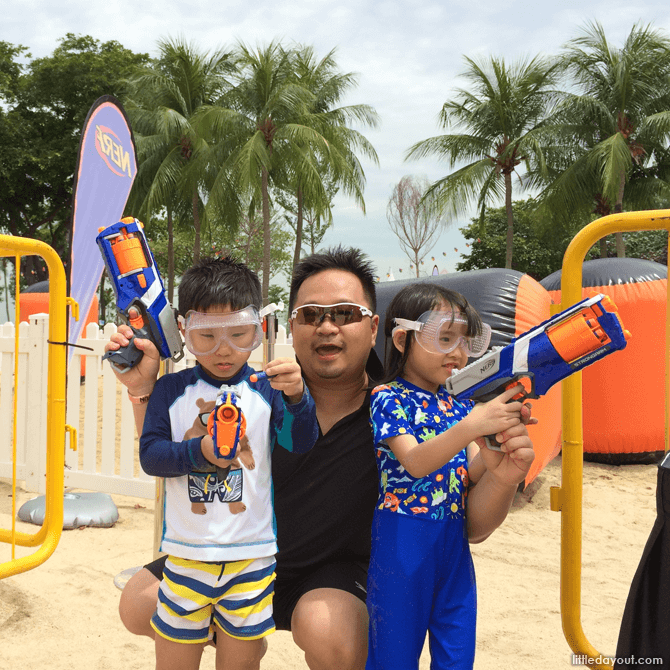 The children got a kick out of donning the masks and picking up guns. There was a keen sense of competition, as each tried to shoot at his/her target.
Playful Sandpit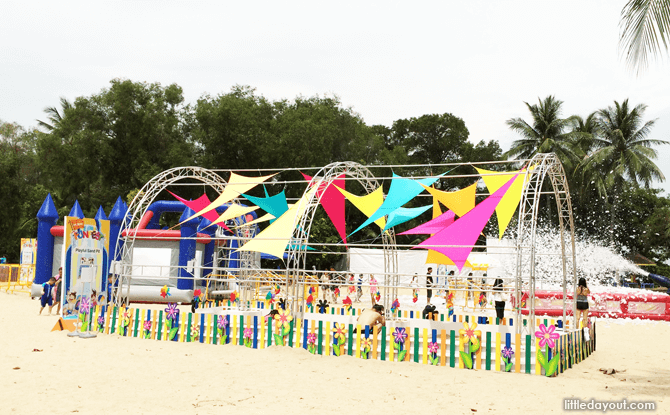 When your child needs a break, the partially shaded Playful Sandpit offers a nice rest, so do come prepared with some toys for some creative sandcastle building fun.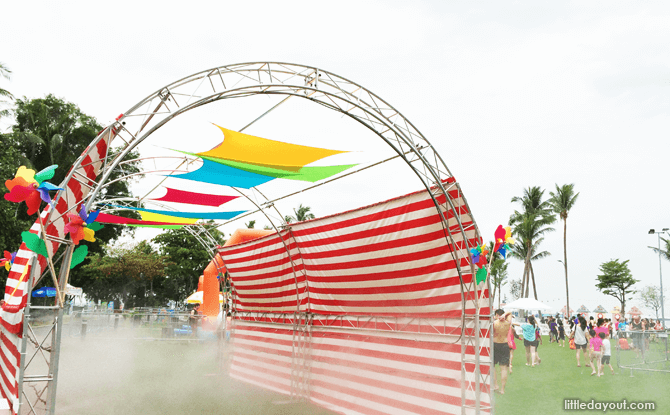 There are also cool zones where you can cool down body temperatures with the cool mists.
Photo Point
Before you leave, pop by a FUN photo point to capture your family's fun times at the FunFest. This year's photo points are cute, quirky Beach Hut facades. It makes for a great souvenir. Plus you stand a chance to win a NERF hamper worth S$100, when you post your FUN photos taken at the photo point on Instagram, with the hashtag #sentosafunfest. So, get snapping!
All in all, Sentosa FunFest promises a fabulous start to the June holidays and great day out for the whole family. Just throw away your inhibitions about heights, getting wet and foamy and indulge in some good messy play. Both you and your kids will love it!
Here are some things to note for a great visit:
Whether you choose to be fashionable (with a bikini) or prudent (with a long-sleeved top), do apply sunscreen to protect yourself from ultraviolet rays.
Covering your body with a top is helpful to prevent friction burns, since many of the stations will necessarily mean contact with the inflatables, e.g, the obstacle course and the horizontal slides.
There is a pop-up shop that sells beach supplies (sunblock, slippers, T-shirt, beach shorts, snacks), so if you decide to travel light, you can buy your supplies there.
There are food-and-beverage kiosks selling substantial lunch/dinner items like chicken rice, fish and chips, but they can be pricey. Or pack a picnic mat and a picnic to enjoy with your family.
The inflatables are spread over two separate areas: artificial grass and sand. Both surfaces can be hot in the sun. Suitable footwear will be helpful.
There are open shower points to rinse off, but there are no changing rooms within the carnival grounds. The portable toilets available are not big enough for changing. Come changed or be prepared to walk to the toilets at the tram station to change. At the end of your visit, rinse before you head to the tram station's toilets to change, as there are no showering facilities there. Or you could do it the old-fashioned way – Bring a sarong to facilitate discreet changing.
Drink lots of water and seek out water sprays or jump under the shower points regularly to prevent over-heating.
Sentosa FunFest 2016
Date: 28 May – 5 June 2016
Time: 10 am – 7 pm (last entry at 4.30 pm)
Venue: Palawan Green, Sentosa
Ticket Price: $28 for adults, $18 for children (3-12 years old), free for children below 3 years old. $82.80 for bundle of 4.
Tickets are available at www.sentosa.com.sg/sentosafunfest