Who does not know Dr Seuss, the beloved author? Dr Seuss has written numerous books for children and in this article, we celebrate his brilliance by exploring 31 of the best Dr Seuss books.
Dr Seuss (really name Theodor Seuss Geisel) was a talented American writer illustrator who liked to work on children's literature. With his captivating stories, colorful illustrations, and unique rhyming style, he has enchanted generations of young readers.
From mischievous cats to imaginative worlds, these books have become timeless classics, cherished by children and adults alike.
Keep reading ahead for the best Dr Seuss books!
---
-- Story continues below --
---
Best Dr Seuss Books
1. The Cat in the Hat (1957)
The Cat in the Hat is classic Dr Seuss. It is a funny story that just doesn't seem to age and a popular reading tool for kids, especially preschoolers. It is especially fun to read aloud.
---
2. The Cat In The Hat Comes Back! (1958)
In this delightful sequel to the original "The Cat in the Hat," we follow the mischievous feline on yet another adventure. With his signature red-and-white striped hat, the Cat returns to bring chaos and excitement to the lives of two curious children. Dr Seuss' rhyming prose and lively illustrations make this book a joy to read.
---
3. Happy Birthday To You! (1959)
Birthdays are special occasions, and Dr Seuss knows how to celebrate them in style. "Happy Birthday To You!" takes readers on a whimsical journey through the magical land of Katroo. With its imaginative characters and infectious rhymes, this book is a perfect way to commemorate a birthday and ignite the imagination of young readers.
---
4. Green Eggs And Ham (1960)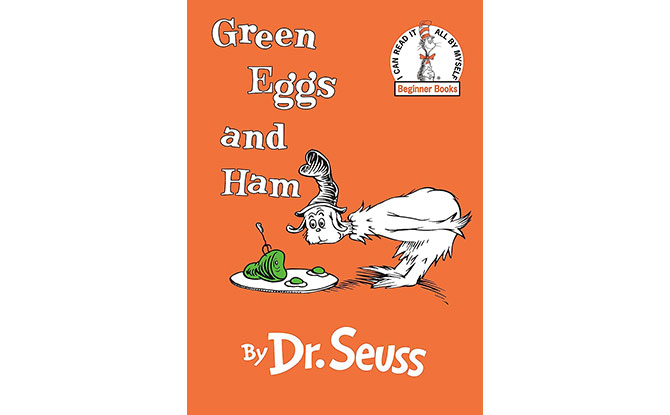 If there is one book that epitomizes the magic of Dr Seuss, it is "Green Eggs and Ham." In this iconic tale, Sam-I-Am encourages a skeptical friend to try a plate of unconventional green eggs and ham. Through playful rhyme and repetition, Dr Seuss imparts a valuable lesson about open-mindedness and the joys of trying new things.
---
5. One Fish Two Fish Red Fish Blue Fish (1960)
With its whimsical illustrations and lively rhymes, "One Fish Two Fish Red Fish Blue Fish" invites readers to explore the wonders of the underwater world. From counting fish to discovering peculiar creatures, Dr Seuss delights readers of all ages with his playful storytelling and imaginative characters.
---
6. The Sneetches And Other Stories (1961)
"The Sneetches and Other Stories" is a collection of tales that explores themes of acceptance, tolerance, and the perils of prejudice. Through stories like "The Sneetches," "The Zax," and "Too Many Daves," Dr Seuss imparts valuable lessons about embracing diversity and treating others with kindness and respect.
---
7. Dr Seuss's Sleep Book (1962)
This might be the perfect bedtime story for your children if they have trouble sleeping. This sleep book has helped a lot of children fall into sleep while reading or listening to it. Dr Seuss' whimsical illustrations and soothing rhymes create a peaceful and enchanting bedtime experience.
---
8. Dr Seuss's ABC (1963)
With its lively artworks and catching rhymes, "Dr Seuss's ABC" makes learning the alphabet a joyous experience. From Aunt Annie's Alligator to Zizzer-Zazzer-Zuzz, Dr Seuss introduces children to both familiar and fantastical characters while teaching them the building blocks of language.
---
9. Hop on Pop (1963)
"Hop on Pop" is a playful exploration of rhyming words and early reading skills. Through simple yet entertaining stories, Dr Seuss introduces young readers to basic phonics and word families. With its energetic illustrations and engaging text, this book encourages children to hop into the world of reading.
---
10. Fox In Socks (1965)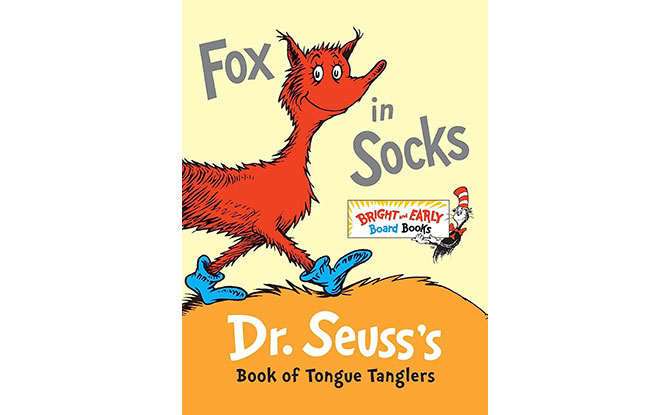 Prepare for a tongue-twisting adventure with "Fox in Socks." This book challenges readers with a series of hilarious and tricky tongue twisters that will have both children and adults laughing out loud. Dr Seuss' clever wordplay and mischievous characters make this book a true delight for readers of all ages.
---
11. I Had Trouble In Getting To Solla Sollew (1965)
In this creative book of Dr Seuss, he takes readers on a journey with a character facing numerous challenges. Through vivid illustrations and rhythmic prose, the story teaches resilience, problem-solving, and the importance of persevering through life's obstacles.
---
12. The Cat in the Hat Song Book (1967)
Dr Seuss brings his beloved cat back in "The Cat in the Hat Song Book." This interactive book invites readers to sing along with the Cat and his friends as they explore the joy of music. With catchy tunes and lively illustrations, this book is perfect for encouraging a love of music and engaging young readers.
---
13. The Foot Book (1968)
"The Foot Book" celebrates the diversity of feet in a fun and entertaining way. Dr Seuss introduces readers to an array of feet, from big and small to clean and dirty. Through playful rhymes and colorful illustrations, children learn about opposites and develop an appreciation for the uniqueness of individuals.
---
14. I Can Lick 30 Tigers Today! And Other Stories (1969)
This collection of stories showcases Dr Seuss' ability to engage young readers through imaginative characters and entertaining tales. From "I Can Lick 30 Tigers Today!" to "King Looie Katz," these stories encourage children to tap into their own creativity and embrace their imaginations.
---
15. My Book About Me (1969)
In "My Book About Me," readers become the authors of their own stories. This interactive book allows children to fill in the blanks, draw pictures, and share their thoughts and experiences.
Dr Seuss understood the important of self-expression for children, so he wrote down this book for this purpose. It's a great book for children to understand more about self-expression. It's also a great approach to making children understand different perspectives of self-discovery.
---
16. I Can Draw It Myself (1970)
Creativity takes center stage in "I Can Draw It Myself." This book invites children to unleash their artistic talents by following step-by-step instructions to draw various creatures and objects. Dr Seuss' simple yet encouraging approach empowers young artists to explore their imagination and gain confidence in their artistic abilities.
---
17. Mr. Brown Can Moo! Can You? (1970)
In "Mr. Brown Can Moo! Can You?" Dr Seuss introduces readers to a symphony of sounds. From the buzzing of bees to the chirping of birds, this book engages children with interactive sound effects and encourages them to participate in creating the sounds. It's an entertaining and interactive way to develop phonemic awareness.
---
18. The Lorax (1971)
"The Lorax" is a powerful environmental fable that teaches children the importance of conservation and the consequences of unchecked greed. Through vibrant illustrations and lyrical prose, Dr Seuss imparts a valuable lesson about the responsibility we all have to protect the natural world. The Lorax's plea to "speak for the trees" echoes in the hearts of readers of all ages.
---
19. Marvin K. Mooney Will You Please Go Now! (1972)
With wit and humor, "Marvin K. Mooney Will You Please Go Now!" encourages young readers to take charge of their actions and make responsible choices. Through clever rhymes and Dr Seuss' signature illustrations, the book imparts a sense of independence and responsibility while keeping readers thoroughly entertained.
---
20. Did I Ever Tell You How Lucky You Are? (1973)
In this book, Dr Seuss reminds readers of the importance of gratitude and appreciating the blessings in their lives. Through witty storytelling and colorful illustrations, the book encourages a positive mindset and a recognition of the good that surrounds us. It serves as a gentle reminder to count our blessings and find joy in everyday moments.
---
21. The Shape Of Me And Other Stuff (1973)
"The Shape of Me and Other Stuff" introduces children to the world of shapes and encourages them to see shapes in everyday objects. Through Dr Seuss' whimsical illustrations and playful rhymes, young readers explore the endless possibilities of shapes and develop their spatial awareness. It's an engaging book that sparks creativity and observational skills.
---
22. Great Day For Up (1974)
"Great Day for Up" is a celebration of mornings and the joy of starting the day with a positive attitude. Dr Seuss' playful illustrations and lively rhymes capture the excitement of a new day and encourage readers to embrace the beauty and possibilities that each morning brings. This book promotes optimism and a sense of adventure.
---
23. There's a Wocket in my Pocket! (1974)
In "There's a Wocket in my Pocket!," Dr Seuss takes readers on a whimsical journey through a house filled with imaginary creatures. Through clever wordplay and colorful illustrations, he invites children to imagine and create their own fantastical world. This book ignites the imagination and encourages children to explore the possibilities of their own surroundings.
---
24. Oh, The Thinks You Can Think! (1975)
In "Oh, The Thinks You Can Think!," Dr Seuss celebrates the power of imagination and encourages readers to let their thoughts roam freely. Through imaginative scenarios and playful rhymes, the book inspires creative thinking and invites children to explore the limitless possibilities of their own minds. It's a book that sparks curiosity and encourages a love of learning.
---
25. I Can Read With My Eyes Shut! (1978)
In this exciting and motivational book, Dr Seuss' colorful illustrations and rhythmic text encourage children to embrace the magic of reading and explore new worlds through the pages of a book. This book emphasizes on the importance of literacy and the power of imagination.
---
26. Oh, Say Can You Say? (1979)
Prepare for a hilarious journey through tongue-twisting phrases and challenging rhymes in "Oh, Say Can You Say?" Dr Seuss showcases his wordplay skills and playful illustrations to engage readers in a fun-filled linguistic adventure. This book challenges children to improve their diction and pronunciation while providing plenty of laughs along the way.
---
27. Hunches In Bunches (1982)
In "Hunches in Bunches," Dr Seuss explores the power of decision-making and the importance of trusting oneself. Through quirky characters and imaginative scenarios, he encourages readers to listen to their instincts and make choices with confidence. This book reminds children that they possess the wisdom to make their own decisions and trust their inner voice.
---
28. The Butter Battle Book (1984)
"The Butter Battle Book" is a thought-provoking story that addresses the futility and danger of war. Dr Seuss uses imaginative characters and witty rhymes to engage young readers in a conversation about conflict resolution and the importance of finding peaceful solutions. It focuses on the need to understanding while being an important reminder that choices can make a huge impact.
---
29. You're Only Old Once! (1986)
"You're Only Old Once!" is a humorous and lighthearted book that playfully explores the realities of aging. Through whimsical illustrations and clever rhymes, Dr Seuss encourages readers of all ages to embrace the wisdom and joy that come with growing older. It's a delightful book that celebrates the beauty of every stage of life.
---
30. I am Not Going to Get Up Today (1987)
Dr Seuss captures the feeling of wanting to stay in bed and enjoy a lazy day in this book. Through lively illustrations and humorous rhymes, he reminds readers that sometimes it's okay to take a break and indulge in some relaxation. This book is the right choice if you want a book for your child that helps them understand their own needs and the important of self-care,
---
31. Oh, The Places You'll Go! (1990)
We conclude our list with one of Dr Seuss' most iconic books, "Oh, The Places You'll Go!" A perfect mixture of the life's journey, with its ups and downs, challenges, and triumphs. Dr Seuss' lyrical prose and whimsical illustrations inspire readers of all ages to embrace new adventures, overcome obstacles, and never stop exploring the world around them.
---
Dr Seuss Books: Timeless Classics
Dr Seuss books have never failed to inspire the children of any generation. His amazing collection captivates the young readers and encourages them to do better things. From mischievous cats to imaginative worlds, his stories have become cherished classics, instilling important life lessons, encouraging creativity, and fostering a love of reading.
With his distinctive rhyming style, whimsical characters, and positive messages, Dr Seuss has left an enduring legacy in children's literature. So, grab a Dr Seuss book, open its pages, and embark on a magical journey filled with joy, imagination, and endless possibilities.
If you enjoyed this story, you will also enjoy this other one on the best Dr Seuss quotes or this other story about our favourite comics and graphic novels for kids.