Looking for the best comics and graphic novels for kids? These type of books can be great ways to encourage kids to read and for them to cultivate the reading habit.
If you are just embarking on a literary journey with your young readers, comic books for kids and graphic novels with attractive pictures can a good way to get them started.
Learn about different comics and graphic novels featuring different story genres for your kids and how each type reader can be suited to your child's needs and stage of reading, helping to enhance their knowledge, creativity and reading skills.
---
Comic Books vs. Graphic Novels: What's the Difference?
Comics are quick hits, while graphic novels are storytelling marathons. You can imagine graphic novels as extended comics. Comics release in bits, graphic novels dive into complete tales in one go. It's like comparing a sprint to an epic race!
---
-- Story continues below --
Both dazzle with visuals and words, but here's the twist – Comics tell tales over multiple issues, while graphic novels slam stories into one volume. Graphic novels aren't just about heroes. They've got historical fiction gems and classic adaptations – the literary buffet is open!
Dive into tales where images dance and words pop, a backstage pass to storytelling magic.
Despite misconceptions, graphic novels aren't solely for struggling readers. Independent readers, including older kids, relish their immersive storytelling.
Remember, reading is reading, regardless of format. Aspiring storytellers should consider the scope of their narrative when choosing between formats. Clear, contained stories thrive in graphic novels, while comic books suit intricate universes with evolving characters and themes.
---
22 Comics & Graphic Novels for Kids
1. Cat Kid Comic Club (Book 1 of the Series)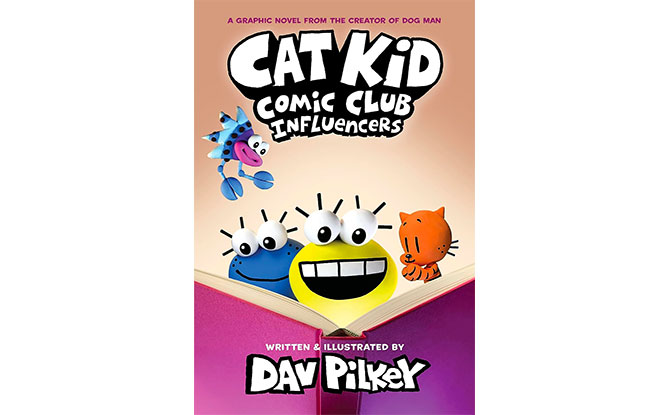 By Dav Pilkey
Suitable for Age: 5+ years
Join Li'l Petey, Flippy, and Molly as they introduce comic making to a lively class of twenty-one frogs. In this comic, there are a lot of mishaps, that only make the readers laugh.
It's all very engaging once you start reading it, you wouldn't want the comic to end.
---
2. Catstronauts: Mission Moon (Book 1 of the Series)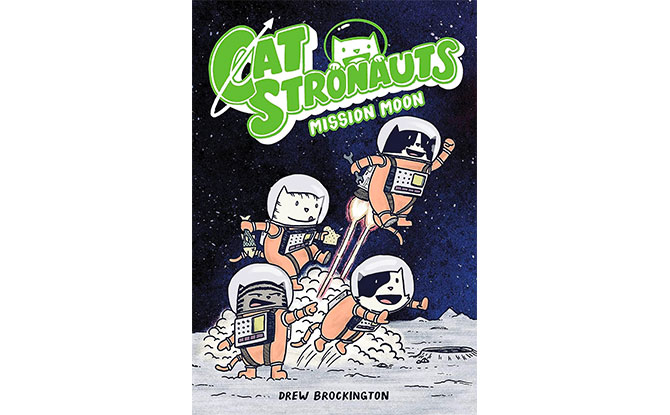 By Drew Brockington
Suitable for Age: 6+ years
In a world plunged into darkness due to a global energy crisis, the World's Best Scientist devises an audacious plan to establish a solar power plant on the moon. However, someone needs to execute this mission, and the task falls to the CatStronauts, a team of feline space explorers.
With Commander Major Meowser, pilot Waffles, inventor Blanket, and science officer Pom Pom, the CatStronauts embark on a pivotal mission.
---
3. The Flying Beaver Brothers and the Evil Penguin Plan (Book 1 of the Series)
By Maxwell Eaton
Suitable for Age: 6+ years
Hold on tight as you join the Beaver Brothers in a hilariously unconventional mission against a team of not-so-cute evil penguins. Ace and Bub are beaver siblings, with Ace's passion for surfing and Bub's affinity for napping.
When wicked penguins snatch Ace's surfboard before a major competition, the adventure begins.
The story of the graphic novel for kids begins to get excited with every step onwards. Children learn the art of storytelling in the best possible ways.
---
4. American Born Chinese
By Gene Luen Yang
Suitable for Age: 12+ years
Jin Wang, longing to fit in, faces the challenges of being the sole Chinese American student in a new neighborhood. Meanwhile, the Monkey King's epic fable portrays a desire for more than his inherent identity, and the negative stereotype embodied by Chin-Kee disrupts Danny's life annually.
As the name suggests, "American Born Chinese" is a testament to Gene Yang's storytelling prowess.
---
5. Tiny Titans Series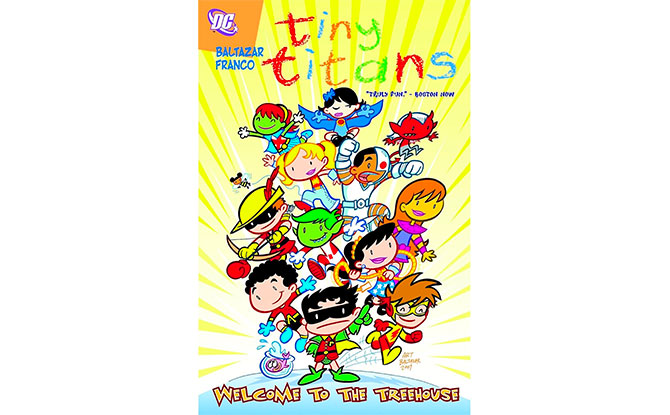 By Art Baltazar and Franco Aureliani
Suitable for Age: 6+ years
You'll find single comic strips that follow the adventures of DC Universe's sidekicks during their childhood. Young readers are introduced to an array of DC superheroes. Who isn't excited to hear about them?
If you want your kids to learn and educate about DC Universe in the best way, then get this series. The words are selected carefully to be suitable for kids, in a way they can enjoy reading.
Baltazar and Aureliani's writing successfully weaves humor, Easter eggs, and nods to main continuity events, appealing to both young and older readers alike.
---
6. Owly Series
By Andy Runton
Suitable for Age: 4+ years
For all those who are wondering, Owly is not a human. In fact, Owly is an attractive bird, who is quite famous for his kind nature. the story caters the younger readers transitioning from picture books to more complex visual narratives.
The kids and the adults both adore the charming nature of Owly. The artwork in this comic is amazing, and kids love to watch such great art. The story depicts Owly's behaviour, his interactions, life lessons, and friendships.
---
7. El Deafo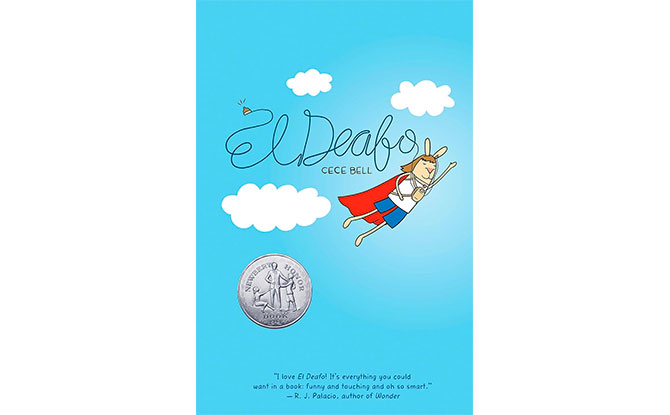 By Cece Bell
Suitable for Age: 9+ years
"El Deafo" follows Cece's semi-autobiographical journey as a deaf individual navigating school life. With a giant hearing aid strapped to her chest, she seeks ways to cope. This leads her to the creation of her alter ego, El Deafo.
Cece finally learns the true power of friendship. Not only did she accept her differences, but embraced her real identity.
---
8. Narwhal: Unicorn of the Sea
By Ben Clanton
Suitable for Age: 6+ years
Narwhal's cheerful nature and Jelly's no-nonsense attitude might seem contrasting, but their love for waffles, parties, and exploration binds them together.
Ben Clanton's beginner-friendly graphic novel engages your kids with pleasant tales.
As Narwhal and Jelly form their own unique pod of awesomeness, young readers are treated to three stories that celebrate the joys of companionship and the wonders of the ocean.
---
9. Sunny Side Up
By Jennifer Holm
Suitable for Age: 8+ years
Join Sunny Lewin on an unexpected summer adventure in "Sunny Side Up." Sent to Florida to spend time with her grandfather, Sunny's expectations of amusement are dashed when she finds herself surrounded by senior citizens instead of theme parks.
However, she discovers a partner in crime in Buzz, a comic book enthusiast. Explore how they witness mysteries together. Kids absolutely love to read it!
---
10. Looshkin
By Jamie Smart
Suitable for Age: 7+ years
Meet Looshkin, the hilariously chaotic blue cat in Jamie Smart's graphic novel. Looshkin is no ordinary cat – he's a whirlwind of mayhem and lunacy, adored by kids for his endless antics.
Previously published as "Looshkin" and "Looshkin: The Big Number 2," this book presents Looshkin's uproarious adventures. From foamy bubbles filling your house to pigs on the roof and portals to hell-dimensions, Looshkin brings a blend of chaos and laughter to every page.
---
11. Phoebe and Her Unicorn
By Dana Simpson
Suitable for Age: 8+ years
This reader is about Phoebe in her delightful adventures. Alongside her is an enchanting unicorn friend, Marigold Heavenly Nostrils, in Dana Simpson's graphic novel series.
It captures the main topics about school life and childhood. Phoebe's confident yet silly personality pairs perfectly with Marigold's self-centered unicorn charm.
---
12. GUTS
By Raina Telgemeier
Suitable for Ages: 8+ years
In GUTS, Raina Telgemeier, the master of relatable storytelling, shares her journey through preteenhood with chronic health issues.
What starts as a stomach bug unfolds into a tale of enduring stomach pains, coping with friendships, and tackling schoolwork. This reader motivates young readers as Telgemeier showchases his personal struggles.
---
13. Minecraft (Book 1 of the series)
By R Ste Monster
Suitable for Age: 8+ years
The main characters are Tyler, along with his friends Evan, Candace, Tobi, and Grace. When your kids read this, they'll learn how Tyler and his friends explore the amazing Overworld.
When they seek a new challenge, they set their sights on the Ultimate Quest – a journey to the End to confront the fearsome ender dragon. The story is based on a very popular kids' game – the Minecraft.
---
14. Avatar: The Last Airbender – The Promise Series
By Gene Luen Yang
Suitable for Age: 8+ years
If your children are Avatar enthusiasts, then they would love to give this a read! In the first part, Aang and his companions confront the looming threat of the Fire Nation.
The story highlights Aang's abilities by showcasing him in different situations. The story is just a continuation of the animated series, which kids absolutely love.
As tensions rise, Aang's abilities and resourcefulness are put to the test. Aang navigates political challenges and reconciles his past conflicts with his friend, Fire Lord Zuko.
---
15. ALL'S FAIRE IN MIDDLE SCHOOL
By Victoria Jamieson
Suitable for Ages: 9+ years
Follow 11-year-old Imogene (Impy) as she takes her first steps into the world of public school after a lifetime of homeschooling. Growing up in a family deeply connected to the Renaissance Faire, Impy's unique background sets her apart, presenting her with the challenges of finding her place and fitting in.
Through friendships, missteps, and valuable lessons, Impy learns to embrace her individuality and stand up for what's right. Victoria Jamieson's heartwarming graphic novel gracefully captures the journey of self-discovery and the power of acceptance.
---
16. The Cucumber Quest Series
By GiGi DG
Suitable for Age: 8+ years
Join Cucumber and his sister Almond on a fun adventure in Dreamside. Cucumber is a nerdy magician who just wants to go to school, but he's chosen to be a hero! With his brave sister, they have to find a special sword to defeat the bad guy and save the kingdoms. This comic is full of magic and funny moments!
---
17. Hilda and the Troll (Book 1 of the Hilda Series)
By Luke Pearson
Suitable for Ages: 8+ years
Hilda is a young girl with a taste for magical adventures! In this story, she and her friend Twig go on exciting journeys. If you want your kids to start reading, then grab this book. The story keeps on getting exciting as Hilda continues her adventures full of fun and wonder.
---
18. Dog Man (Book 1 of the Series)
By Dav Pilkey
Suitable for Ages: 8+ years
Heroes can be quite unusual, just like Dog Man! When a police dog and a policeman are in danger, they're sewn together to create a unique hero. But there's trouble brewing – the mischievous Petey the Cat has evil plans. Ask your kids to examine Dog Man as he battles this crafty cat in an action-packed adventure full of laughs. Very humorous!
---
19. Sisters
By Raina Telgemeier
Suitable for Ages: 8+ years
In this graphic novel, Raina writes about her personal experience of living with sisters. It's a very emotional yet creative graphic novel. Raina and her younger sister Amara often have quarrels.
But gradually they learn to be each other's good partners as they grow up. With encouraging moments and relatable experiences, Sisters explores the powerful bond between siblings.
---
20. Unbeatable Squirrel Girl
By Ryan North, Erica Henderson, Derek Charm, Rico Renzi
Suitable for Ages: 9+ years
Meet Doreen Green, a superhero with a twist – she's part squirrel and part girl! She takes on powerful foes like Galactus and Dr. Doom in this story.
In this series, Doreen faces a new challenge! The challenge is that she needs to pursue a degree in Computer Science while continuing her heroic duties. This reader is best if you want your kids to learn about wit, empathy, and clever problem-solving. If you want superhero stories, then get this reader for your child. They will surely enjoy reading it and getting inspired by it.
---
21. Princeless
By Jeremy Whitley, Mia Goodwin, Emily Martin, Rosy Higgins, Ted Brandt
Suitable for Ages: 9+ years
A bit of a typical princess story, but with an interesting twist. Princess Adrienne is not your typical innocent princess. She is strong and bold. While she is tired of waiting for a prince to rescue her from a tower, she takes help of a friendly dragon. She embarks on an adventure to break free from the traditional princess narrative.
Showcasing a strong princess who does not any another prince to help her, this shows that Adrienne's is a very determined princess. She believes in changing the norms and enabling princess to stand up for themselves.
---
22. Click Series
By Kayla Miller
Suitable for Ages: 8+ years
This series is about Olive, a girl. She navigates the ups and downs of middle school friendships in the Click series. When Olive's friends team up for a variety show without her, she's left feeling puzzled and alone.
As your kids continue to read the series and sequels, they will continue to learn about Olive's journey, how he discovered himself, and faced the challenges that came his way.
---
Get the Reading Habit Started with Comics and Graphic Novels for Kids
We hope that you've enjoyed reading all about these comic and graphic novels for kids. For more inspiration, you may also want to find out more about Dr Seuss books for younger kids.