The 15th Anniversary season has been a busy one for I Theatre.
Following a successful re-staging of Rainbow Fish in May, the company has just presented Shh…Bang!, a dance theatre work by Peut-être Theatre from the UK.
With the curtain barely coming down on that presentation, the creative team is already well into rehearsing a brand new work, Little Star, which will premiere on 17 August.
Little Star is a visual and interactive production with puppetry, music and minimal dialogue. I Theatre's Artistic Director Brian Seward shared with Little Day Out how he managed to pull together a brand new production while juggling the hectic schedule of I Theatre's other commitments.
---
-- Story continues below --
Getting Little Star Ready: Planning Ahead
"We have to work really far in advance," says Brian. "For Little Star, we were planning way back, from the beginning of the year, commissioning puppets and getting the props ready as early as April."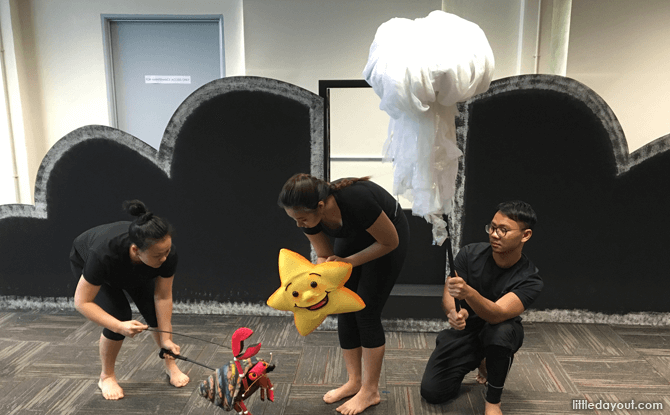 All this work was needed to ensure everything was to be in place before the actors start their rehearsals, just four weeks before opening night.
Act Collaboratively
And with such a short period for rehearsals, Seward selected an experienced cast of actors to work with.
"I'm using very experienced actors who have worked with me and have worked extensively with children's theatre. Using their experience, and mine as well, I tried to make as few decisions as possible, so that we can make more decisions as a team."
Clearly, the short rehearsal time frame did not mean that I Theatre was going to stinge on the creative process. In fact, the actors were able to freely contribute their ideas during rehearsals.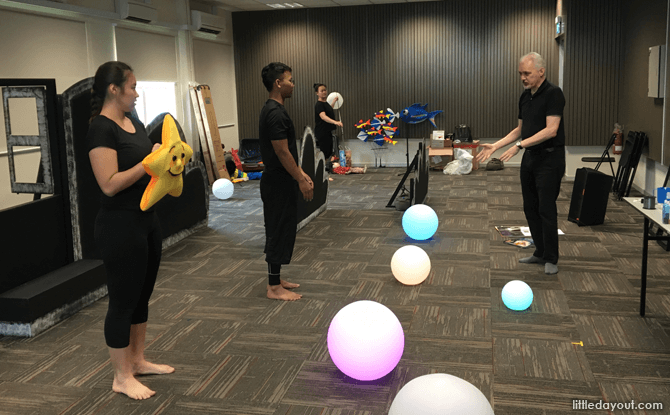 "I think the actors have added a lot (to the show). They've added their imagination and skills – and I think it has been amazingly creative," said Brian.
This collaborative style of working also extended to composer Belinda Foo. As a show with minimal diaglogue, the music in Little Star is very important. It sets the atmosphere and excites the imagination of audiences. This required Belinda to come up with the music in collaboration with the acting.
"Belinda is a very experienced composer; she'll build the music based on what she sees in the performance itself," said Brian. "She'll be watching the rehearsal and probably improvise, just as the actors have been improvising their scenes. This creates a meshing of the two (disciplines of acting and music)."
Broaden the Imagination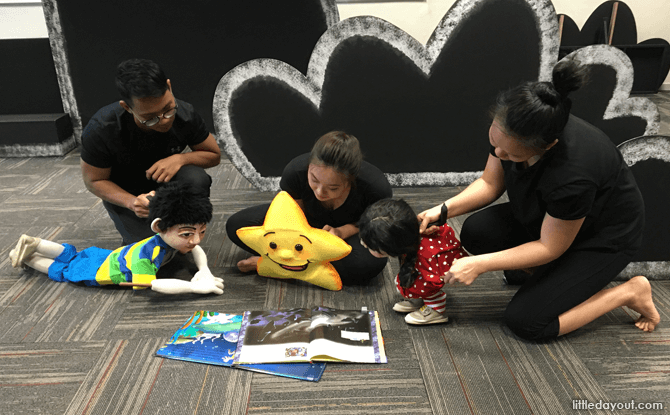 Having to pay attention to so many details does not distract I Theatre from the bigger picture. Instead, Seward emphatically states that the most important outcome he is hoping for is the show will broaden the audiences' imagination.
"Twinkle Twinkle Little Star, how I wonder what you are? That is a question," says Seward, "and I wanted to ask the question, 'what is family, what is friendship?'"
To make such questions engaging for young audiences, the team had to find ways to stretch the imagination. What if Little Star was the brand new member of a family? How would they react to him?
This approach is a bit risky, especially with a rhyme as familiar as Twinkle, Twinkle Little Star but Seward feels it is part of I Theatre's ethos of reaching out and challenging audiences.
"We've always had a heart for being educational, and developing not just people's aesthetic sense, but their learning. We want to make them question and to challenge themselves. We are very much committed to continuing this and trying out new things ourselves."
And, that is what makes I Theatre's production always so engaging to watch, making us even more eager to catch Little Star when the curtains come up on 17 August.
Little Star will be playing from 17 August to 11 September 2016 at Alliance Française Theatre. Get your tickets from SISTIC now.
I Theatre's Little Star
Creative Team
Performers: Ghazali Muzakir, Elizabeth Loh, Rachel Tay
Script written and directed By: Brian Seward
Music composed and arranged by: Belinda Foo
Set Designer: Wai Yin Kwok
Costume Designer: Brian Seward
Costume Realisation: Joanne Ng Mui Huang
Stage Manager: Alycia Finley
Production Manager: Hatta Sulaiman
Sound Ops: Sharizal
Lighting Design: Josiah Yoong
About the "Behind The Scenes" Series
This special feature is part of Little Day Out's Behind-The-Scenes Aspects of Theatre Production series to help young and old understand more about theatre productions. Read the previous Behind-The-Scenes features here.
More
In conjunction with I Theatre's Little Star, Little Day Out is pleased to present five fun-filled activity sheets. Download them here.