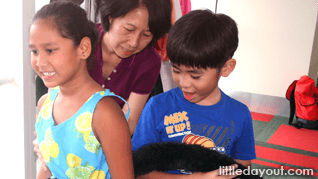 By Little Reporters Caitlyn Niles, 8, and Jared Ng, 7 
We want to tell you about the time when we went to visit the person who sewed costumes for the play, The Little Red Hen. Her name is Aunty Joanne.
She told us that her boss is Mr Brian Seward, the Artistic Director of I Theatre and the director, writer and costume designer for The Little Red Hen. He would first sketch the designs of the costumes he wanted and give them to her.
Then Aunty Joanne would add more details to the costumes and sew them together. She also said she spent a lot of time to make sure the costumes fit the actors.
We also learnt that if you wanted to become a costume designer, you had to start by learning dressmaking. You can become a good costume designer if you practise hard.
Aunty Joanne let us try on some costumes. One was the Cat's tail and another was the Little Red Hen's apron. The Cat's tail felt really soft and looked really funny because it was sticking out of our backs. We think that whoever looks at it would burst out laughing.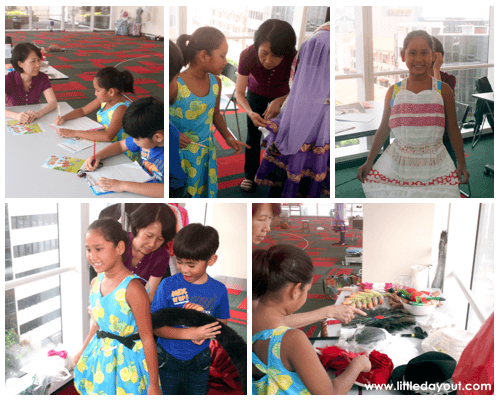 She also let us see the Little Red Hen's costume and allowed us to touch the material. We even saw a telescope with an eyeball sticking out of one end. It was very funny.
We learnt a lot from this adventure and we hope to go on more of these outings in the near future.
About the "Behind The Scenes" Series
This special feature by our Little Reporters on Costumes is part of Little Day Out's Behind-The-Scenes Aspects of Theatre Production series to help young and old understand more about theatre productions. Read our full report on "Behind The Scenes: Dressing Up The Little Red Hen and Friends".
Watch The Little Red Hen

Catch I Theatre's The Little Red Hen, which is playing at the Drama Centre Singapore from 28 February to 16 March 2013. Hurry, book your tickets through SISTIC now as they are selling out fast!
Calling All Parents!
The above story was written by Little Day Out's Little Reporters. We encourage you to let your child read it and use the following questions to kick off a discussion with them:
Who is Aunty Joanne?
What are two qualities you need to have if you want to be a good costume designer?
Why would anyone who looks at the Cat's tail burst out laughing?
Mention any two points that Caitlyn and Jared learnt from this adventure.
If you are a costume designer, what colour would you make the Mouse's costume to be?