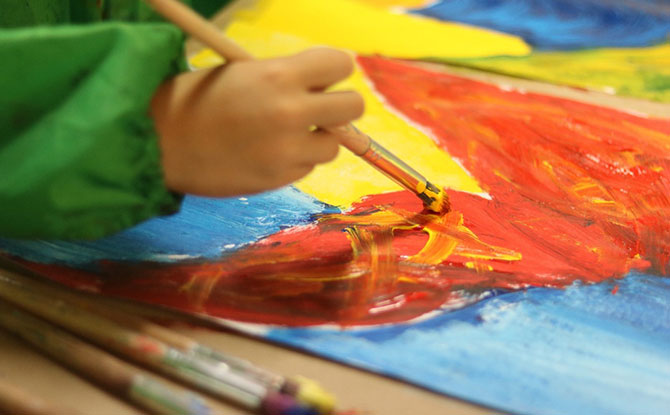 Art classes for kids in Singapore can be a rewarding and enriching activity. Not only do art classes help to build a child's technical ability but it can develop a child's creativity and sense of aesthetics.
There are plenty of different types of art classes for kids in Singapore. These include drawing, sketching, painting, crafts and even digital art. Art classes for these are usually run for different ages, and more importantly, different levels of ability.
As your child progresses along in his or her artistic journey, he or she may even want to work with an art enrichment centre in Singapore to develop a portfolio for Direct School Admissions or DSA applications for secondary schools.
Whatever your goals or objectives for signing up your child for art classes in Singapore, you will be able to find a school to help your child along his or her journey.
Art Classes For Kids In Singapore
We spotlight four art studios offering art classes for kids in Singapore and the type of activities you can expect at good art enrichment centres.
We also provide a list of art schools in Singapore to get you and your child get started along in his or her artistic journey.
---
Achievers Arts Studio
Achievers Arts Studio is a space where children, youths and adults create paintings, drawings, mixed media and conceptualise artworks. By adopting this approach, this art studio in Singapore offers creative developmental programmes for children. This enhances a child's thinking skills and creativity within a fun and non-constricted environment.
Achievers Arts Studio offers six different types of courses to suit budding artists based on their interests.
3 to 4 year olds can participate in the hour-long Artventurer programme where they will explore colours, shapes and crafts. Those aged 5 and above can enrol for the 90 minute Artventurer sessions which focus on drawing and painting techniques such as shading, blending and strokes.
The Canvas Wizard and Sketcher Master programmes are suitable for children who are 6 and 7 and above respectively. Canvas Wizard teaches techniques using acrylic paints on the canvas medium. Sketcher Master exposes children to the world of sketching, including still life and outdoor drawings.
Achievers Arts Studio also runs Portfolio Courses, Holiday Workshops and Art Camps. The programmes are structured for different age groups and lessons are conducted in small groups for maximum collaborative and interactive coaching.
The instructors are experienced and passionate about guiding students, whether little artists or adults, and aim to bring out the best of each individual's artistic abilities.
From now till 31 March 2019, enjoy $20 off registration fees at Achievers Arts Studio by liking its Facebook and Instagram accounts.
Find out more about Achievers Arts Studio here.
Locations
Tampines Studio, 1 Tampines Walk, #02-86, Our Tampines Hub Singapore 528523
Contact: 62041662 
Ang Mo Kio Studio: 226E, Ang Mo Kio Ave 1, #01-709 Singapore 565226
Contact: 69263395 
Opening soon in May 2019:
Pasir Ris Studio: 1 Pasir Ris Close, #03-102 E!Hub @ Downtown East Singapore 519599 
---
Artz Grainé Studio
Artz Grainé Studio is led by an experienced team of teachers who has worked with art educational partners and preschools in Singapore.
Its various art programmes are tailored to cater to children of different ages.
The Millet programme is ideal for 3 to 4 year olds and makes use of art to enhance a child's ability to learn and develops the powers of logic and reasoning.
4 to 7 year olds can move on to Artz Grainé Studio's Flint Corn programme. This programme keeps things interesting for budding artists by exposing them to a variety of media including 3D craft-making, drawing, painting and digital animation.
Older children with a strong interest in art can enroll in Artz Grainé Studio's flagship Rye Portfolio programme. The programme can even help students create a portfolio for Direct School Admissions or School of the Arts (SOTA) applications and it has had a success rate of 95%.
Artz Grainé Studio also has a tie-up with Silicon Valley-based Reallusion Inc. to make use of the 2D Crazy Talk Animator software, along with Adobe Illustrator and Photoshop, as part of the Digital Rye class for 8 to 12 year olds.
Annual out-of-the-classroom art journeys, competitions and art exhibitions are also organised to provide students with additional exposure and enrich the learning experience.
To celebrate Artz Grainé Studio's 10th anniversary in 2019, sign up for any regular trial via info@artzgraine.com.sg and state the code LDO10 along with (i) choice of trial class, (ii) child's name, (iii) age and (iv) phone number to enjoy a trial class at just $10. Offer valid till 31 Dec 2019.
Location
Queen's Studio, Blk 4 Queen's Road, #02-107, Singapore 260004
Contact: 64757688
---
Gifted Artist Studio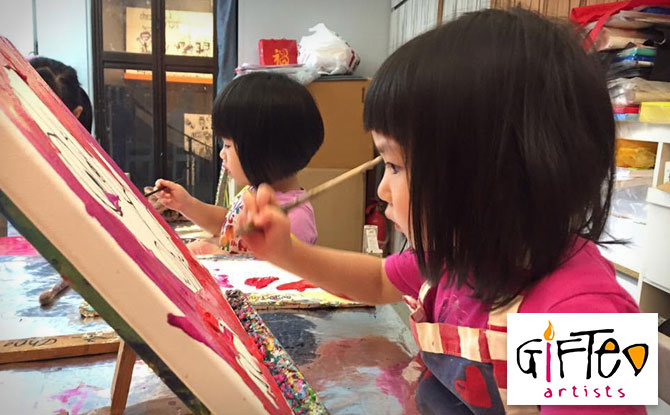 Since 2004, Gifted Artist Studio has been providing art classes in Singapore which places an emphasis on creative thinking and integrated learning through the arts.
At this art school in Singapore, drawing and painting are used as a means to stimulate children's thinking and challenge them to stretch their imagination. This is done through the process of asking questions, visual observation and creative expression. Emphasis is placed on ideas, thinking and values as part of the art experience.  Teachers also work closely with parents to understand each child's interest and abilities in order to tailor the programme to his or her needs.
The art programmes offered at Gifted Artist Studio include Kinder Art for 4 to 7 year olds, Creative Art for 7 to 10 year olds and Advance Art for 11 to 15 year olds.
The methodology adopted by Gifted Artist Studio taps on literary sources such as folktales and myths to create a "visual narrative approach". The child benefits from this approach as he or she will get to engage in meaningful symbol-making, improving cognitive development – a trait which even carries over to academic subjects such as Mathematics and Science.
Class sizes at Gifted Artist Studio are kept small with six to eight children in a class. Lessons are taught by experienced and nurturing instructors.
To find out more about Gifted Artist Studio or to sign up for a trial class, click here.
Locations
Gifted Artists @ Balmoral Plaza, 271 Bukit Timah Road B1-07, Singapore 259708
Contact: 8788 0023 
Gifted Artists @ Pandan Valley, Blk 2 Ulu Pandan Road, Pandan Valley Condo #01-203A, Singapore 597626
Contact: 97919288 
---
Inspired Arts
Inspired Arts' mission is to spark creativity in children through art lessons and experiences. Led by Hamish Betts, an established artist and former Head of Primary Art at an international school, Inspired Arts offers a range of interesting visual arts programmes beyond the ordinary.
In addition to painting and drawing classes, Inspired Arts also provides instruction in a wide variety of other media. These include printmaking, sculpture, fabric art and jewellery making. The studio even has a steampunk programme where kids get to repurpose objects and make creative futuristic art! Kids have plenty of choices when it comes to exploring their artistic side at Inspired Arts.
Weekly art classes for children cover age-appropriate themes and build foundational skills.
Inspired Arts also runs other interesting class formats that provide greater opportunity for children of all ages to experience art.
Parent & Child sessions allow families to enjoy art together. You can even hold an art-themed birthday party for your child at Inspired Arts.
Inspired Arts is a centre where children can look forward to developing their creativity through innovative and out-of-the-ordinary programmes under the guidance of experienced teachers. Get more information here.
Location
446a Joo Chiat Road, Singapore 427659
Contact: 91469428
---
Art Classes In Singapore, Sorted By Region
| Studio | Location | Region |
| --- | --- | --- |
| Gifted Artist Studio (Balmoral Plaza) | 271 Bukit Timah Road B1-07, Singapore 259708 | Central |
| Artz Graine Studio | Blk 4 Queen's Road, #02-107 Singapore 260004 | Central |
| The Drawing Mint | 6 Mohamed Sultan Road #02-01, Singapore 238956 | Central |
| HiArt (Tiong Bahru) | 302 Tiong Bahru Rd, #04-104, Singapore 168732 | Central |
| Artify Studio | 200 Jalan Sultan, Textile Centre, #08-05, Singapore 199018 | Central |
| Art Pazionate | 428 River Valley Road #02-07, Singapore 248327 | Central |
| Heartroom Gallery | Blk 41 Cambridge Road, #01-17, Singapore 210041 | Central |
| Rush-Me-Not Art Studio | 273 Thomson Road, Novena Gardens 03-01, Singapore 307644 | Central |
| Achievers Arts Studio (Tampines) | 1 Tampines Walk, #02-86, Our Tampines Hub Singapore 528523 | East |
| Inspired Arts | 446a Joo Chiat Road, Singapore 427659 | East |
| Little Artists Art Studio (Mandarin Gardens) | 15 Siglap Road, #01-07, Singapore 448912 | East |
| Little Artists Art Studio (Siglap) | 55 Siglap Road, #02-18, Singapore 455871 | East |
| Artary (Tampines) | 4 Tampines Central 5,, #05-05, Singapore 529510 | East |
| Muzart (Tampines) | Blk 164 Tampines St 12, #01-289, Singapore 521164 | East |
| Abrakadoodle Art Studio (Marine Parade) | 112 East Coast Road, #03-11, Singapore 428802 | East |
| Art Zone (Katong) | 30 East Coast Road, #03-07/08, Singapore 428751 | East |
| HiArt (Marine Parade) | 1 Marine Parade Central, #07-04, Singapore 449408 | East |
| Artgrain (Parkway) | 1 Marine Parade Central, #07-02, Singapore 449408 | East |
| Global Art (White Sands) | 1 Pasir Ris Central St 3 #05-07, Singapore 518457 | East |
| Global Art (Simei) | 3 Simei Street 6 #06-03, Singapore 528833 | East |
| Global Art (Tampines) | 2 Tampines Central 5, #04-10, Singapore 529509 | East |
| Achievers Arts Studio (Ang Mo Kio) | 226E, Ang Mo Kio Ave 1, #01-709 Singapore 565226 | North |
| Art Flock | 221A Upper Thomson Road, Singapore 574353 | North |
| Muzart (Ang Mo Kio) | 53 Ang Mo Kio Avenue 3, #03-15/16, Singapore 569933 | North |
| Artgrain (Thomson) | 5 Thomson Ridge, #01-05, Singapore 574635 | North |
| Global Art (Yishun) | Blk 418 Yishun Ave 11, #01-391, Singapore 760418 | North |
| Muzart (Yishun) | 1 Northpoint Drive, #02-165 (South Wing), Singapore 768019 | North |
| Artary (Punggol) | 9 Sentul Crescent, #04-03, Singapore 828654 | North East |
| Artary (Kovan) | 208 Hougang St 21, #04-215, Singapore 530208 | North East |
| Muzart (Hougang) | 1187 Upper Serangoon Road, #01-64 Singapore 533971 | North East |
| Muzart (Serangoon) | Blk 266 Serangoon Central Drive, #02-251, Singapore 550266 | North East |
| Abrakadoodle Art Studio (Hougang) | 1187 Upper Serangoon Road, #01-40, Singapore 533971 | North East |
| HiArt (Sengkang) | 33 Sengkang West Avenue, #04-08/09, Singapore 797653 | North East |
| My Art Pencil Studio | 21 Hougang Street 51, #01-09, Singapore 538719 | North East |
| The Art People (Kovan) | 205 Hougang Street 21, #02-07, Singapore 530205 | North East |
| Global Art (Sengkang) | 11 Rivervale Crescent #02-01E, Singapore 545082 | North East |
| Global Art (Punggol) | Blk 168 Punggol Field #02-10, Singapore 820168 | North East |
| Gifted Artist Studio (Pandan Valley) | Blk 2 Ulu Pandan Road, Pandan Valley Condo #01-203A, Singapore 597626 | West |
| Artary (Jurong) | 3 Gateway Drive, #02-47/48, Singapore 608532 | West |
| Artary (Bukit Panjang) | 17 Petir Road, #02-06, Singapore 678278 | West |
| Muzart (West Coast) | 154 West Coast Road, #02-10/11, Singapore 127371 | West |
| Muzart (Bukit Timah) | 144 Upper Bukit Timah Road #04-10/11, Singapore 588177 | West |
| Abrakadoodle Art Studio (Bukit Timah) | 10 Jalan Serene, #01-09/10, Singapore 258748 | West |
| Abrakadoodle Art Studio (Jurong) | 4 Lakepoint Drive #01-27, Singaore 648924 | West |
| Art Boot Camp | 272 Upper Bukit Timah Road, #02-14, Singapore 588212 | West |
| Art Zone (Bukit Timah) | 1 Jalan Anak Bukit, #02-36/37, Singapore 588996 | West |
| Art Zone (Bukit Batok) | Bukit Batok West Ave 2, #03-03B, Singapore 659206 | West |
| Artgrain (Bukit Timah) | 1 Jalan Anak Bukit, #02-11, Singapore 588996 | West |
| The Art People (Beauty World) | Blk 144 Upper Bukit Timah Road #03-k21, Singapore 588177 | West |
| Studio Haroobee | Rochester Mall #02-23/24, 35 Rochester Drive, Singapore 138639 | West |
| Miro Art | 144 Upper Bukit Timah Road #01-11, Beauty World Centre, Singapore 588177 | West |