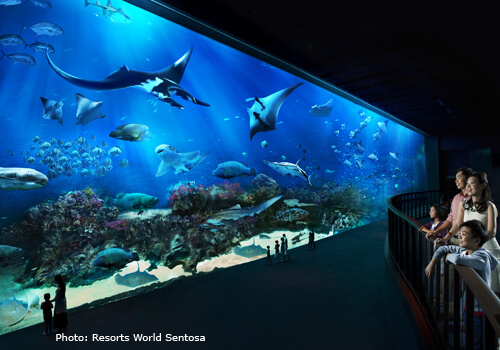 From 22 November, kids will have even more to do in Singapore with the opening of two key attractions at Resorts World Sentosa's Marine Life Park.
Those who have visited the Maritime Experiential Museum at Resorts World Sentosa and have been waiting to view the aquarium need not wait any longer. The S.E.A Aquarium and the Adventure Cove Waterpark open their doors from 10 am on 22 November 2012, ahead of the previously announced date of 7 December. With the opening of these two attractions at the Marine Life Park, visitors have the choice of either staying completely dry or getting wet at the Park.
  See Our Detailed Reveiws:

> S.E.A. Aquarium

> Adventure Cove Waterpark

Get the inside scoop!
S.E.A. Aquarium
Home to over 800 species of marine animals in 10 different zones with 49 habitats, the S.E.A. Aquarium at Resorts World Sentosa is the world's largest aquarium. Visitors can expect to see a plethora of marine life from across Southeast Asia, the Arabian Gulf and the open ocean. Marine residents at the aquarium include moray eels, schooling fish, manta rays and hammerhead sharks.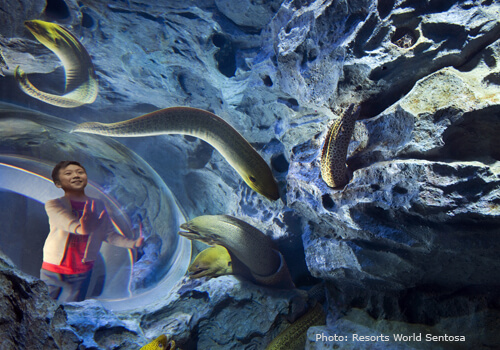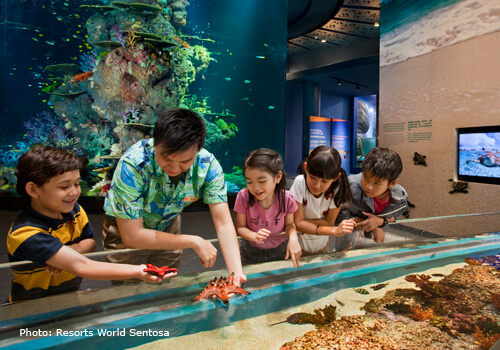 A highlight of the S.E.A Aquarium is the Open Ocean habitat where visitors can look through a 36 metres wide by 8.3 metres tall viewing panel and imagine what life is like on the ocean floor. Children will also be able to interact with the marine animals at the Discovery Touch Pool, Lens Aquarium and the Floor Aquarium.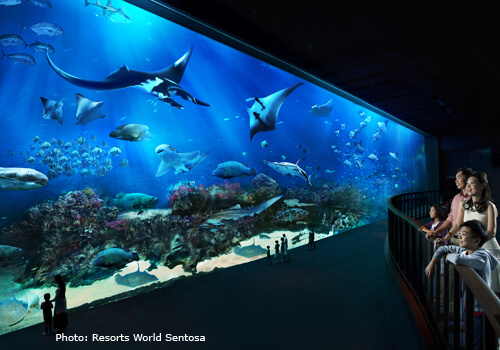 Adventure Cove Waterpark
Over at Resorts World Sentosa's Adventure Cove Waterpark, exciting water slides including Riptide Rocket, the region's first hydro-magnetic coaster, await those looking for some action and water thrills.
If you are looking for a relaxing time instead, you can laze by the 
Bluwater Bay 
wave pool or tube along the 620 metre long lazy-river as it makes it way through 14 themed zones that include tropical jungles, grottos and a surround aquarium.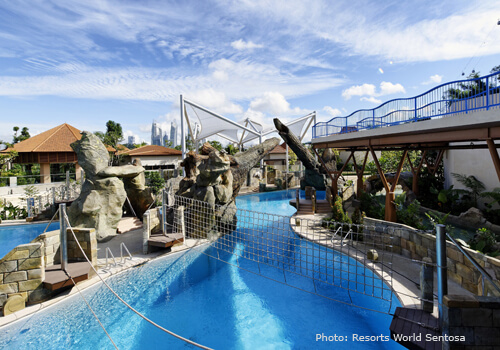 Unique to the Adventure Cove Waterpark at Resorts World Sentosa is also the chance for visitors to snorkel with marine life in a simulated reef environment at the colourful 
Rainbow Reef
. Additional feeding and interaction programmes with rays, sharks and dolphins will be introduced next year.
Practical Information for Visiting the Marine Life Park's Two New Attractions
Daily admissions to the S.E.A Aquarium are priced at $29 for adults, $20 for children and $20 for senior citizens. This is inclusive of entry to the Maritime Experiential Museum; the S.E.A. Aquarium is accessed through the museum.
Admission to the Adventure Cove Waterpark is similarly priced for a day pass, with limited admission tickets available per day.
As some of the attractions are not available for viewing yet, there is currently a rebate of $5 in the form of meal vouchers that can be used at Resorts World Sentosa.
Opening hours for both attractions are from 10 am to 6 pm between 22 November to 7 December 2012. The S.E.A. Aquarium will be open till 7 pm from 8 December onwards.
_________
Pictures from Resorts World Sentosa, TM & © 2012 Resorts World at Sentosa Pte. Ltd. All Rights Reserved.