Once upon a time, there were three hills at the Telok Ayer area of Singapore. Known as the Telok Ayer Hills, Ann Siang Hill, Mount Wallrich and Mount Erskine fronted Singapore's coastline.
In the 1890s, work started on reclaiming the Telok Ayer basin. For this, workers turned to most convenient source of earth – the nearby hills. Mount Wallrich and Mount Erskine ended up being leveled, leaving Ann Siang Hill as the highest ground in the Telok Ayer area.
Who is Ann Siang?
Ann Siang Hill gets its name from Chia Ann Siang (1832 – 1892) who owned the hill along with Mount Erskine. Before he bought it over, it was owned by a John Gemmil, and, before that, the land was a nutmeg plantation owned by a Charles Scott.
Chia Ann Siang was born in Malacca. He worked at Boustead and Company before becoming a partner at timbre firm Geok Teat & Company, retiring as a wealthy businessman.
After he passed away, he was buried in the greater area of the Bukit Brown cemetery. His grave was rediscovered in 2012 and is located somewhere between Singapore Chinese Girls School and St Joseph's Institution.
Activities on Ann Siang Hill
In the first half of the 20th century, Ann Siang Hill became home to many clan associations and clubs. This was when many of the buildings now located on the hill were built.
The Hill was also where letter writers and remittance agents plied their trade, helping to compose letters and send money home for Singapore's migrant workers.
Scenes on the Hill
Today, Ann Siang Hill is filled with picturesque and colourful shophouses. In a link to the past, new clubs, bars and restaurants constantly open at Ann Siang Hill.
Here are some things you can find at present-day Ann Siang Hill.
Ann Siang Hill Park
This is a quiet park that runs along the rear of the shophouses at the top of Ann Siang Hill. A shaded pergolas can be found along the park.
Well at Foot of Ann Siang Hill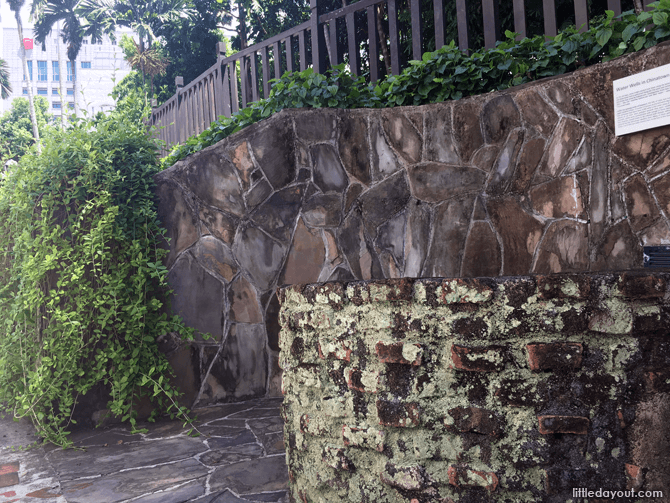 There were no surface streams running through the Chinatown area. To get water, the people living in Chinatown had to dig downwards for groundwater. This led to a series of wells and the water from the wells was distributed by bullock cart, leading to the Chinese name for Chinatown.
Today, one of these wells remains at the foot of Ann Siang Hill, behind the row of Amoy Street shophouses.
Nutmeg
Nutmeg is a tropical crop with a distinct aroma. The hill was originally used as a nutmeg plantation by its first owner Charles Scott. These plans turned to naught when a blight struck across the island.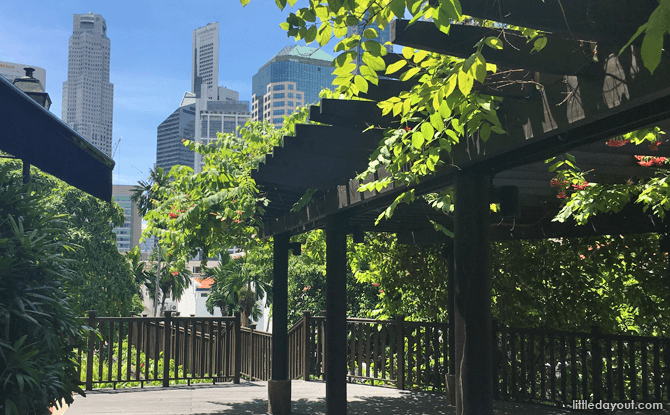 Today, the nutmeg tree has been re-introduced to the area and you can try to spot it from the platform at the top of the spiral staircase.
For an alternative way to sample the area's heritage, try Nutmeg & Clove, a cocktail bar at 10A Ann Siang Hill serves locally-inspired drinks and food dishes such as Assam Pork Ribs. And yes, they do have a nutmeg-infused cocktail.
Chinese Weekly Entertainment Club
The high society of its day lived it up on Ann Siang Hill. In 1889, wealthy Peranakans set up the Chinese Weekly Entertainment Club. This was the social club for Straits Chinese elites in its day and still exists till today at 76 Club Street.
The wealth of the area is also reflected in the intricate designs found on many of the shophouses built here.
Singapore City Gallery
Ann Siang Hill is an example of Singapore's urban development. From a plantation, it was transformed into an urban district. It has also undergone waves of gentrification with its old shophouses refreshed and given new leases on life.
Fittingly, a gallery devoted to Singapore's urban renewal, Singapore City Gallery, can be found at the base of Ann Siang Hill at the URA Centre. Pay a visit to get an overview of Singapore's developments.