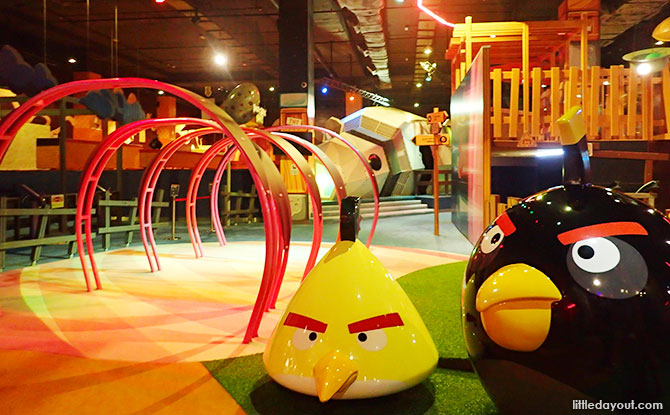 Conveniently located a few minutes walk from the JB immigration, inside Komtar JBCC Mall, the Angry Birds Activity Park in Johor Bahru has many interactive activities and stations themed after the popular mobile game. There are a total of five huge sections for kids to release all their energy – here are some of the super fun stations to look forward to at this indoor theme park.
Inside the Angry Birds Activity Park
South Beach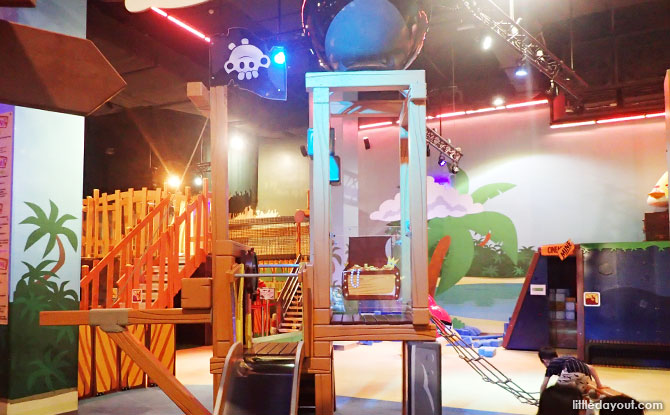 At the Angry Birds Activity Park's South Beach zone, run through a giant hollow trunk and head towards Captain Blackbird's Ship. There you can explore, climb, and even sit "in the water" surrounding it. There are also foam blocks around for you to build and play with. Foam-Block Castles, anyone?
At the balance bike lagoon, little ones can safely learn to ride a bike with two wheels and maybe conquer some slopes! Finally, chill a little at the Cinemine where you can watch Angry Birds-related shows and another section with a huge screen where you can play the Angry Birds Video game in HD!
Utopia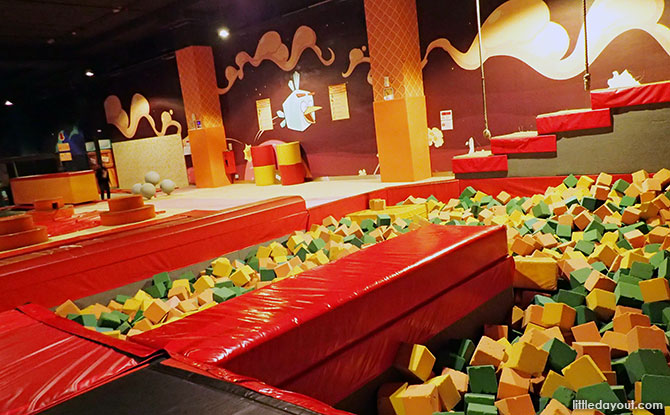 If pigs can fly, so can humans. Utopia is the Angry Birds Activity Park's extremely impressive trampoline section! This was one of the highlights of the park.
---
-- Story continues below --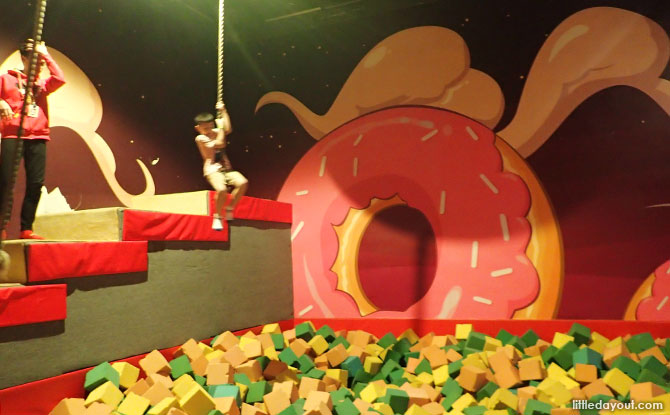 There is a race track, swing ropes, and multiple trampolines at this area of the Angry Birds Activity Park. It also has a little doughnut ride which the bold and daring can try to spin in for as long as possible.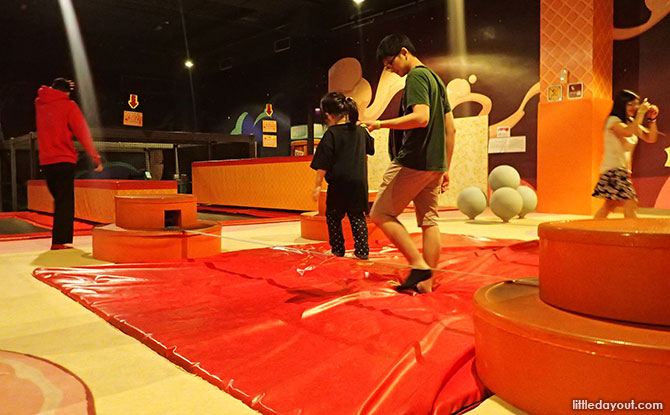 Kids and parents can test their balance on the "Bird Wire Slack", which is a lot harder than it looks!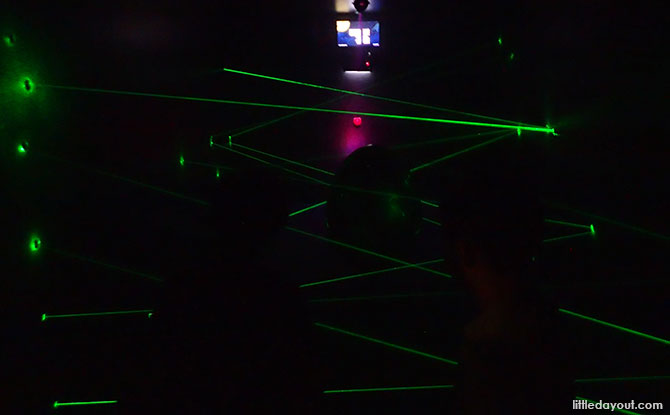 Other fun games to try out include the Laser Maze Spaceship which is located inside a giant silver space pig. There, you can press the red button at the end, and then walk back to the front to feel around for the buttons at the side to activate the lasers. Try your best not to activate them and get to the other side!
Classic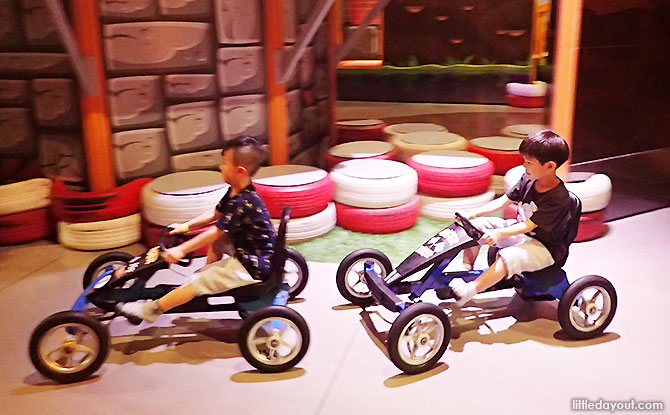 Two of the bigger sections in the theme park are the Angry Birds GO! Kart Track and the Birds Nest Climbing Track. With both adult-sized and kid-sized cars available, the Go-Kart track is great for parents and children to have a race together.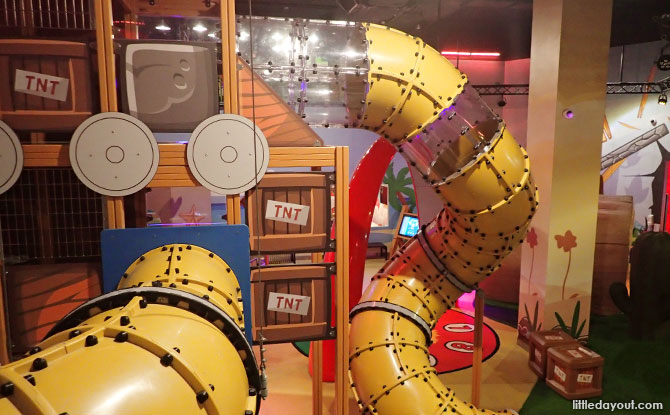 As for the Birds Nest Climbing Track, kids can explore different paths and even slide down different slides, some of which are at extreme angles that ensure a super-fast ride down!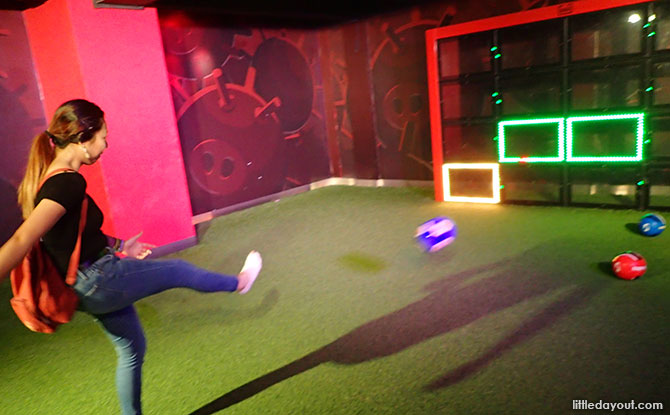 If you think your Angry Birds in-game aim is good, try to kick a ball in real life ala Angry Birds-style to hit the boxes with flashing lights.
Danger Zone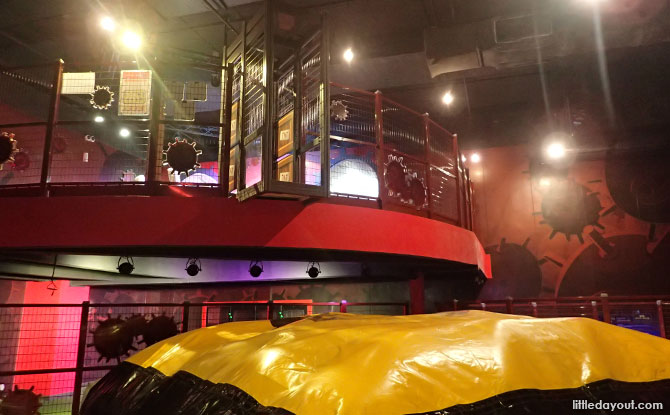 For intrepid little ones, there are three different heart-racing activities to do here!
First, there is the Space Drop Air Bag, where you can jump down from a high platform and land on a huge airbag or you can also try the Air Bag Jump in the same section.
For those who want more action and stunts, try the Lazer Bird Scoot. Grab a scooter and helmet and see how many ramps you can clear and maybe even try a trick or two!
Red's Jungle Run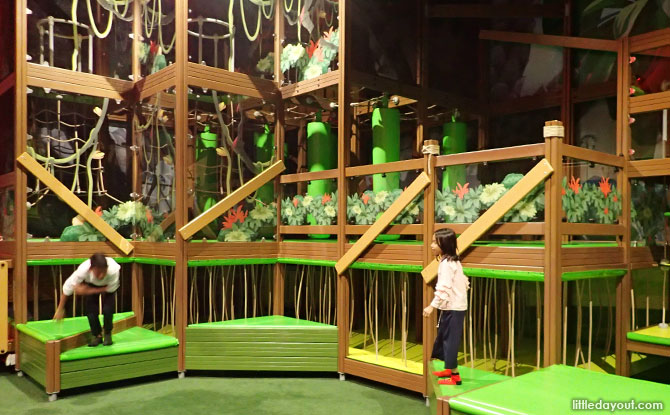 In a dedicated room at the Angry Birds Activity Park, have a go at the Red's Jungle Run obstacle course! Explore and race friends through Chuck's Obstacle Course and finish with the Big Ending Slide.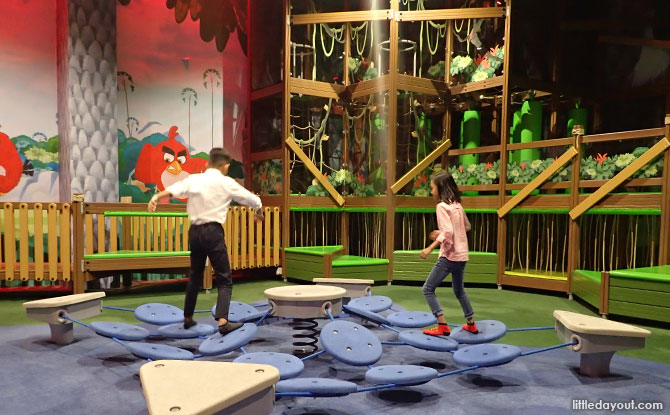 Lastly, test your balance at the "surfy", and see if you can keep your balance hopping from one rock to another.
Fuel up hungry stomachs at the Angry Birds Snack Bar with bites such as fries, nuggets, Hotdog sticks and more! Upstairs, there is a parent's lounge where parents can get an overview of the park and watch the kids play. If you wish to purchase anything to remember the trip, be sure to pop by the Angry Birds Activity Park's souvenir shop.
Ticket Validity
Tickets are sold only as a day pass, and multiple entries are allowed.
Do remember to bring socks, or you also have the option to buy them at the park itself.
Angry Birds Activity Park, Johor Bahru, Malaysia
Where: Level 3, KOMTAR JBCC, Johor Bahru City Centre, 80000 Johor Bahru, Johor.
Website