"Game On, Mummy!" As total newbies to hands-on virtual cooking classes, I had asked my daughter whether she would be keen to try out a new endeavour. So we jumped right in for the Family Christmas Food Crafting Virtual Class spearheaded by Little Day Out x FairPrice Xtra.
Equipped with a pre-class checklist of things we would need, we went shopping at the neighbourhood FairPrice Xtra stores. FairPrice Xtra even had a corner to consolidate all the ingredients needed! We were also going to make our own butter cupcakes! The kids had fun searching the supermarket aisles for the right ingredients, especially the snacks section and came away with extra titbits.
The night before the class, the kids baked their own buttery cupcakes, throwing in a heap of grated carrots for an additional boost of natural sweetness and vitamin A. Warm and fragrant smells filled the house and we were all set!
Bright and early on a Saturday morning, my girl and I logged into the zoom class with all the stuff prepared and laid out on our dining table.
It was lovely to see other Christmas Elves and their family members decked out in festive colours and attire for the Best Dressed Award, crafting along with Chef Ee Jia and enthusiastically joining the ice breaker games and quiz session online.
Her guided instructions and demonstrations in real time were simple and easy to follow through. Together with our great teamwork, we got everything done up quickly!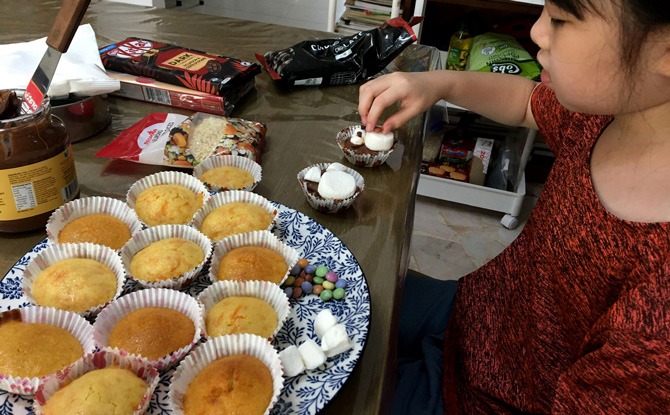 Decorating reindeer cupcakes (while singing to Rudolph the Red-Nosed Reindeer) was a breeze and oh what fun! A quick swirl of Nutella Hazelnut spread with a palette knife and our mini round canvases were ready for artful arrangements. We had a pair of food scissors prepared to cut the marshmallows into halves for the snouts and popped on colourful smarties for tiny noses.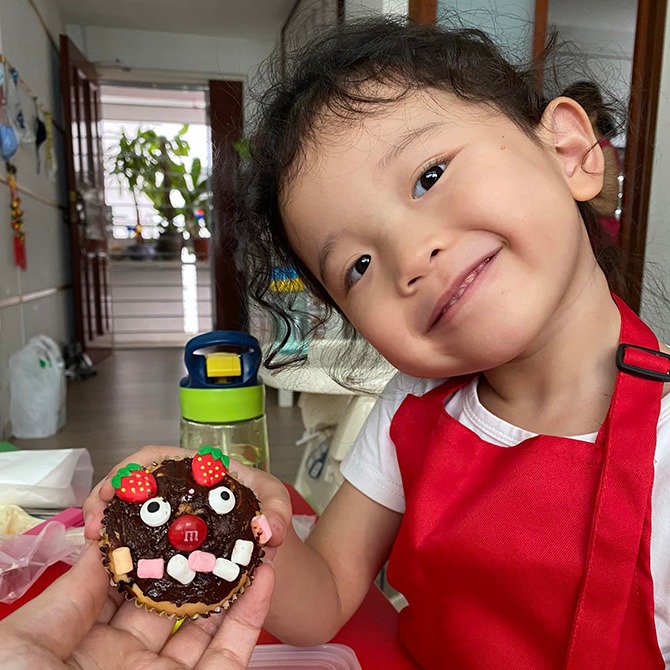 Oh no! Realised midway that we missed getting one ingredient – the Milk Candies!
But fret not! As parents, it is important to let the kids create how they want it to be rather than pushing them to follow the norm. My daughter quickly improvised by substituting smaller marshmallow bits as eyeballs before topping them with chocolate chip eyes. The final finishing touch was crisp salty mini pretzels for the antlers and we had cute reindeer faces!
My girl learnt a new word: "improvise" and about being able to use whatever was on hand to whip up our goodies spontaneously!
Rolling up our sleeves, we geared up for the next dessert: putting together the KitKat Christmas House with melted chocolate in piping bags as the "cement" holding the walls of Kit Kat blocks in place after we had carefully cut out the shapes to fit them together.
Yikes! As we were working in sweltering heat, the chocolate wafer blocks softened and as the walls of the house collapsed twice, it was a mad rush to the freezer to chill and firm up the structure.
As an aspiring architect-designer, my eight-year-old rose to the challenge and took charge immediately, hollering throughout, "Hold! Hold! More chocolate glue! Walls! Ok, roof!" and all hands were on board as we re-assembled the house for the third time and to the fridge we ran. Three is indeed a magic number and our Christmas house was finally intact. Whew!
It was exciting to see how the Christmas House came together slowly. Building a Christmas House is indeed one easy activity during the holidays that can serve as fun family time.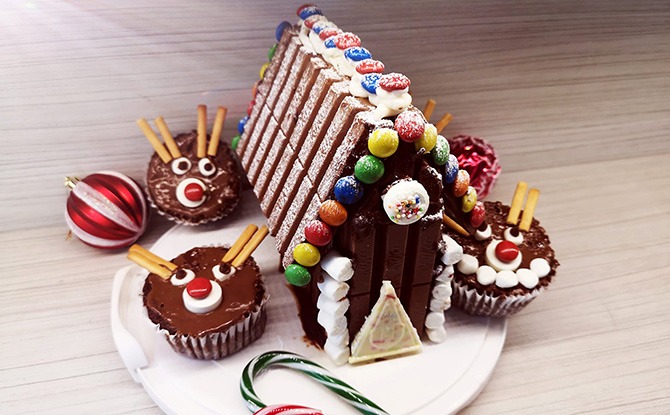 Then, we let the real fun begin! It was time for decoration! Piping a layer of melted white chocolate "snow" on the roof and door, we scattered tiny rainbow sprinkles to add a colourful spark. The main highlight for my daughter was sifting and seeing icing sugar like gently falling snow on the roof top, with a great feeling of accomplishment!
---
Getting into the festive spirit early, we had certainly tried  something new within a short time by incorporating plenty of heart into this joint labour of love, which made our Christmas desserts-crafting such a pleasure!
It was immensely satisfying to arrive at our merry messy makes and for my daughter and I, learning to think fast on our feet creatively and to serve the family something we had constructed, not to mention that everything tasted super extra-special!
Thanks to Little Day Out and FairPrice Xtra for holding this Family Christmas Food Crafting Virtual Class! We really enjoyed this fun-filled session. Family bonding activities do not have to be extravagant. They can be as simple as building a Christmas dessert together on a cozy day at home.
The fun did not end as following the class, we admired the fabulous creations by the other participants posted on FairPrice Xtra Xperience Facebook page!
The Family Christmas Food Crafting Virtual Class was brought to you in partnership with FairPrice Xtra.
---
Stay in Touch for Future Little Day Out Adventures
If you would like to participate in future Little Day Out Adventures, do fill in the form below so we can get in touch with you!